Arcadia Berry White
| Arcadia Brewing Company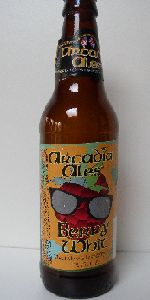 BEER INFO
Brewed by:
Arcadia Brewing Company
Michigan
,
United States
arcadiaales.com
Style:
Fruit / Vegetable Beer
Alcohol by volume (ABV):
not listed
Availability:
Summer
Notes / Commercial Description:
No notes at this time.
Added by marburg on 05-14-2004
This beer is retired; no longer brewed.
Reviews: 8 | Ratings: 9
Reviews by tykees88:
2.6
/5
rDev
-22.2%
look: 4 | smell: 4 | taste: 2 | feel: 2 | overall: 2
Let me preface this by saying I have no idea if this is retired but I have had it and still see it at a liquor store here in fort wayne
A-It is a super razzy red beer. The carbonation is ginormous with a huge frothy rocky white head. WOW
S- Smells like sweet raspberries pretty awesome
T- Tastes like syrup of raspberry and sugar. That's not good.
M- It's syrupy and just sugar grainy even.
O- Well it was an experience. A true fruit beer but not a good one by any means
475 characters
More User Reviews:
3
/5
rDev
-10.2%
look: 3 | smell: 3 | taste: 3 | feel: 3 | overall: 3
(Served in an American pint glass)
A-This beer pours a crystal clear reddish-orange color with a strong carbonation and a thick white billowy head. The head has a slight red tint to it and last for a while.
S- The aroma of tart raspberries is strong through the nose. A hint of sourness is also present.
T- This beer has a tart raspberry flavor that stands out in the first few sips as the dominant taste. The tartness taste more and more like an off-flavor sourness with a slight chemical raspberry note. The softness of wheat and some pale malt come through at the finish. A very faint hop bitterness is lurking somewhere in the finish but it is hard to get a distinct flavor. There is a slight banana flavor also mixed with the hops at the finish.
M- The mouthfeel is a medium texture but that is mostly from the high carbonation and the fizz is really noticed.
D-I sort of feel like it's just another raspberry wheat beer. Nothing stands out as bold fresh fruit taste nor does it have an interesting wheat beer base. It would be refreshing if it were ice cold on a hot summer day but not the best example.
1,129 characters

4.03
/5
rDev
+20.7%
look: 4.5 | smell: 4 | taste: 4 | feel: 4 | overall: 4
The beer has about an inch of white, fluffy head and a cloudy red body. About what I was expecting from a white berry beer.
The smell is very assaultingly berry, but also appealing in a fresh fruit sort of way. There is also a hint of sulfur, as in sulfites in the smell, must be to preserve the fermented berry. I'm sensitive to sulfur, so may be too subtle for most, in fact it was for the friends I was with. Very subtle wit flavors dominated by berry. No evident sulfur flavor, luckily. Refreshing and drinkable. This beer stands out to me because it has more of a "mixed berry" flavor, compared to the countless numbers of Rasberry, Blueberry, etc. beers.
661 characters
2.86
/5
rDev
-14.4%
look: 2 | smell: 3.5 | taste: 3 | feel: 2 | overall: 2.5
Two bottles and both gushers. Quality control? Open the bottle, get foam everywhere. Same thing happened with some Arcadia Imp Stout from last year. Aroma is tart with berries. Kind of nice. But taste has more of a sweet berry flavor. Not artificial but not the kind of fresh fruit taste I was hoping for. Wheat is really noticeable along with the berries. Decent to style, not too good to me. Also, I think this beer is called Berry Whit, but whatever.
453 characters

3.58
/5
rDev
+7.2%
look: 4 | smell: 3.5 | taste: 3.5 | feel: 4 | overall: 3.5
Appearance: Hazed copper with a fizzy cola head that proliferates for a spell before plummeting into oblivion. Nice chubby bubbles remain active but burst on arrival at the top of the pond.
Smell: Berry with an elemental smell about it. Fairly weak on the nose. Not any discernable malt character evident. Pretty much just berry and the preservative smell.
Flavour: Mildly tart mixed berry. Sweet and sour without much bitterness, but a touch nonetheless. A fruit showcase as expected. The berries are not over expressed or sickening, but the taste is just not anything to celebrate about. I am not impressed with this particular style of beverage and have no desire to drink more than one at a tasting. This is, however, a good one for the style.
Mouthfeel: Thin and light without a great deal of malt character. This is all about the fruit flavour.
Drinkability: Fine. I am not compelled to repeat the experience but it is not bad at all.
952 characters
3.72
/5
rDev
+11.4%
look: 3.5 | smell: 4 | taste: 3.5 | feel: 3.5 | overall: 4
On tap at Shakespeare's Pub:
This beer poured a murky amber color and formed a small white foamy head that left trace lace. An aroma of hops and citrus, with an emphasis on raspberry. The flavor was of hops, citrus and raspberry. The body was fairly light and the finish was bittersweet with some astrigent notes. While not bad, I have seen better versions of this style.
374 characters
3.12
/5
rDev
-6.6%
look: 3.5 | smell: 3.25 | taste: 3 | feel: 3.25 | overall: 3
3.79
/5
rDev
+13.5%
look: 3.5 | smell: 4.5 | taste: 3.5 | feel: 4 | overall: 3.5
A new beer from Arcadia, just sampled at Ashley's in Ann Arbor. It's supposedly a witbier heavily flavored with raspberries -- and just a touch of honey.
The berry aroma is all-consuming. 8 inches from my nose, it's attacking my nostrils like a schoolbully. Mixed with a mild citric floral quality. Definitely dominated by fruit -- tangy berries especially.
The flavor is likewise berry-esque. The witbier is lost underneath mounds of candied, cooked, sugared raspberries. For what they're trying to do, it's not bad, so I'll certainly rate this as an above-average beer. If I'm picking raspberry seeds out of my teeth with New Glarus Rapsberry Tart or Lindemans Framboise, I'm picking the Raspberry Jolly Rancher wrapper out of my teeth with this one.
Intensely fruity. Probably too much so considering the lack of oompf to the base beer. Tastes a little too engineered. But you could definitely get some wine cooler fans to have one or two if you wanted to.
And oh yeah, the name is a pun. A very obvious pun. Ha. Ha ha.
1,034 characters
3.62
/5
rDev
+8.4%
look: 3.5 | smell: 4 | taste: 3.5 | feel: 3.5 | overall: 3.5
A striking clear beer colored a weaker version of raspberry juice. Little head or other indicators that this isn't just fresh-squeezed fruit.
Smell is strongly of a great raspberry scent with bare sugary background. Slightly tart and pleasing, and never coming across as fake or overly saccharine. The flavor is pretty good for a obvious crossover product, showing a respectful presence of real raspberries. The witbier body is light and almost unrecognizable, though the hops give a nice counterbalance in the finish, interacting well with the natural acidity of the fruit.
When you've only got spare change, and this beer is the $3 special of the month, well, you gotta buy it. Surprisingly good and not just a weak knock-off to please the anti-beer - this one's got some backbone and integrity.
804 characters
Arcadia Berry White from Arcadia Brewing Company
3.34
out of
5
based on
9
ratings.