Arcadia Shipwreck Porter
| Arcadia Brewing Company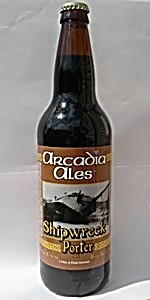 BEER INFO
Brewed by:
Arcadia Brewing Company
Michigan
,
United States
arcadiaales.com
Style:
Baltic Porter
Alcohol by volume (ABV):
12.00%
Availability:
Winter
Notes / Commercial Description:
The second in a limited edition, 22oz bottled Brew Crew Big Beer Series. This beer was aged in 10-year old whiskey barrels.
Added by ypsifly on 04-15-2006
This beer is retired; no longer brewed.
Reviews: 99 | Ratings: 138
4.24
/5
rDev
+10.1%
look: 4 | smell: 5 | taste: 4 | feel: 4 | overall: 4
2007 vintage poured into a pint glass
A: Very dark brown/almost black with creamy tan head
S: wo, it smells as if i walked into a bourbon barrel, very bourbony and oaky. next thing i smell is vanilla, sweetness, and smokiness
T: bitterness attacks the pallet followed by a malty sweetness with vanilla and carmel overtones. some heat from the alcohol as the beer warms on the tongue. again the oak barrel aging comes through strongly on the taste...i like that.
M: medium to heavy body, creamy mouthfeel with mild carbonation, finish is on the slicker side.
D: this beer is a wonderfully complex brew but one or two glasses is going to be more than enough for me
Notes: working my way through their big beer series and now having tried this and their hopmouth I am excited to get to the rest of their big beer line-up
827 characters
4.52
/5
rDev
+17.4%
look: 4 | smell: 4.5 | taste: 5 | feel: 4 | overall: 4
Pouring into pint glass.
Appeared very dark brown. A lite tan, thin ring of head wrapped the glass.
Aroma was a little bitter, a little hop charecter, with a rich malty almost chocolaty charecter. A pretty strong alcohol presence as well.
Taste was spectaculer! A smooth, rich malty chocolate flavor. A warming alcohol presence makes this a very comfortable beer to drink!
Mouthfeel was heavy, but smooth. Overall drinkablity is good, its a somewhat heavey beer, not for everyday, but a great evening, after dinner beer! I loved it!
533 characters
3.65
/5
rDev
-5.2%
look: 4 | smell: 4 | taste: 3.5 | feel: 3.5 | overall: 3.5
The look of this beer was pretty good. I must say I was a little thrown by the label(the label didn't mention whiskey barrels). I'm not a big whiskey fan, so I was surprised when I tasted the hint of whiskey after my first sip. After my taste buds settled down I did enjoy it. Only one for this old boy. I really liked all the qualities it possessed, the dark color, the malty/whiskey taste. It left a nice warm feeling in my mouth. But only one.
446 characters

1.57
/5
rDev
-59.2%
look: 3.5 | smell: 1.5 | taste: 1.5 | feel: 2 | overall: 1
Wow! What a disappointment. I enjoy porters very much but this was way too overdone.
It pours a nice enough color, deep brown with a two finger tan head. That is where the niceties end however. The nose is complete whiskey. I don't like whiskey. I don't drink whiskey. And that's basically all I can smell. There may have been a little coffee or chocolate in there, but I couldn't tell due to the boozy smell to this sucker.
The taste is complete whiskey. I don't like whiskey. I don't drink whiskey. And that's basically all I can taste. You get the idea.
The mouthfeel was underwhelming, but a little better than the nose and the taste. It was full with a touch of alcohol sting.
I could only handle about 5 smallish sips before I had to dump this one out, which is something that I very rarely do. I'm all for breweries trying to do new things with porters, but Arcadia went too far here in my opinion. Yikes. I need a brillo pad to scrub off my tongue.
Oh well.
983 characters
4.11
/5
rDev
+6.8%
look: 4.5 | smell: 3.5 | taste: 4 | feel: 4 | overall: 5
A- Very dark black, no light gets through. Thick white head
that was reduced to a thin layer.
S- Sweetness of the coco followed by richness of roasted malt, followed by the lush spice of bourbon.
T- Smooth creamy chocolate followed by smoky spice of bourbon. a hint of oak.
M- A lot lighter than I expected. Very creamy and smooth with the sweetness of coco. I got the aftertaste of vanilla and oak.
D- This beer is much more smooth than expected. They did a great job of balancing the coco and the bourbon. This if one of the smoothest and easy drinking 12% beers.
573 characters
3.68
/5
rDev
-4.4%
look: 3.75 | smell: 3.75 | taste: 3.5 | feel: 4 | overall: 3.75
A- Pours a dark brown, almost black.
S- Nice smell with some chocolate, maybe some oak too, a little toasty
T- Chocolate, a touch of roasted malts. A little light cherry flavor .Doesn't overpower with any flavor. I did not get to much out of the barrel aging.
M- Full bodied but well balanced. Nice thick feel.
O- It $6 I thought it was bit to expensive. I probably would not get this again at that price. However, it is a very solid porter.
Serving type: bottle
471 characters
4.38
/5
rDev
+13.8%
look: 4.5 | smell: 4 | taste: 4.5 | feel: 3.5 | overall: 5
This is a 2007 Vintage, it pours with a nice strong tan head. The color is black with no noticeable highlights. Aroma is a sweet maltyness with hints of blackstrap molasse and a touch of roastyness. The flavor is clean with a well balanced bitterness and thin to medium sweet maltyness with hints of blackstrap molasses and a touch of smokeyness at the finish. The alcohol is very subdued in the aroma and flavor. This beer is a very good example of a porter and is easy to drink. They say it is aged in oak barrels which mellows the beer. The mouth feel is a medium body that finishes quick with some creamyness. The carbonation is perfect the head leave a beautiful lace on the glass. As it warms the smokeyness comes out more in the flavor also a touch of fruity sweetness in the aroma. If Porter is your favorite style this is the beer for you. I think this is a great beer very well made the brewer should be proud of this beer.
933 characters
3.58
/5
rDev
-7%
look: 4 | smell: 3.5 | taste: 3.5 | feel: 4 | overall: 3.5
Vintage 2007.
Pours a very dark brown with a very slight hint of copper-red color under light. A very thin head disipates almost instantly. At first smell, bourbon. Next smell picks up a little roasted malt and maybe chocolate. I taste roasted malt first then a very subtle hop character. Let it linger and the bourbon comes out in full force but not exceedingly sharp. Mouthfeel is a bit dry but well balanced and offering an excellent finish.
444 characters
4.27
/5
rDev
+10.9%
look: 4 | smell: 4.5 | taste: 4 | feel: 4.5 | overall: 4.5
I poured the beer from a 12 oz bottle with red wax on the cap quite quickly into a pint glass and the head still remained considerably small. I would say this beer does a great job of hiding the 12% alcohol content. The beer is very drinkable and I drank it relatively fast while typing this review. The bourbon taste is present, but not overwhelming. There are notes of chocolate that make the after taste feel comfortable and ready for the next sip.
451 characters
Arcadia Shipwreck Porter from Arcadia Brewing Company
3.85
out of
5
based on
138
ratings.