Arcadia Shipwreck Porter
| Arcadia Brewing Company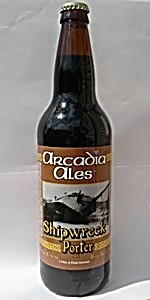 BEER INFO
Brewed by:
Arcadia Brewing Company
Michigan
,
United States
arcadiaales.com
Style:
Baltic Porter
Alcohol by volume (ABV):
12.00%
Availability:
Winter
Notes / Commercial Description:
The second in a limited edition, 22oz bottled Brew Crew Big Beer Series. This beer was aged in 10-year old whiskey barrels.
Added by ypsifly on 04-15-2006
This beer is retired; no longer brewed.
Reviews: 99 | Ratings: 139

4.27
/5
rDev
+10.9%
look: 4 | smell: 4.5 | taste: 4.5 | feel: 3.5 | overall: 4
Unpolished black with barely a brownness peeking at the bottom. Small tanned, evenly foamy top. Collar stays thin and tight with a broken skim once the top creeps away. Not much lacing, a bit of low ended sheeting and skragly, boney fingered strings.
Aroma is deeply whiskey-fied with modest maple and vanilla sweetness hovering with very light roasted chocolate. Perhaps a bit understated and uncomplexing, but man do I like it.
Same goes for the taste. Deeply whiskey toned and warming with a nice inlay of vanilla tossed in. Dark and deceptive. Intriguingly layered in depth with the whiskey; first the vanilla, very open and soaking, then some maple, a thin peel of sweet banana, and ends with a puff of chocolate resonating under the heat late after the finish. A nice little roasty effect is also evident as it begins to peak interest, but the chocolate puff and fluff is the mainstay once the warming begin to set in. A tender pull of dark vanilla sweetness is left soaking into the cheeks as the warmth sits firmly in the throat, belly, and mind. Quite nice.
Feel is left with a middle grounding of mediumish body, leaving the warmth do alot of the work and not so much the body or flavor. Perhaps a tad to whiskey-like. The front is the most empty, gains then fades, then gains again, and as already stated, mostly in warmth and not so much in thickness.But all the flavors inside the warmth do keep it interesting enough to persue more sippage.
And that is what you'll do with this big warming brew, sip and sip and sip, through and through and through. Quite nice overall really. Impressionable, yes, but could use more stature and thickness compared to other, more complexing Porters. Whiskey Oak-aged or not. Still...a very solid Porter worth checking out.
1,782 characters

4.02
/5
rDev
+4.4%
look: 4 | smell: 4.5 | taste: 4 | feel: 4 | overall: 3.5
22 oz. bomber with a picture of a shipwreck. Hmmm...I wonder why that ship wrecked, they probably had to much of this stuff on board. It bours black with a brown head that sits low and creamy.
The aroma is all Whisky man, after it warms a bit the Whisky aroma starts to smell a little like maple syrup in the end.
The flavor is an abundance of whisky flavor with some roasted malt and chocolate flavor. The flavor is good but the whisky is a little bit too much. I think I am going to pick up a few bottles of this to let every thing mellow out a bit and then try it again, it seems like it would be good with some age on it.
The mouthfeel is full bodied with medium carbonation.
The drinkability is o.k. but not great because the whisky flavor is so over the top. Try aging this and the drinkability could improve.
828 characters

3.38
/5
rDev
-12.2%
look: 4 | smell: 3.5 | taste: 3.5 | feel: 3 | overall: 3
This porter is nearly black if not black. With a generous tan head that leaves behind trace amounts of spotty lacing.
Aromas are big in bourbon almost overly so. Hints of vanilla, bitter choclate, roasted malt, and some dark fruits.
Malty malty porter. Much of the flavor and complexities of this beer seem to be hidden behind a vail of bourbon and oak. Still good flavors of bitter choclate, vanilla extract, black currant, smoke, tobacco, and some meaty earthy flavors.
Mouthfeel is good but not great. Again the bourbon leaves this once out of whack making a somewhat undesirable mouthfeel but not making it bad. This isn't one I'm going to drink an abundace of but worth a try.
690 characters
4.25
/5
rDev
+10.4%
look: 4.5 | smell: 4.5 | taste: 4 | feel: 4 | overall: 4.5
Appearance: Poured into a Sam Smith Tulip, huge 2" head, slow fading, billowy, atop a coal black body that allows no light.
Smell: The rich wood scentss are immediately evident, smoke, coffee, chocolate, many stout qualities here, but maybe that is because I have never had a barrel aged porter.
Taste: At first it is a little bewildering. The flavors all mix together and take a little while to work through. I do like the beer, though, the barrel realyl adds charachter and bite to the beer. The porter flavors are a little more subdued that a stout in it's place, but it stands up well to pairing with charred oak. The alcohol is strong, but is is a good beer voerall.
Drinkability-Mouthfeel: A little bit thinner than you would expect, creamy and lightly carbonated. I hope Arcadia continues this line, I appreciate them branching out.
848 characters
1.59
/5
rDev
-58.7%
look: 3 | smell: 1.5 | taste: 1.5 | feel: 2.5 | overall: 1
Almost pitch black with a small tan head that drops pretty quick leaving some light scattered lace. Sweet caramel comes out first only to be drowned out with booze and an out of place fruitiness. Aroma is just a mess with too much alcohol and not much else able to show through. Flavor starts off with a bit of sweetness and some strange ripe fruitiness. Some burnt and woody notes peak through before the bourbon takes over. Really bad alcohol burn fruity finish that is just as much a mess as the aroma. Mouthfeel was decent except the burn. No drinkability here for me it was a drain pour after forcing my way through the first glass. I waited to review till I had my second bottle figuring I had on off bottle but it was identical. A very appropriately named beer.
768 characters

3.95
/5
rDev
+2.6%
look: 4 | smell: 4 | taste: 4 | feel: 3.5 | overall: 4
Pours out an opaque black Stout color with a decent head of cream with lots of big bubbles on top. Laces in patches and smaller marks. Aroma has Irish coffee elements, some reminders of red wine and oak from the barrel conditioning. Mouthfeel is nice to begin with, creamy with subdued carbonation. Flavor features lots of bitter dark chocolate with a snap of vinous raisins and current and highlighting the bourbon casks. It also has good persistance, but perhaps the carbonation (initially smooth) seems a little too active at the end. Plenty of aftertaste, perhaps with a small touch of hops re-inforcing the roasty bittering of the brew, along with some smokey whiskey flavors. Arcadia has a wide range of beers to my tastes, this one works for me.
752 characters
4.29
/5
rDev
+11.4%
look: 3.5 | smell: 4.5 | taste: 4.5 | feel: 4 | overall: 4
Undated bomber, purchased at Cloverleaf.
Poured into a pint glass.
First off, this beer is all about the bourbon!!!!
Average appearance, half inch head that fades quickly. Leaves a thin cream colored line around the edges. Black in color with some brown highlights. Fantastic smell, a great combination of bourbon and chocolate, some roasted malts. Taste is mostly bourbon, like almost doing a shot. After the bourbon fades, you can pick out some dark chocolate, wood and roasted malt. This has a much greater bourbon taste than Founder's Kentucky Breakfast. On the verge of maybe too much, but personally, I love it!!! Velvety smooth as easy too drink. I have no clue what the abv is. A nice sipping brew to have after dinner. Very enjoyable and a definite winner from Arcadia. Limited release!!!
802 characters
4.19
/5
rDev
+8.8%
look: 3.5 | smell: 4.5 | taste: 4.5 | feel: 4 | overall: 3.5
If you don't like bourbon, I highly recommend you stay clear of this one. Pours a deep, almost black brown in color with a thin wispy tan head that left a crown all throughout. Nose is distinctly bourbon, alcohol, vanilla, old wood. Taste is very much the same, initially the bourbon hits followed by a dose of vanilla, bittersweet chocolate and roast. The finish has a lot of vanilla. I quite like this, but the bourbon really dominates which I don't really like, I prefer when it takes a backseat in a beer, but alas, it is what it is.
I liked this a lot though overall.
Slàinte!
588 characters
4.52
/5
rDev
+17.4%
look: 4 | smell: 4.5 | taste: 4.5 | feel: 5 | overall: 4.5
The second installment of the Brew Crew Big Beer Series. Packaged in bombers featuring what looks like a sailing ship from the 19th century beached and laying on its port side with a lone figure walking precariously along the upturned starboard.. Side of the label sez, "Marooned on a deserted island after a violent storm shipwrecked him, Brewer John Osborne used whatever raw materials and supplies he could salvage from the flotsam of the wreckage to brew his beloved Porter, including oak barrels that once held 10-year old whiskey. Rescue could now wait! This legend and our Brew Crew Big Beer Series continues...."
This Porter was aged for six months in Evan Williams casks.
Undated bomber purchased at Merchant's in Dearborn, MI and poured into an imperial pint glass.
Damn near black with some hints of reddish brown at the edges. Tan head that rises up and threatens to spill before settling down to a few dense centimeters. Good retention with thick sheeted lace left clinging to the glass.
The nose has lots of bourbon and a good amount of rasted malts and chocolate. Deep, rich and warming. Not as intense as the aromas in the Founders Kentucky Breakfast, but its damn good.
The taste follows along the lines as the nose but it also has a good nutty flavor that works really well. The bourbon flavors are not hot and unrestrained. They add a sweetness that works well with the roasted notes. A bit of alcoholic heat in the back with some lingering heat and roasted flavors in the aftertaste. Well rounded, at least for someone who loves bourbon. Some may appreciate this beer a little more after some aging but I like it now.
For style, the mouth was right on. Full and smooth with no oily residuals. For those of us who like bourbon and bigger beers, this is a real winner and was worth the wait.
1,827 characters
Arcadia Shipwreck Porter from Arcadia Brewing Company
3.85
out of
5
based on
139
ratings.