Arcadia B-Craft Black IPA
| Arcadia Brewing Company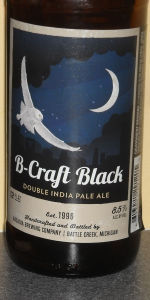 BEER INFO
Brewed by:
Arcadia Brewing Company
Michigan
,
United States
arcadiaales.com
Style:
American Black Ale
Alcohol by volume (ABV):
8.50%
Availability:
Year-round
Notes / Commercial Description:
Massive in every way, B-Craft delivers a complex bundle of flavors with citrus-hop aroma. Moving beyond the massive hop aroma, rich roasted malt flavors of coffee and chocolate move forward only to be checked by an impressive hop bitterness. Texture and flavor dance together so seamlessly that you may need to remind yourself that, while it drinks like a session, it delivers like an assassin.
Added by alleykatking on 07-27-2010
Reviews: 84 | Ratings: 341

4.2
/5
rDev
+7.7%
look: 4 | smell: 4 | taste: 4.5 | feel: 4 | overall: 4
Bottle.
Gorgeous black with a tinge of ruby when held to the light.
Dank grapefruit nose. Getting some tobacco notes. Unlike everything I've ever smelled. So intense for a Black IPA.
Taste is so unique. Hop citrus assault up front then you're slapped on the back end like a stout almost (coffee, chocolate, and the tobacco).
Really nice texture and smooth finish. You don't know the alcohol until you feel it at the end of your glass.
Home run from Arcadia. This should give them some recognition then deserve.
518 characters

2.92
/5
rDev
-25.1%
look: 3.75 | smell: 3 | taste: 2.75 | feel: 3.25 | overall: 2.75
Had both on draft at Ashley's and the bottle. Smell of mostly roasted malt, some peppery presence, very little citrus or hop. Tastes of roasted grain and very little else, a watery roast to me, with little sweetness, muddled hops if any, just weird. Heavy mouthfeel for the style despite the lack of flavor. Nothing to really enjoy here for me. Bland, and no hop bite. An unfortunate miss by Arcadia.
400 characters
3.88
/5
rDev
-0.5%
look: 4 | smell: 3.5 | taste: 4 | feel: 4 | overall: 4
On tap at Sycamore.
A - Poured an opaque, jet black color with a two-finger, light brown head of foam. It left sticky rings of lace on the glass.
S - It smelled of pine with a touch of citrus. Nice roasted malt aroma, too.
T - It tasted strongly of pine with a burnt toast maltiness. Nice chocolate and caramel flavors, too.
M - It was crisp, sharp and smooth. A medium bodied ale with a dry finish.
O - Very cool to get a tap only offering here in Columbia. Thanks, Sanford. Very nice brew!
496 characters
4.5
/5
rDev
+15.4%
look: 4.5 | smell: 4.5 | taste: 4.5 | feel: 4.5 | overall: 4.5
Draft to tulip (at Hop Cat in Grand Rapids, MI, which is a PHENOMENAL beer bar. Everything about this beer is GREAT! The best black IPA I've ever had. Black as midnight with a great bouquet of hops and malts. The taste has great balance. And by balance, I mean the hops and malt are equally over-the-top and complement each other nicely. And the mouthfeel is great too. Surprisingly refreshing for its genre. I'd drink it again and again - if it was made with any regularity :(
477 characters

4.38
/5
rDev
+12.3%
look: 4.5 | smell: 4 | taste: 4.5 | feel: 4.5 | overall: 4.5
Nearly opaque black beer with ruby highlights in a strong back light from the summer sunset for my draft on site. Thick, light brown head with extremely tight bubbles. Clean and clear singular hop in the nose with a burnt biscuit and heavy malt underneath. First taste is burnt, charcoal tasting, but, oddly, no smoke. Heavy handed on the patent malt or similar? Very nice. Hops kick in quickly and the light spice and floral of the nose turns into a clean, spicy bite on the tongue. Well balanced and fun. Roast/burnt qualities mellow as this 8.5% IPA warms and is still refreshing on a hot summer night.
605 characters

4.18
/5
rDev
+7.2%
look: 4.5 | smell: 4 | taste: 4.5 | feel: 3.5 | overall: 4
On tap at Asheleys in Ann Arbor.
Pours a dense, black but oily pour, very little white lacing, no head. Black licorice, plum, dark roast coffee, vanilla bean, some citrusy to grapefruit hoppy notes in the nose.
Big beer this one, ABV comes in at under 10% and it hides the alcohol well. Much more of the hop flavor comes through in the finish and lingers on the palate for quite some time. Dark roast to acrid offee, raisin bread, beet sugar, cleaning solution to rubber band phenol.
I have been told by some that Arcadia is a really under-appreciated brewery in MI having to compete with the likes of Founders and Bells (but that is a little apples to oranges IMO). This beer impressed me by its creativity and boldness from Arcadia which has lacked in "signature" beers.
I must admit this is pretty much the first Arcadia I have really liked, Hopmouth has become tiresome at this point even though I know it still sells.
929 characters
4
/5
rDev
+2.6%
look: 4 | smell: 4 | taste: 4 | feel: 4 | overall: 4
on tap at the bavarian lodge. served in a snifter.
A- this one comes to me looking very dark brown with a small khaki colored head. the head quickly becomes no more than a crown and doesnt leave behind much if any lacing.
S- roasted malts and a little bit of chocolate are the first things i pick up in the nose. after that i get some dark fruits and a bit of coffee. floral and herbal hops at the end.
T- the taste starts out with lightly roasted malts and a little bit of sweet milk chocolate. after that i pick up faint raisin notes with some figs also. then comes some coffee. floral and herbal hops at the end.
M- medium body with ample carbonation. very smooth. nicely bitter.
D- this was easy enough to finish. id try this one again if i could find it in a bottle. one of the better arcadia beers ive had in a while.
831 characters
4.25
/5
rDev
+9%
look: 4 | smell: 4 | taste: 4.5 | feel: 4.5 | overall: 4
A- Pours a very deep, dark brown with some dark red highlights. A touch of haziness adds a nice aspect. The head is thin but creamy, has nice retention, and leaves nice lacing.
S- Figs, cherries, clove, mint, and cinnamon. Very unique and inviting. Surprisingly aromatic.
T- Coffee, black cherries, mint, smoke, and a touch of citrus fruit. Very unique. The alcohol is not apparent.
M- a very creamy body with enough carbonation to keep it light. A fairly clean finish.
D- The alcohol is well hidden and the flavors are robust but don't build on the palate. Very enjoyable.
577 characters
3.17
/5
rDev
-18.7%
look: 3 | smell: 3.5 | taste: 3.5 | feel: 2.5 | overall: 2.5
Had on cask at the brewery. They added ghost chilis to the mix.
A:Pours a clear brown with little head.
S: Very hoppy with slight hops.
T: Hop forward as it should be. Light sweet malt. Heat from the ghost chili continues to build in the finish along with a nice hop bitterness.
M: Thin and lacking carbonation.
D: One is enough
334 characters

4.1
/5
rDev
+5.1%
look: 4 | smell: 4 | taste: 4 | feel: 4 | overall: 4.5
Acquired during 7AM happy hour at Logan's Alley, this brew filled a pint glass with a magnificent, rich brown capped by a tan head. The nose was ripe with hop character and roasted darkness. The great malt character of this beer, with its mild roasted tones and subdued sweetness, mingled well with the hopping to produce a smooth and utterly drinkable brew while still boasting a large profile.
395 characters

4.1
/5
rDev
+5.1%
look: 4 | smell: 4 | taste: 4 | feel: 4 | overall: 4.5
Enjoyed on tap at Shakespeare's, served in a pint glass.
The body is black at first glance though when held to the light a deep brown with cherry red hues appear. By the time the glass arrived at the tables there was zero head but a scant amount of white lacing was left clinging to the very top of the glass.
The aroma was quite balanced. A healthy amount of roasted malt pairs with an equally impressive hop bouquet. The hop aroma ranges from piny, to citrus and reaches into a bit of floral aromas. There is not one particular aroma which stands out, it is the balance that earns a high score.
The aroma perfectly sets up the palate for what's to come. A moderate roasted malt flavor emerges from the glass. The hops appear more towards the midpalate. A bit of a piny bite up front leads into a citric sweetness. What really surprised my with B. Craft is the combination of the dark malt and citric hop flavors blended leaving a bit of a dark fruit taste. Black berry with hints of cherry meld into the deep malt and bright hops.
B. Craft is on the heavier side of medium bodied. The carbonation is lively and the texture smooth. The finish is on the drier side though a bit of the roastiness lingers.
It is a crying shame that Arcadia does not bottle this one. I do enjoy many of the offerings from Arcadia but can honestly say this is my favorite. Went down very easily and could see have a couple in a sitting. While many may not have the opportunity to enjoy this one, jump on it if you see it.
1,507 characters

4.6
/5
rDev
+17.9%
look: 4.5 | smell: 4.5 | taste: 5 | feel: 4.5 | overall: 4
Unfortunately I didn't have any idea I'd be having this so I didn't take any notes or anything.
Look: It's black with a off white head that hung around for a while.
Smell: floral
Taste: Pleasantly bitter and floral/fruity.
Mouthfeel: Very smooth
Drinkablity: If it wasn't as strong as it is I could drink it all night. I'd get it again in an instant.
Got it on-tap at Hopcat in Grand Rapids, MI
400 characters
4.28
/5
rDev
+9.7%
look: 4.5 | smell: 4 | taste: 4.5 | feel: 4.5 | overall: 4
On tap at Uptown Grille Commerce MI
A_ Black with a thick and creamy khaki head. Lacing covers the glass.
S_Hops,dark fruit and floral notes.
T_Hops mellowed out by dark fruits. Figs and cherry. Clove and cinnamon spice on the back end. Great balance of hops and roasted malt.
M_Thick and creamy. Very sticky.
D_Pretty damn good.
334 characters
3.88
/5
rDev
-0.5%
look: 4 | smell: 3.5 | taste: 4 | feel: 4 | overall: 4
Had on tap at Arcadia.
A- Pours a dark brown lightly blackened color. One finger mocha colored head shows good retention. Good streaky lacing on the sides of the glass.
S- Malts on the nose give way to light roasted front. Piney hops on the backing of this with some light citrus hints here and there. There is a light bitterness in the aroma overall. A muted black IPA overall though in the aroma.
T- Nice roasted malts upfront with a light floral hop flavor. Chocolate notes in the middle of the beer itself with a light soapy taste. Slight bitterness in the ending of the beer with a return of the roasted flavors.
M- Medium light mouthfeel. Carbonation is a little light for a IPA but I think it does the beer justice. Clean flavors with a light overall soapy flavor. Roasted malts left on the palate with some light hops in the aftertaste.
D- This was good flavored black IPA I thought. Arcadia seems to be on the ball and coming up with newer more flavorful beers. Do yourself a favor and try this beer out.
1,029 characters
Arcadia B-Craft Black IPA from Arcadia Brewing Company
3.9
out of
5
based on
341
ratings.