Arcadia B-Craft Black IPA
| Arcadia Brewing Company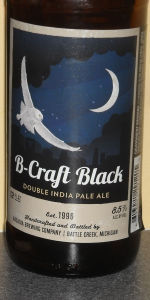 BEER INFO
Brewed by:
Arcadia Brewing Company
Michigan
,
United States
arcadiaales.com
Style:
American Black Ale
Alcohol by volume (ABV):
8.50%
Availability:
Year-round
Notes / Commercial Description:
Massive in every way, B-Craft delivers a complex bundle of flavors with citrus-hop aroma. Moving beyond the massive hop aroma, rich roasted malt flavors of coffee and chocolate move forward only to be checked by an impressive hop bitterness. Texture and flavor dance together so seamlessly that you may need to remind yourself that, while it drinks like a session, it delivers like an assassin.
Added by alleykatking on 07-27-2010
Reviews: 85 | Ratings: 342

4.37
/5
rDev
+12.1%
look: 4.75 | smell: 4 | taste: 4.5 | feel: 4.25 | overall: 4.5
Looks like I'm about to condemn myself to the dark side with this one - like sin poured from the bottle. This one happens to include a creamy head.
Big citrus, with some roastiness in the background. Inviting, but not overwhelmingly so.
Bright, grapefruit, other citrus, followed by cocoa and even some roasted coffee - exceptionally complex. Fading, mildly spicy and wholly soothing hops deliver a long, clean close.
Low carbonation, but I'm not missing it. The existing flavors provide ample presence on their own.
Really great, very enjoyable beer - way beyond expectation based on other Arcadia's I've had. Easily drinkable, with alcohol content barely noticable.
★
675 characters

4.38
/5
rDev
+12.3%
look: 4.5 | smell: 4 | taste: 4.5 | feel: 4.5 | overall: 4.5
Jet black with ruby hues when held to light. Just shy of opaque. Light tan head with exceptional retention and great lacing especially for the strength.
Mildly roasted, smoky aromas. Powerful floral and pine scent.
Solid malt backbone of wheat toast and rye. Aggressive pine and grapefruit hop bitterness. Ground pepper. Alcohol is there but out-shined by the hops. Great balance for such strong flavors.
Sturdy medium to full bodied, right between a stout and a double stout and just a hair thicker than your standard DIPA. Exceptional, sharp, snappy carbonation which adds to the hop flavor.
Great black DIPA. First example of the style I had tried. Glad someone thought of this style. It was a great idea and well executed.
★
731 characters

4.38
/5
rDev
+12.3%
look: 4.5 | smell: 4 | taste: 4.5 | feel: 4.5 | overall: 4.5
Nearly opaque black beer with ruby highlights in a strong back light from the summer sunset for my draft on site. Thick, light brown head with extremely tight bubbles. Clean and clear singular hop in the nose with a burnt biscuit and heavy malt underneath. First taste is burnt, charcoal tasting, but, oddly, no smoke. Heavy handed on the patent malt or similar? Very nice. Hops kick in quickly and the light spice and floral of the nose turns into a clean, spicy bite on the tongue. Well balanced and fun. Roast/burnt qualities mellow as this 8.5% IPA warms and is still refreshing on a hot summer night.
★
605 characters
4.42
/5
rDev
+13.3%
look: 4 | smell: 4.5 | taste: 4.5 | feel: 4 | overall: 4.5
12 ounce bottle into tulip glass, bottled 4/24/2012. Pours almost pitch black dark brown color with a nice 2 finger tan head with great retention, that reduces to a nice cap that lingers. Some nice soapy lacing on the glass. Aromas of big pine, grapefruit, orange rind, toast, roasted malt, herbal, earth, and light chocolate. Great aromas with big fresh hoppiness; and nice balance. Taste of big grapefruit, orange rind, pine, chocolate, roasted malt, caramel, toast, herbal, and earthy hops. Moderate citrus rind bitterness on the finish; with lingering notes of grapefruit, orange rind, pine, chocolate, roasted malt, and herbal on the finish for a while. Fantastic balance of hop flavors with the roasted malt. Medium carbonation and medium-full bodied; with a fairly creamy and slightly slick mouthfeel that is nice. Alcohol is very well hidden with only a slight warming after the finish noticed. Overall this is a fantastic black IPA! Great hop and roasted malt flavor balance, and very smooth for 8.5%. Amazing stuff!
★
1,025 characters
4.45
/5
rDev
+14.1%
look: 4.5 | smell: 4.5 | taste: 4.5 | feel: 4 | overall: 4.5
Wow. This is a powerful ale. It has a ton of aromatics going on. Hops, roasty. Wow. Niceand unique smell.
The taste is similarly hoppy. A piney hoppiness is in this. It also has a lot of burnt (not really roast) flavor.
I would buy this again looking for a unique stron ale, and I would recommend it to anyone who likes hoppy stuff.
★
334 characters

4.47
/5
rDev
+14.6%
look: 4 | smell: 4.5 | taste: 4.5 | feel: 4.5 | overall: 4.5
I picked up a bottle of Arcadia's B-Craft Black IPA the other day for $2.59 at The Lager Mill. I have heard this was a good beer so when I saw it at the store I knew I should pick up a bottle, I think this is the first time this beer has been bottled, lets see how it goes. No visible bottling date, Spring 2012 vintage. Poured from a brown 12oz bottle into a snifter.
A- I like the label, it has a well done picture of a white owl flying at night with a crescent moon shining in the background, looks good to me. It poured a nice dark black color that took on some dark ruby highlights when held to the light. It had two and a half fingers worth of smooth dark tan head that died down to a thin ring that stayed till the end and left a nice amount of lacing. This is a good looking American Black Ale, it's on par for the style.
S- The aroma starts off with a good amount of hops that are mainly citrus with some grapefruit, mango, blood orange, and pineapple sticking out the most, there was also some piney and floral hops aromas but it was the citrus that stuck out the most. Next after that comes the malts that have a medium amount of sweetness and impart a medium amount of roasted malts, brown sugar, and chocolate aromas. This is a great smelling beer, it had great balance and the aromas worked very well together.
T- The taste of this beer is very similar to the aroma, it starts off with lots of hops, I find that the citrus hops stick out the most imparting all those great citrus fruit aspects that I got in the aroma, it has a really well done hop profile. Next comes the malts which have a medium amount of roast to them and a medium amount of sweetness, they impart some nice, roasted, milk chocolate and dark chocolate flavors. It had a pretty low amount of bitterness with a roasty, hoppy, and a little citrusy aftertaste. This was a very good tasting American Black Ale, the flavors were bold, but there was also lots of balance and complexity.
M- Very smooth, creamy, rich, on the thick side of being medium bodied, with a good amount of medium carbonation. The mouthfeel was very nice, it was very smooth and the added creaminess was nice.
Overall I have to say that I really enjoyed this beer and I thought that this was a great example of an American Black Ale, the hop profile mixed very well with the malt base which made for a very complex and great tasting beer. This beer had great drinkability it was very smooth and hardly had any bitterness which I wasn't expecting, this beer went down way faster and if I had another one I would for sure drink it, the alcohol was hidden very well also, there's no doubt that a couple of these would for sure hit the spot. What I liked most about this beer was pretty much everything, I can't think of anything I would want to change, it's great just the way it is. What I liked least about this beer was nothing, I wish it was just a little cheaper, but with a limited release I can't really complain. I would for sure buy this beer again, in fact I will be getting more in day or two and I highly recommend this beer to just about anyone, it's just that damn good. Arcadia did an awesome job with this beer, I have found that they can be hit or miss sometimes, but in this case it was a huge hit, I am now a big fan of this beer, and I think it's pretty safe to say that this is now my favorite American Black Ale, and one of my favorite beers from Arcadia, North Peak's Furry used to be my favorite but this beer is better in almost every aspect, I am glad they bottled this beer, I can see a lot more of this beer in my future.
★
3,603 characters
4.5
/5
rDev
+15.4%
look: 4.5 | smell: 4.5 | taste: 4.5 | feel: 4.5 | overall: 4.5
Draft to tulip (at Hop Cat in Grand Rapids, MI, which is a PHENOMENAL beer bar. Everything about this beer is GREAT! The best black IPA I've ever had. Black as midnight with a great bouquet of hops and malts. The taste has great balance. And by balance, I mean the hops and malt are equally over-the-top and complement each other nicely. And the mouthfeel is great too. Surprisingly refreshing for its genre. I'd drink it again and again - if it was made with any regularity :(
★
477 characters

4.6
/5
rDev
+17.9%
look: 4.5 | smell: 4.5 | taste: 5 | feel: 4.5 | overall: 4
Unfortunately I didn't have any idea I'd be having this so I didn't take any notes or anything.
Look: It's black with a off white head that hung around for a while.
Smell: floral
Taste: Pleasantly bitter and floral/fruity.
Mouthfeel: Very smooth
Drinkablity: If it wasn't as strong as it is I could drink it all night. I'd get it again in an instant.
Got it on-tap at Hopcat in Grand Rapids, MI
★
400 characters
4.81
/5
rDev
+23.3%
look: 4.75 | smell: 5 | taste: 4.75 | feel: 4.75 | overall: 4.75
Purchased 4-pack from local stop for $11. Hadn't tried or heard much chatter on this brew prior, though I am a big fan of their Loch Down offering.
A: Dark brown with tan foam around the perimeter. Much darker than expected for a bottle
S: Decadence. Malts, hops, deep rich fruits.
T: Sweetness from the malts, chocolate, and fruit. Tons of flavor all around. None of the hoppy bite that one expects from an IPA. More reminiscent of a scotch ale.
M: Smooth, silky. Some mild carbonation which adds to the character.
O: Love it. It claims to be a double IPA, but profiles better as a black ale.
As someone who truly enjoys malty scotch ales, this is the perfect double/black IPA.
★
685 characters
4.92
/5
rDev
+26.2%
look: 4.5 | smell: 5 | taste: 5 | feel: 4.5 | overall: 5
Searched for a while for this one. Many new beers take a while to get to my corner of the thumb.
A- Pours black with a light tan head, barely 1 finger thick. Webbing hangs on for quite some time
S- While you should expect a little roasty malt from this style, the hops really steal the show both here and in flavor. Very pine-forward aroma.
T- Almost instant hop eruption. Definite pine and citrus presence, possibly a mild earthiness. After it warms some, the roasty aspects come out of their shells and bring the whole thing together.
M- Appropriate for the style.
O- Definitely plays more like a DIPA than a regular black IPA. I'd say definitely worth a pick up
★
669 characters
Arcadia B-Craft Black IPA from Arcadia Brewing Company
3.9
out of
5
based on
342
ratings.