Arcadia Brewing Company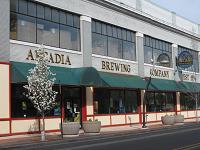 PLACE INFO
Type:
Brewery, Bar, Eatery
103 W Michigan Ave
Battle Creek
,
Michigan
, 49017
United States
(269) 276-0440 |
map
arcadiaales.com
Notes:
There is a parking garage directly across the street and street parking is also available.
Closed on Sundays.
2016 Update: Beers are now produced in the Kalamazoo Production facility/tavern.
Added by BeerAdvocate
Reviews: 62 | Ratings: 139
4
/5
rDev
+2.6%
vibe: 3.5 | quality: 4 | service: 4.5 | selection: 3.5 | food: 4.5
Ben, the restaurant manager, thought it would be a great idea (ok, so did we) to host his own little tasting at the bar of their big beer series. Of the beers of theirs that I have tasted, they are good and well made, but even their big beer series are not "in your face". He did tell us they are going to start doing some "west coast style brewing" meaning they will be using more bolder hops, so that should kick things up a notch. Good for them!! While I think a brewpub should have their "mainstream" beers on tap, I think it's equally important to have some special, bolder beers that will keep things interesting.
Their food is good. The nuts and berries salad with goat cheese should not be missed. It paired excellently with their Hopmouth Double IPA. We've been here once before and had an artichoke pizza that was also very tasty.
I've seen previous posts that this place is just ok. While that may be true now, I think it will be worth a visit again should you be in Battle Creek in the future. I think their upcoming west coast style brewing will be worth trying. Their food is already worth trying.
1,119 characters
3.4
/5
rDev
-12.8%
vibe: 3.5 | quality: 3 | service: 3.5 | selection: 3.5 | food: 4
Stopped in for lunch as the first stop on our Western MI tour. The place was slow but seemed spacious enough for a busy crowd. The pub had somewhat of an English feel to it with the restaurant up front and the bar in the back and the brewery to the right through glass windows.
We sat at the bar and I am not sure if the heat was turned on or not since it felt like it was 40-50 degrees. I had to keep my winter coat on during lunch to keep from freezing. I had a club sandwich and I think all 4 people in our party were happy with the food.
The service was fine and the waitress that served us gave us directions to what in my mind had to be the world's largest Goodwill store so that we could scrounge up better costumes for Eccentric day. The guy bartending was not very friendly and very short when we tried to strike up a conversation.
There were 6-8 beers on tap with a mix of some regulars and some specialties. I tried the Cocoa Loco Stout, Nut Brown, Imperial Stout and IPA. There was a certain house flavor that reminded me of an extract twang in each of the beers I tried. At the time of this review, the only beer I have had from them out of the bottle is the London Porter and I did not get the same flavor I got at the pub.
There were a few bottles for take out along with other merchandise for sale near the entrance. I considered picking up a few things not on tap (Cereal Killer & Hop Mounth) but the prices seemed really high compared to the liquor stores we stopped at on this trip.
Overall, I found Arcadia to be somewhat average. If I lived nearby, I would definitely give them a second try but I do not think I will go out of my way to stop there again.
1,691 characters
4.05
/5
rDev
+3.8%
vibe: 4.5 | quality: 4 | service: 3.5 | selection: 4.5 | food: 4
I convinced some friends to make the drive to Arcadia last night. We knew that it was the brewery's 10th anniversary celebration and one of my buddies wanted to take on their "yard of ale" contest, as he is well trained for that sort of thing. We walked in and paid the cover and then were a little disappointed that the british style food advertised on the website wasn't free for attendees of the event and rather what they meant was that we could sit down and have a meal in their restaurant. Well, we were hungry so we did sit down...and ate some delicious food. They have an eclectic pizza menu coupled with some traditional meals from the British Isles. I noticed Cock-a-leekie and Spotted Dick and helped myself to a Scotch Egg (i love those freaky little things...and this one was served with some Branston Pickle, which Americans need to learn more about). We ordered 3 pizzas and they were all very tasty. So, yeah, good food.
The place was decorated with lots of flags (UK flags and then flags of some nearby states....Indiana, Ohio, Illinois, New York, Michigan). They also had a big window through which you could see their distribution center and, past that, some of their fermenters. Further past the restaurant they had the bar, which was quite long, and in the back a couch with some artwork for sale (we met the artist who was very nice and eager to show us his work). They also appear to have a mug club around the backside of the bar. Tables were old doors with glass over top which was pretty cool. Oh, and they had an area to throw some darts up in front. Very comfortable, very nice.
Service was ok. I think they were a bit swamped with the celebration and all. Food came fast but our server, incredibly, didn't seem to know much about the beer or about the various events pertaining to the celebration. Bar service was better and some of the drinks were being poured by owner Tim Suprise and his wife.
Ok, the beers. Well, tonight they had some specials that were fairly new to the brewery...Big Dick's Old Ale, Cereal Killer Barleywine, Coco Loco Coffee Stout, and then a special Bourbon Barrel Aged version of their Imperial Stout. I tried all of them and all of them were darn good (too drunk to review anything but the Impy though). We also, in our group, had many of the usual Arcadia fare (except Whitsun, which is out of season now), along with their Arcadia Light, a milder version of Angler's Ale. A great lineup of beers.
So, yeah, we have a good time. And i'll add that my friend came first in the Yard of Ale drinking contest (easily). He was then congratulated by Tim Suprise, who came and talked with us all for a while and seemed like a very cool guy (talked about starting out at Shipyard Brewing and other things). Go to Arcadia if you get a chance.
2,802 characters

4.25
/5
rDev
+9%
vibe: 4 | quality: 4 | service: 4.5 | selection: 4.5 | food: 4
I had some time on a Saturday afternoon, so I shot over to Arcadia. Located in the dowtown section of Battle Creek it was easy to find and had plenty of parking. The initial impression as you walk in is laid back and comfortable. There are plenty of tables for a group of people to sit and have a meal and a nice long bar to sit and enjoy Arcadia's work. Along the back wall there are old couches and very comfortable looking chairs and around the corner from there was the "mug club". I met the production manager and took a tour of the brewery. There were three of us on the tour which made for an enjoyable tour as there was plenty of time for questions and answers. After the tour I sat down at the bar and grabbed a menu. Full of BBQ, sandwiches and pizza, all reasonably priced. I opted for a sandwich and an Arcadia Amber Ale, both were great. 1 sandwich, 1 beer, 1 tour all for under $15. Thanks Arcadia.
912 characters
3.78
/5
rDev
-3.1%
vibe: 4.5 | quality: 3.5 | service: 4 | selection: 3.5 | food: 4
Myself and two of my buddies drove an hour or so north to check this place out simply because we had nothing better to do. Getting there is a piece of cake and Battle Creek is a pretty cool town otherwise as well. We made a point to stop by the church of scientology and take pictures on the way back for a good laugh since it was just a couple of blocks down the road.
The building itself is amongst the other shops on the main strip downtown. Once getting inside you can see almost half of the building itself is the brewery seperated by glass. There is plenty of tables and a fairly long bar that could seat at least twenty people. The kitchen is cool as it is just one man behind a counter with a fire oven going behind him. We got there a little before 1 and there was very few people there. After hanging out for a couple hours I noticed it had picked up a bit, and people seemed to take their time here.
The food was excellent, it wasn't cheap but it was worth the money. Everything seemed very fresh and the menu had things that everyone could eat. But they also seemed to offer things that are a little less common which interested me. I ordered the Goose with cranberry porter sauce and it was excellent. There was enough here that if I lived close by I would probobly dig a little deeper into the menu.
As far as the beers go I can't say I was too entirely impressed. They were all good and very fresh but none of them blew my mind. I got a London Porter, Starboard Stout, and their IPA. The porter wasn't bad but had a funny aftertaste and the Stout was served on a Nitrotap, which immediatly turned me off. However, the IPA was very enjoyable as was the amber my buddy had. I tried a taste of the Scotch ale before we left and wished I had gotten that.
They don't have much of a gift shop to speak of but there was a counter with some T-shirts and that in it. I had to ask our waitress for a pint glass and she ran upstairs and found one for me. They did have most of thier beers to go in a warm stack or out of the cooler. Their was six-packs or individual bottles, and you could also mix and match. They had a cheese spread that interested me, but I decided to just get a couple bombers of their Double IPA and a variety pack for my buddy.
In retrospect it was a fun experience and I would recommend it if you are in Battle Creek. Seeing as how Bell's is about 20 min one direction and Dark Horse is about 15 in the other, I am not sure if I will ever make it back there.
2,504 characters
4
/5
rDev
+2.6%
vibe: 4 | quality: 4 | service: 4 | selection: 4 | food: 4
I stopped in here with my kids after a "fun-filled" afternoon at the Cereal City museum. The snow was piled up outside as we got there around 5:00 on Saturday, and the place was pretty empty. It started to fill in as we ate our dinner. I'd been here before about 6 or 7 years ago after a business trip to Grand Rapids, and it was as comfortable as I remembered it. The kids each had wood-fired personal pizzas, and I got the brisket sandwich, which was very good. I also stole a slice of my daughter's pizza - it was tasty as well.
As for the beer, I had a sample of the ESB, a nice Scotch Ale (served in the appropriate globe), and their cask London Porter. Here's my take on the beers at Arcadia - they all seem to be on the lighter side of the respective styles, but are well made nonetheless. It's actually refreshing to have some British-style ales that a U.S. brewery hasn't destroyed by over-hopping. Nice place and worth a trip if you're in the area.
962 characters
4.14
/5
rDev
+6.2%
vibe: 4 | quality: 4 | service: 4.5 | selection: 4
I went into Arcadia Brewing with a coworker since we were in the area. The place is decorated with old beer gear and signs and is built with lots of wood and wood accents inside. The place is dimly lit but not dark with plenty of space inside. A nice place in what seems to be the downtown area.
We just stopped in for pints. They had about 8 or 10 of their own beers on tap and one beer (Angler's Ale) on the hand pump. No beers from other breweries were offered. The bartender was very courteous and quick with our beers. Lots of locals in the place and everyone was friendly. Near the front of the store they have a refrigerator case with many of their bottled beers up for sale.
Pints were $2.50 each. We have been in there at the beginning of happy hour, I don't know. But overall this is a great place that I would gladly stop in and visit again if I'm in the area.
877 characters

3.68
/5
rDev
-5.6%
vibe: 4 | quality: 4 | service: 3.5 | selection: 3 | food: 4.5
Stopped in on Thursday at about 6:00pm for dinner with family. Relaxed friendly atmosphere. We had my sister's two young kids, and it was a good scene for family. It was fairly quiet, a place you could talk and hear everyone at the table without strain.
The menu is pub type food, with an emphasis on bbq. I had brisket, and it was quite good. Prices were very fair. My meal was less than 10 dollars.
Now the important part, beer. I believe the had 6 beers on tap and 1 from cask. I drank the Anglers Ale, on special for $2 a pint. Its a nice amber ale that went quite well with the bbq.
Take the family for dinner, or hang out at the bar. I'd recommend Arcadia for either.
685 characters

4.44
/5
rDev
+13.8%
vibe: 4 | quality: 4.5 | service: 4.5 | selection: 4.5
Nice, big bar with some stuff on the walls and a large bar.
Lots of people, and unfortunately lots of smoke.
Beer was delicious and fresh and all of their regulars were on tap, plus their special reserve, which I had never had, but alas, no cask. Service was typical bar service: speak fast or go thirsty, but pretty friendly and knowledgable. The Arcadia brewer and Dark Horse brewer were there, so it couldn;t have been that bad.
Nice place to visit, but not worth the trip for me, as I have had all of their stuff on tap at Crunchy's in East Lansing.
558 characters
3.7
/5
rDev
-5.1%
vibe: 4 | quality: 3.5 | service: 4 | selection: 3.5
I visited Arcadia Brewery in Battle Creek right after vsiiting Cereal City to get some souvenirs for my grandaughter. I was already familiar with their IPA and London Porter from purchasing a mixed six-pack of various brews when staying in Grand Rapids. The bar area was cozy with lots of interesting beer-related pictures posted on all the walls. The brewer was busy getting ready for a batch and there was plenty of newly bottled beer stacked up and ready to go. I ordered the IPA hoping it would be a better experience than the bottled beer I tried earlier. Unfortunately, it did not do anything for me. Just not enough hop and malt taste to pique my interest. That was about it for Arcadia. I think the place has a nice atmosphere to it. I wanted to stay and give more of their beers a try, but I had to press on for Lansing and a game at Oldsmobile Field to see the Lansing Lugnuts (Chicago Cubs single-A affiliate).
921 characters
3.94
/5
rDev
+1%
vibe: 3.5 | quality: 4 | service: 4 | selection: 4
My parents recently moved to Battle Creek, so when I visited them, I made the trip to the brewery. Atmosphere was very relaxed and casual. The brewery itself is located in a very nice part of downtown Battle Creek, cobblestone streets etc. You can sit at the bar and view the brewing taking place as the wall seperating the bar from the brewery is glass. Copies of Ale Street News sit there waiting for you to read, and the bar top itself has what must be thousands of old beer lables on it. The quality and selection were both very good. I think I counted about 8 different brews on tap, 3 of which I sampled and were all very good. I even noticed 2 wines that they had on tap that were made on site. Service was very good as well. The bartenders were very knowledgeable about beer and were very proud of the product they served. When my glass was empty, they were right there waiting to fill it again. Food is available, but I did not try any. I plan on going back when I visit my parents again to try some of their seasonal beers and to take the tour of the brewery itself.
1,076 characters
4.13
/5
rDev
+5.9%
vibe: 4 | quality: 4 | service: 4.5 | selection: 4 | food: 4
This place was in downtonwn Battle Creek. They had a decent amount of space and seemed to use it well. When you sit at the nice long bar, behind you is a glass view of the distribution of their beer. The service was great. Our bartender was very well versed on beer and quite funny. The other help also seemed to display a similar attitude. The beer selection had a decent number of their brews on tap plus some others which may only be available on premise. The food was good, with the latest style of most brewpubs choosing electic styles to the standard pizza, sandwichs and salads that they offer. The place looked fairly new and clean. The only downside is downtowns these days often are pretty dead and it may not be the best location, unless you plan on visiting the Kellogg factory.
798 characters
Arcadia Brewing Company in Battle Creek, MI
3.66
out of
5
based on
9,806
ratings.