Kelham Island Tavern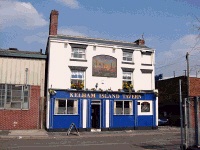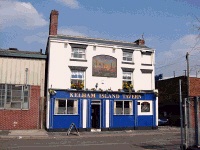 Bar, Eatery
62 Russell Street
Sheffield
,
England
, S3 8RW
United Kingdom
+44 114 272 2482 |
map
Notes:
Reviews by Clembo1957:

Clembo1957 from England
4.3
/5
rDev
+8.3%
vibe: 4 | quality: 4.5 | service: 4 | selection: 4.5
Another of Sheffields must visit pubs, the Kelham Island Tavern was CAMRA's Pub of The Year in 2010. The beer range is impressive and quality excellent with 12 handpumps. the pub is understandably popular with wandering droves of beer tickers!
On previous visits the landlord has always been friendly and talkative however on this visit the lad behind the bar seemed a bit on the surly side, maybe he was having an off day!
The area around the pub is a lot more gentrified than it used to be with lots of student flats being constructed in the area.
Shalesmoor tram stop is 10 minutes walk away and The Fat CAt, Wellington and The Harlequin all near by.
Jan 06, 2011
More User Reviews:

RuthIsStrangerThanFiction from Illinois
3.78
/5
rDev
-4.8%
vibe: 4 | quality: 3.75 | service: 3.75 | selection: 3.75
Good selection of cask ales. The pub has a very good atmosphere and each room is a bit different, give a unique feeling. There is a small, but nice outdoor space. They have a good pub trivia that is fun and well attended. The beer is good and not expensive. Great way to spend an afternoon or evening. It is a bit of a hike from the city centre, but very walkable.
Jun 26, 2013
BrewSomerville from Canada (ON)
3.73
/5
rDev
-6%
vibe: 4 | quality: 4 | service: 3 | selection: 4
The Kelham Island Tavern was voted CAMRA National Pub of The Year 2008 and 2009.
The atmosphere is nice. It looks really nice from the outside. Comfortable seating inside. Friendly bar staff that is knowledgeable about the beers that they have on.
In addition to the Kelham Island Beers, there was a good selection of others too including some Pictish beers.
All of the beers that I had were in good condition, and served at the proper temperature.
I didn't have any food while I was there so I can't judge it.
The prices were reasonable, and I had a good time while there. I would recommend it to anyone going to Sheffield.
Mar 01, 2010
wl0307 from England
4.14
/5
rDev
+4.3%
vibe: 4 | quality: 4 | service: 4.5 | selection: 4
Located in the centre of a myriad of construction sites in Shalesmoor, this pub along with Fat Cat are two hidden gems and great awards for real ale lovers, should they brave the elements to venture into an unknown and shabby backstreet part of Sheffield City (It's very close to an infamous red-light district, in fact...).
I've visited this pub for more than three times since last December, and the service and quality of beers are both consistently very good. Cozy feel, light music, quiet in the afternoon, turning busy (and possibly packed) in the evening as real ale lovers from all over the town start to gather here for fun. 10 handpumps on the bar await thirsty punters, all serving great quality beers from micro-breweries in Yorkshire and neighbouring counties. Several taps do well-selected foreign beers as well, plus two real ciders available on stillage in the cellar. The landlord is always cheerful and polite, caring for the locals but shows equal ambience towards newbies and tourists, like me.
If I have to "criticise" anything about this pub, it should be the interior, esp. the backroom which serves as the non-smoking area. It's good that the non-smoking and smoking areas are almost totally separated, but the interior at the back is very weird, like an exotic tea room with a random collection and display of articrafts and households... Apart from this, I thoroughly enjoy this place, with the outstanding quality of beers and ambience it has to offer. A must-visit pub in Sheffield, IMO.
Jan 28, 2007
TheLongBeachBum from California
3.88
/5
rDev
-2.3%
vibe: 4 | quality: 4 | service: 4 | selection: 3.5 | food: 4
A fantastic surprise for me during my recent visit to the UK & my Pub Crawl around Sheffield with close friends. After meeting in the Fat Cat on Alma Street, I am almost on auto-pilot when we left, I start walking towards to the Cask & Cutler, away from my friends. The Cask & Cutler has now been "relegated" to Pub Stop #3, or is that #2B?, for there is a 'New Kid on the Block' on the Northern Sheffield Pub Circuit.
The Kelham Island Tavern is quite literally just on the next street from the Fat Cat & maybe no more than 30 seconds walk. Once an ex-run down "Keg only" Pub that eventually closed, as indeed the neighboring industry did. After several unused years, it was recently re-opened as a rejuvenated Real Ale Pub.
Outside, it is a 3 storey building, with an impeccable white washed 2nd/3rd floors that really set off the dark blue painted ground floor, including old style wooden pillars set either side of the ground floor half frosted windows. Right in the middle of the 2nd & 3rd floors, & just above the entrance, is a positively huge colorful painted Pub Sign depicting Sheffield's Industrial past. With the 1st floor flower boxes – the frontage is very attractive & well presented.
Inside is a warm, welcoming, cozy, clean pub atmosphere. It should be, for it's all brand new, the Pub was gutted by the new owners & a very smart brand new, but well constructed, dark wooden bar has been installed just to the left of the entrance. Most of the fittings look new also. Maybe they need a little bit more wearing in.
The beer range consists of 6 Handpump beers, usually all Guest Beers, but there are "regular" beers from local Breweries, including Abbeydale, Kelham Island & Crown. It was also selling a beer called Merrie Mink from Hodson's (or was it Hobson's?) during my visit. Real Cider also.
Food is served here at lunchtimes, its the good 'value for money' home cooked variety. I got the impression that food has just been made available. It was well received.
It also has an outside drinking area to the back as well which is very pleasant, as it was a sunny day, it was gratefully utilized by us. Superb.
A really great addition to the Real Ale Pubs of Sheffield, & extremely heart warming to see that this back street boozer was rescued from almost sure dereliction, demolition & another closed pub statistic. It just goes to show what can be done with some hard work & of course, good value, well kept Real Ale.
Closest SuperTram Station is Shalesmoor.
Last Visit: 12th April 2003
May 09, 2003
Kelham Island Tavern in Sheffield, GB2, United Kingdom
Place rating:
3.97
out of
5
with
5
ratings