Lemon Heights Hefe
| Tustin Brewing Company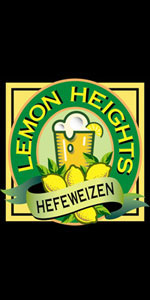 BEER INFO
Brewed by:
Tustin Brewing Company
California
,
United States
|
website
Style:
American Pale Wheat Ale
Alcohol by volume (ABV):
5.00%
Availability:
Year-round
Notes / Commercial Description:
No notes at this time.
Added by charlzm on 04-16-2008
Reviews: 7 | Ratings: 14
Reviews by beagle75:

3.23
/5
rDev
+11%
look: 3.5 | smell: 3 | taste: 3 | feel: 4 | overall: 3.5
Draft service into a shaker pint glass at TBC.
A: Hazy, pale yellow color with one finger of diminishing white foam head. Light lacing remains on the glass and new bubbles are seen to rise to the surface of the beer constantly.
S: Very mild, with just a trace of bready yeast but little else to report.
T: Begins dry, with crisp minerality and a peppery burst of early acidity. The middle features some more substantial wheat, but even here it stays light, bright, and citric. This beer finishes with lingering husky wheat, but little bitterness. The flavor profile is strikingly lacking in phenolic influence.
M: Thin to medium viscosity, wet and refreshing on the palate but with palpable wheat, with brisk carbonation.
D/O: This beer is particularly refreshing and easy to drink, but it does not invoke the spirit of the style as embodied by the Bavarian archetypes. Trademark banana and clove elements are largely absent, although wheat and some lemony citrus does show up. Amongst locally brewed hefeweizens, this beer beats that brewed by Karl Strauss, but that's about the limit of its accomplishments.
★
1,114 characters
More User Reviews:

2.7
/5
rDev
-7.2%
look: 2.5 | smell: 2.5 | taste: 3 | feel: 2.5 | overall: 2.5
On tap at the Tustin Brew Pub in Tustin, CA.
They brought this one over to me with a lemon wedge in it (oh, joy). Poured a light golden color with a small sized white head. Aromas of, drum roll please. lemons. Tastes of the same lemon with just a trace, and I mean trace, of wheat and if I stretch it, some spiciness. Thin and lively body that ends in light sweetness.
★
369 characters
2.77
/5
rDev
-4.8%
look: 2.5 | smell: 3 | taste: 2.5 | feel: 3 | overall: 3
Consumed 04/14/08.
Filtered, pale yellow beer with almost no head.
Very slight lemongrass aroma.
Maltier than expected: a little sweet, even. Smooth. Only a touch of wheat flavor. Lighter in flavor than even their light ale, oddly.
Maybe there should be a beer law that you can't call anything a "hefe" unless it's made in the true German style...
★
359 characters

3.22
/5
rDev
+10.7%
look: 2.5 | smell: 3 | taste: 3 | feel: 3.5 | overall: 4
On-tap at Tustin
A: The pour is clear and very pale yellow with very little head. They serve it with a lemon wedge. I declined to make use of it.
S: The aroma is slightly tart (almost lemony) with the usual wheat aroma.
T: Like the nose, this is a mildly tart wheat beer. Not too much complexity or depth to it.
M: The body is light and fairly high in terms of carbonation.
D: A very easy drinking, light, lemony wheat beer. I think this beer would be better classified as a Berliner Weiss. As I begun to think about the beer in that light, I enjoyed it much more.
★
569 characters
4.63
/5
rDev
+59.1%
look: 5 | smell: 4.5 | taste: 4.5 | feel: 5 | overall: 4.75
Lemon Heights is the essence of California citrus and sunshine in a bottle. A century ago citrus was a metaphor for the good weather and good living of Southern California. A lemon or an orange was told to posses mythical properties and all could be cured with a piece of fruit. Sent back East, citrus was an ambassador for Southern California designed to provoke envy that there was a magical place with sunshine year round. Lemon Heights Hefe is the new emissary, showcasing Southern California microbrewing, promising with every sip to cure what ails you.
Lemon Heights is one of Tustin Brewing Company's best in my opinion. A rarity when wheats, the safe choice of occasional beer drinkers who are turned off by hops, are often an after thought and over looked. I try their other selections but I always return to Lemon Heights for the full bodied yet simple taste that is so drinkable. Some may find the lemon too obvious but I appreciate the rich balance between flavor and beer. Especially given wheat tendencies to sometimes to be too subtle.
Lemon Heights is perfect for sitting outside on a warm day as if you were the lemon that made your beer, hanging out on the tree, overlooking the valley and reminding yourself that you're in Southern California. A personal favorite from the Tustin Brewing Company.
★
1,317 characters

2.7
/5
rDev
-7.2%
look: 3 | smell: 3 | taste: 2.5 | feel: 3 | overall: 2.5
8/26/2011
On tap at Tustin Brewing.
A: Hazy yellow with a small finger of white foam.
S: Grainy and bready malt. Lemon is pronounced. Nothing much else to report. This is very simple.
T: Bready malt with lemon and grain. There's a low bitterness. Not much going on.
M: Lower medium body with lower moderate carbonation.
Overall: This is just a bland American Wheat Beer, not a Hefeweizen.
★
394 characters

2.75
/5
rDev
-5.5%
look: 3 | smell: 3 | taste: 2.5 | feel: 3.5 | overall: 2.5
The name Lemon Heights refers to an inhabited unincorporated area northeast of Tustin Brewing. I've driven on the narrow twisty roads of Lemon Heights and I feel like I'm far away from the city everytime I do. Oh, about the beer:
This beer is mildly hazy; faded lemon wedge yellow in color (by the way, I reviewed the beer WITHOUT the citrus). The aroma brings malted wheat and anonymous cereals to the nose. As for the taste, well, let's just say it's not really a hefewiezen. I tasted cooked cereals and faint lemon throughout, and there was a touch of musty chalk. The aftertaste is dry with a faded bitterness.
It was okay to refresh from a full day at work and the 100 degree heat, but go ahead and squeeze a lemon wedge into the beer; you'll have a much flavorful and refreshing experience if you do.
★
809 characters


2.68
/5
rDev
-7.9%
look: 3.25 | smell: 2.75 | taste: 2.5 | feel: 2.75 | overall: 2.75
Lemon Heights Hefe from Tustin Brewing Company
2.91
out of
5
based on
14
ratings.