Yesterday's Ale House and The Place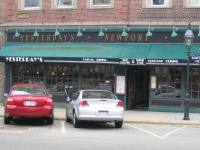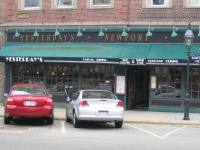 PLACE INFO
Type:
Bar, Eatery
28 Washington Sq
Newport
,
Rhode Island
, 02840-2947
United States
(401) 847-0116
// CLOSED //
Notes:
No notes at this time.
Added by BeerAdvocate
PLACE STATS
Reviews:

15

Ratings:

pDev:

12.47%
HISTOGRAM
View: Place Reviews
Ratings: 15 | Reviews: 15

4.18
/5
rDev
+10.9%
vibe: 4 | quality: 4 | service: 4.5 | selection: 4 | food: 4.5
New review.
Yesterday's is always an extended stop when we do a Newport pub crawl. The bar is nice to sit at, the bartenders are friendly.
25+taps, most are micro/local. Lots of New England representation. Was thrilled to see Mayflower IPA and Mayflower Spring Hop on tap. Good glassware here, as well.
Food is very very good- we always grab a couple of pints and some food here- nice variety of stuff and rotating specials. Large portions.
Not the cheapest, although very reasonable for Newport. Beer is about average.
Pour Judgement has a better craft selection, but Yesterday's has a better vibe and extended menu. Hit 'em both, it's what we usually do.
664 characters
3.96
/5
rDev
+5%
vibe: 3.5 | quality: 4.5 | service: 3.5 | selection: 4
After having a great meal that lacked decent accompanying beer, we ventured around the corner to this bar last Saturday night. Needless to say, i was very impressed with the array of taps at this otherwise unassuming, but still classy pub. The place has two bars, one to serve the fancier dining room, and the u-shaped one that held about 30 taps. Stained glass and maritime themes round out the decor. For a Saturday night in Newport, this place was a nice respite form the Hampton-esque scene that the 21 year-olds strive to create in this little town in the summer. It was very quiet inside and the beers were great.
What did we drink: I had the "schooner" or whatever it was called, which was four 7oz samples of my choice of beers for 8.50. My boat of beer included OtterCreek Stovepipe Porter (nice roasted flavor, little on the astringent side), the Wolaver's IPA (delicious!), the Ithaca nut brown ale (sweet upfront and nice body overall), and a obscure dark lager (bock) from god knows where. I am kicking myself that i can't recall the name of that one cause it was great!
My wife had the Dogfish 90 min IPA, which thanks to Dogfish's aggressive marketing was served in the appropriate logo-marked snifter.
Other beers on tap, as far as i can remember, included three nitro-taps: Boddingtons's, Belhaven, Guinness, and a nice array of micros: Woalver's and OtterCreek, Sam Adams, Long Trail, Lagunitas IPA, Newport Storm selections, a Belgian tap (Leffe i think), several magic hat brews, offshore IPA, and Cisco's Whale Tale, There is also Harp, Stella, Franziskaner, NewCastle, Bass, and Woodchuck cider.
The bartender was attentive, but didn't seem inclined to talk about the brews, which is regrettable 'cause there was much to discuss in their diverse selection. It was so surprisingly good that I didn't even think to check the bottles, I'll leave that for my next visit!
1,894 characters
4.08
/5
rDev
+8.2%
vibe: 3.5 | quality: 4 | service: 4 | selection: 4.5
I visited Yesterdays this weekend and was pretty satisfied with what I found. They had 35 taps going with a good variety that included Titan IPA, Red Seal Ale, Offshore Amber, Newcastle Brown Ale, Dogfish 90 minute, Ithaca Nut Brown, Magic Hat #9, Lagunitas IPA, Sierrra Nevada Pal Ale, Blue Point's Hoptical Illusion, Seadog Blueberry, Leffe Blonde Ale and Harpoons Hibernian to name a few. They also had a cider, Woodchuck Granny Smith, a beer from Nantucket called Sankaty Light – not bad, tasty and crisp – and Peroni, the number 1 Italian beer. Overall a decent mix.
The Schooner Sampler was pretty good too – 4 samples for a reasonable price, considering you're in Newport. The Bartender was friendly and informative. It wasn't too crowed when we were there, but the atmosphere seemed pleasant. It will definitely be on my "things to do list' next time I'm in Newport.
886 characters

3.13
/5
rDev
-17%
vibe: 4 | quality: 3 | service: 2.5 | selection: 3.5
When I'm in Newport, I usually stop in here on each day's drinking. The main reason is that they have perhaps the only selection that approaches extensive in the city. Another reason is that the room is a beautiful old cozy gem.
The selection sort of moves around a bit, but you can find some east coast regulars like Magic Hat (God help me, I really like #9 for some reason), Harpoon, Long Trail; some west coast stuff like Sierra. If you can't make up your mind they have a little boat-thing for 4 samples. That's a neat idea that I should have tried since I got stuck with a pint of one of the three worst beers I've ever had: Blue Point from Oregon.
The service is what you might expect in a tourist trap like Newport: a bit stuffy and ambivalent. Our bartender looked like John Kerry so that must explain our mutual dislike. All in all, however, I do like this place because at least it tries to be true to beer.
923 characters

3.56
/5
rDev
-5.6%
vibe: 4 | quality: 3.5 | service: 4 | selection: 3
Myself and a group of friends headed to yesterdays for some after dinner beers after dining in downtown Newport. We were walking and asked directions as to how to get there - pretty easy to find once you know where you are going.
The atmosphere was appealing. We were there after dinner so it was not overly crowded. The group was mixed - a variety of ages. I was not OVERLY impressed with the beer list. I ended up choosing the Flying Dog K-9 - which was listed on the front page of their beer menu as a featured beer. I was satisfied with it.
The bar was set in the middle of the place. Several people were seated there. Booths were also available for those wishing to have food as well. My group of five settled on a high round table with extremely heavy barstools around it! We sat near the jukebox and I put a dollar in for 4 plays (not a bad music selection) but you could barely hear the music filtered through their speakers.
The tone was sort of old-fashioned and very much in keeping with the Newport tone! The lighting was dim. It was comfortable. The bartender was personable.
If I am in Newport again I will be very likely to go back!
1,160 characters
3.85
/5
rDev
+2.1%
vibe: 3 | quality: 4 | service: 4 | selection: 4 | food: 3.5
Yeah, pretty decent joint. 30+ taps with the highlights for me being Hooker Pale, Alpha King, Magic Hat St. Gootz, Anderson Valley Hop Ottin', and Weinstephaner. The drafts included a lot of macro stuff, and not much going on in the bottle, but Yesterdays had the best beer selection in Newport...that I found, anyway. Good bartenders...got 2 free pints (by mistake? probably, but, hey, free is free).
Place was loud, and they had too many bar stools jammed together, but overall, a nice place for a pint or two.
514 characters

3.08
/5
rDev
-18.3%
vibe: 3 | quality: 3 | service: 2.5 | selection: 4 | food: 2.5
Spent a couple of days in Newport, and was excited when my non-drinking girlfriend picked the same place for dinner on her Google search I'd picked from my BA search. Unfortunately the expectations were greater than the real thing.
Atmosphere was pleasant enough, although fairly emptly on a Thursday night. Beer selection has been mentioned previously, and is fairly good, at least in comparison to other Newport bars. Had one of the few Belgians (a Leffe), and tried Anderson Valley Hop Ottin' IPA for the first time, which was very good. The waiter seemed fairly oblivious to staying on top of empty glasses; I practically had to drag him over to get a refill. Unfortunately the food left much to be desired. The calamari was an overly fishy "fish-stick" flavor, rather unpleasant. The menu was actually rather limited as far as entrees; just a few choices on the specials menu. I had a decent "crab salad" sandwich that seemed to be better suited to a diner, and the better half's salad was also fairly unimpressive. Overall, not a bad option I suppose for beer alone, but I'd skip it for dinner.
1,102 characters

3.88
/5
rDev
+2.9%
vibe: 4 | quality: 4 | service: 4 | selection: 3.5 | food: 4
Nice place. The atmosphere was friendly and welcoming on the Friday evening that I visited for both dinner and beer. Wood furnished, with mirror walls making it seem larger than it was. Food was great. I had a tasty mug of chilli which had a nice cheese covering, and a southwest turkey sandwitch which I was pleased with. Very decent food prices and reasonable for beer as well. Beer tap selection was pretty decent for Rhode Island. Brews that caught my eye included North Coast Red Seal, Anchor Steam, Whale's Tale Pale, Hop Ottin' IPA, and Raison D'etre. Also during the winter season I think they have Heart of Darkness on tap which I'll have to try. Speaking of Magic Hat, there was a Y27 pilsner brew that was made specifically for Yesterday's (the 27 meaning they have been in business for that long). Also I got a schooner at some point there, four different beers, and it was served in a wood schooner...a nice touch.
927 characters

4.14
/5
rDev
+9.8%
vibe: 4 | quality: 4 | service: 4 | selection: 4.5
Just a few hundered yards from the center of downtown Newport, the location is quite a plus. It makes parking near here not as tough as it could be if it were more in the heart of the action. The decor is cool--very wooden, speakeasy type feel that could be almost anywhere USA. It reminds me a bit of some Chicago bars and it also reminded me a little bit of Mug's in Brooklyn in terms of decor. This place is a little nicer than Mug's inside though. The ceilings are high and they have walls in the back that have mirrors on them so it makes the place feel bigger. Nicely tiled floors.
The draft list was pretty extensive and maybe the best selection I have seen in RI. I got this Red Seal ale from North coast on-tap that was so good and fresh , I didn't even want to try anything else. I did opt for a couple samples of some of their other offerings and after trying those, I went back to the Red Seal.
The place was pretty empty when we were there, so the service was fabulous. The bartender was friendly and didn't mind giving me a few tastes to try for free at all. We did not eat anything but I was told by a fellow BA that the food here is pretty good.
The one final thing that I liked about this place was--as we were leaving, I believe it was the owner or manager , thanked us for coming. I highly recommend this place and I don't think I will visit Newport again w/o hitting up Yesterdays.
1,411 characters

3.88
/5
rDev
+2.9%
vibe: 4 | quality: 3 | service: 4 | selection: 4.5 | food: 4.5
Perhaps my favorite place in Newport, RI
Atmosphere: Nice place. Quite roomy inside which was surprising because from the outside it looked quite small inside. But the interior had some dark wood and the boothes had small banker-type lamps so it wasn't too light or too dark.
Quality: Got a ding because I wanted some water and there was some hot pink lipstick still on there. Yuk! New glass please. But our waitress quickly gave me a new glass of water. Good, fast service which was nice to see, but their pint glasses seemed dirty. My sister-in-law's glass was a little dirty as well. Do they wash glasses back there??
Service: Our waitress was pretty good. Kept an eye on us and refilled our water's when we were low. I had a few questions about the beer (espeically the Y-27) and described what it was like.
Selection: Took us a while to pick out what we wanted to eat, nice size selection of food to pick from. And the beer menu was very nice. Had some Magic Hat's Y-27 which was good. Then I had some North Coast Red Ale which went nicely with my seafood dish. The sauces there are so damn tasty.
Food: Like I said earlier, the sauces are really good there. Their food is extremely tasty. Perhaps one of the better seafood dinner's I've had the pleasure to eat. My brother had the Grilled Tuna in Wasabi butter sauce which was to die for. He paired it with some Dogfish 90 minute IPA and the pairing was perfect. We ended the evening with some dessert with some cognac. A great place to have a few pints and eat a great dinner. I'll miss this place.
1,572 characters
2.73
/5
rDev
-27.6%
vibe: 3 | quality: 3 | service: 1 | selection: 3.5 | food: 4
This has always been one of my favorite places to eat in Newport. In recent years they have up graded their bar and beer menu. Said beer menu (draft) now includes selections such as "Paper City's Winter Palace Wee Heavy" , "Cisco Brewery's Whales Tale Pale Ale", "Long Trails Hibernator Ale","Franziskaner Weissbier" and "Lindemans Framboise Lambic". Now one would expect an establishment that is moving quality beer on draft to train their help a little better than to serve a customer who ordered a "Bar Harbour Blueberry Ale" a "Seadog BlueberryWheat" with out infoming him of the change, and then ignoring the customers question about which beer was served to him. This ruined a perfectly good dinner for me and will reduce my interest in returning here in the future!
772 characters
3.6
/5
rDev
-4.5%
vibe: 2 | quality: 4 | service: 2.5 | selection: 4.5 | food: 4.5
A very lively place on a Saturday night, the current theme was Carribean, Carribean specials on the menu, and a DJ banging away at a steel drum while playing songs. During the first song I wanted him to die, during the second I wanted to kill him, and by the third I wanted to kill myself. Drop that and come when theres no obnoxious theme and the atmosphere would go way up in my book.
They have about 30 taps, New England micros are well represented - something present from each NE state, the local Newport Storm, Magic Hat Heart of Darkness was on, as well as Sierra Nevada Celebration, other American micros and some Belgians and - I was a happy man.
Service was a doubleheaded monster - our waiter was great and I would have given service a 5, except... the poor man was overworked with twice the tables he should have had to cover. So just a 2.5
Food was great - the nachos are huge, with lots of the good stuff they don't skimp. The Yesterday's chicken was another highpoint, with spinach replacing my hated lettuce.
Come in when there isn't a crowd or live music and it will be a great place for some food and New England beer. The problems I had were strictly related to the time we went.
1,204 characters

3.15
/5
rDev
-16.4%
vibe: 2 | quality: 2 | service: 4 | selection: 4 | food: 3.5
Downtown Newport. Dark wooded interior mixed with shiny metals, kind of relaxing, but with a rich tourist vibe. The bar area is seperated from the dining area. Selection is very nice - a mix of necessities and more interesting offerings. Otter Creek, Dogfish Head, Leffe, Magic Hat, Stella, etc. on draft. I don't seem to remember a bottle list being available, although I could be wrong. Unfortunately the quality is not any better than your average bar - stadium pours, really cold. Sometimes they will serve you appropriate glassware, which is a plus. Service tends to be pleasant, although perhaps a tad pretentious for my liking. Food is fine, I haven't had anything I would rave about or complain about. Overall it is an average place to go, not a favorite of mine.
771 characters
4.22
/5
rDev
+11.9%
vibe: 4.5 | quality: 4 | service: 4.5 | selection: 4 | food: 4.5
Stopped in for a late lunch and a couple of beers on a Saturday afternoon in September and the place was dead. I was impressed with the layout of the this huge place. A large bar and plenty of booths to sit at. The beer list was decent -waitress said they had 35 taps -and she tried to push the Y-27 beer that is brewed by Magic Hat for them - no thanks, I'll pass. Instead I had a Fordham Helles that was either past its prime or poured poorly. Next beer - Otter Creek Vermont Lager more than made up for the first one. I had a grilled tuna salad that was huge and very tasty - especially if you like olives. If you can't decide what beer to have get a schooner of 4 - 7 oz. beers for $8. I can imagine this place gets packed on summer weekend nights. Looks like a great place to drink decent beer and eat good food with friends.
830 characters
4.31
/5
rDev
+14.3%
vibe: 3 | quality: 4.5 | service: 4 | selection: 5
stopped in here with a crew of other BAs (running4beer, michiganmiked, bierallucanbRI) and we had a good time. lots and lots and lots of draught beer here. fairly interesting and exotic choices, too, like hoegaarden and allagash whte on tap, all sorts of good micros, too.
didn't try the food, but it was a fun bar to check out.
330 characters
Yesterday's Ale House and The Place in Newport, RI
Place rating:
3.77
out of
5
with
15
ratings