Lakeport Ale
| Lakeport Brewing Company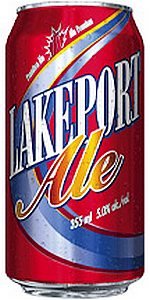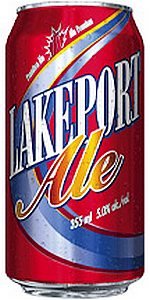 BEER INFO
Brewed by:
Lakeport Brewing Company
New Brunswick
,
Canada
lakeportbrewing.ca
Style:
American Blonde Ale
Alcohol by volume (ABV):
5.00%
Availability:
Year-round
Notes / Commercial Description:
No notes at this time.
Added by Bestuurder on 02-25-2008
HISTOGRAM
Ratings: 8 | Reviews: 7
Reviews by Bestuurder:
2.88
/5
rDev
+9.1%
look: 3.5 | smell: 3 | taste: 3 | feel: 2.5 | overall: 2.5
Poured from a brown bottle into a pint glass. Pale yellow colouration, nicely fermented with a non-overpowering amount of carbonation.Decent white head, with a fair amount of lacing present.
The mouthfeel was smooth and clean at first, yet transformed into a sheering feeling on the taste buds.
A well-balanced aroma, with distinct characters of the hops. 'Crispness' as Lakeport describes this brew is somewhat more of a harshness at first, but I would not suggest as a daily drinker, but rather an occasional social drink, perhaps with pork or barbequed chicken breast. Excellent with a slice of smoked cheddar!
615 characters
More User Reviews:


5
/5
rDev
+89.4%
look: 5 | smell: 5 | taste: 5 | feel: 5 | overall: 5
I'm giving this a 5 because I was unusually surprised by this one. I bought a case of Lakeport Ale because I like to try all the lowest priced domestics. Poured it, it looks great but then again haven't seen a bad one yet. The smell was good but that first sip I knew I was tasting something real special. A nicely balanced taste with a slight hint of citrus on the palate with slight characteristics of a lager but maintaining an ale essence. I would say it's the best domestic I've tried yet but here's the funny thing. I went back to buy about 3 cases and they are currently not stocking it. I will definitely be buying this gem again if it becomes available at my store.
674 characters
2.21
/5
rDev
-16.3%
look: 4 | smell: 3 | taste: 1.5 | feel: 2.5 | overall: 2
341mL twist bottle, 5.00% abv. Fridge temp.
Thick white soapy head, gold body. Decent retention, considering the temperature of the brew.
Notes of soap, metal, adjunct, some leafy hop notes. Sweetness.
Sweet palate - refined sugar, spice, yeast. Bready. Soapy metallic finish, that progresses into an unholy blend of adjuncty residual sweetness and rusty metal.
Not recommended.
382 characters
1.25
/5
rDev
-52.7%
look: 1.5 | smell: 1.5 | taste: 1 | feel: 1 | overall: 1.5
Sparkling gold pour, unleashes a short lived white fizz. Wet paper aroma, grains, tin, pepper, creamed corn, straw, pale malts. Somewhat sweet grains, vegetable broth, corn and slate sugary malts leading to a dextrin bite in the finish. This is a dirty beer. Lakeport makes so many beers like this already, but they are all lagers. I guess it makes sense to "brew an ale" and sell it for as buck a beer too. As an aside to the beer review, the packaging of this beer is the worst I have seen in years. Bright red box with a purple/blue swoosh that clashes like none other. Just carrying this six pack down the street might get you jumped.
638 characters

3.12
/5
rDev
+18.2%
look: 2.5 | smell: 3 | taste: 3.5 | feel: 2.5 | overall: 3
Poours a deep yellow colour with a small head that dissipates...
Smells like an average macro lager, maybe some hop detected.
I did not mind this actually, a bit tangy, citrusy, lakeports best beer for sure, but thats not saying much.
At a buck a beer, this might be my new beer for getting wasted.
301 characters
2.83
/5
rDev
+7.2%
look: 3 | smell: 2.5 | taste: 3 | feel: 2.5 | overall: 3
Being from Hamilton, Lakeport brews are a hometown favorite, so i figured id try this one. Anyway, pours out a piss yellow color, with little to no lacing. With most lakeport brews, they just down right smell bad. This one is no different, smells of cardboard and that metallic scent that just screams lakeport. Just bad. Well for a cheap ale, which I might add is a breakthrough for the Buck-A-Beer market in Ontario, because it is the first buck a beer ale. It tastes pretty decent. Well carbonated, goes down relatively smooth, with that metallic twangy aftertaste. Not too bad. I just wish there were hops in this brew! Mouthfeel was just bad for this one, very watery. It literally felt like you had water in your mouth. Defiantly you could have more than one, but I'd rather session something else. Give it a try, its not that bad.
837 characters
2.55
/5
rDev
-3.4%
look: 2.5 | smell: 2.5 | taste: 2.5 | feel: 3 | overall: 2.5
Pretty much your basic cheap ale. If you want something cheap, crisp, and good on a really hot day, this will suffice. But it is nothing special, and can be thrown into the pile with others like Coors Lite, Blue, OV, whatever. But if you're buying a case for $24 dollars, taste probably isn't your biggest worry.
312 characters
Lakeport Ale from Lakeport Brewing Company
Beer rating:
2.64
out of
5
with
8
ratings