Vickers' Liquors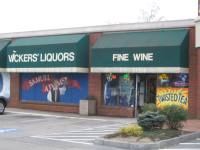 PLACE INFO
Type:
Store
274 Bellevue Ave
Newport
,
Rhode Island
, 02840-3516
United States
(401) 847-0123 |
map
vickersliquors.com
Notes:
No notes at this time.
Added by EmoBeerGuy
Reviews: 7 | Ratings: 8
Reviews by harpus:
2.7
/5
rDev
-7.2%
I went to this place based onthe ranking of it here on BeerAdvocate. I was not impressed, it was just another clutered liquor store. They had an OK selection they had some DFH, and some other I cant think of. They carried as mentioned before DFH but aslo some cheap beer as well. I was not happy with the prices, so I only bought a few. The prices were high, an exampleis DFH I bought two beers both 750 ml and about 16 to 18 dollars each. I went by another store (which I have rated) in Rhode Island today that carried the same to beers, one was aout 2 dollars cheaper and the other was 5 or 6 dollars cheaper. I ever had any body ask if I needed help, the only employee I remember seeing was the guy behind the counter. I will not go back to this place, it is not worth my time or money.
789 characters
More User Reviews:

3.66
/5
rDev
+25.8%
vibe: 3 | quality: 3.75 | service: 3.5 | selection: 4
Good craft selection. Good overall selection. Quite reasonable prices too.
74 characters
3.23
/5
rDev
+11%
vibe: 3 | quality: 3.5 | service: 3 | selection: 3.25
Vicker's is very Bellevue. It's VERY expensive. Every time I go into the store in an emergency, I'm shocked how much more I'm spending than at my regular stores. $3 is a HUGE difference on a six-pack of beer.
The only things the store has going for it is convenience and maybe selection. This is a last resort liquor store, where you're either running in a 5 minutes to close, or else you're strolling in after no other store has that one thing you HAVE to have.
Now, if you have money to burn, then have at it.
513 characters
4.94
/5
rDev
+69.8%
vibe: 4.5 | quality: 5 | service: 5 | selection: 5
It is the best store I have ever been in. The staff is great and so is the selection. It is the only store I have ever really enjoyed going into! I am also into bourbon and other whiskeys. The wine selection is unequaled. I had a big party. They did everything though I wait
274 characters
4.73
/5
rDev
+62.5%
vibe: 4 | quality: 4.75 | service: 5 | selection: 4.75
All the other ratings are very old! The store is very crowded. Their selection is very good. They had no Dog Fish Head but neither does any other store in Rhode Island.They did say, however, they would have it back in in November. They have a great selsction of Goose Island and Founders, two of my favorite beers.Service was great. If I have a complaint, the store could be cleaner.
383 characters

2.71
/5
rDev
-6.9%
vibe: 2 | quality: 2.5 | service: 2 | selection: 4
Store is filled to the brim with dusty beer and wine. Staff is mostly indifferent, but certainly not rude to anyone, but not particularly knowledgable either (at least not about beer). Store is super messy and hard to navigate through. Prices on items are hit or miss. The store definitely seems to be focused on selling items to people heading to parties and things like that, which is okay, since it gives you an opportunity to get some items that would be picked up instantly anywhere else. On memorial day weekend they had tons of FW Parabola, XVI and Sucuba all just sitting there on the shelf. Lots of other signs that they don't get too much beer geek traffic, such as a ton of BCBS sitting in the fridge.
Tough to tell how the prices are, I bought a XVI for $24 after tax but I don't get FW in my home area. I remember buying a XV for $20 before tax back when I lived in NY, so it seems like that's probably a little more expensive. Parabola and Sucuba were $18, I think - I didn't pick them up. Sixpoint Apollo 4 packs were quoted to me as $20, which is insanely high. I'm tempted to say he just looked up the wrong price.
1,132 characters
3.15
/5
rDev
+8.2%
Stopped in here while on business in Newport. super cramped store, beer is against the back wall. Usual macro suspects but great selection of micro's.Left Hand,DFH,Newport Storm, Paper City, Otter Creek seasonal bombers.A small selection of Belgians maybe a dozen or so. I picked up a DFH red and white and some Sea Hag Ipa cans and about half a dozen assorted random belgians. Pros: Great service,staff knew what they are talking about. And they offered me a box which is always a plus.Cons:Place was really disorganized.Boxes stacked everywhere,blocking displays,most bottles covered in dust,but dates were all ok. Watch for parking lot police! They take the job seriously and I watched them turn away a couple of little old ladies looking to park and sightsee.
+++
Updated review. 5/23/08
I have updated the review after stopping in again yesterday.
While last year i was able to find a few gems on the shelf, i had forgiven the overall mess of the store. Yesterday however, To be blunt, was a wreck. The warm beer selection had shrunk by at least a foot or so (it was hard to see with several large dusty boxes blocking the entire warm beer set) I found several out of date beers on the shelf. cold beer was the exact same beers I saw last year, nothing new. Nice guys who work at the store, but kindness only goes so far when your store looks like it had been in an earthquake. Clean up the store guys, dust never sells product.
1,437 characters
3.85
/5
rDev
+32.3%
Vicker's may have one of the best selections in town for us islanders. The Bellevue Plaza is always packed with people and traffic. The place is jammed packed with dusty boxes, fine wines and a few beer coolers in the back of the store. You will find all the commons then a good selection of locals and micros, which are well separated. This was the only place in town I was able to find the newly canned Archer's Ale from Sherwood Forest Brewery and the anticipated Newport Storm Amber Ale in a can.
The Dogfish Head selection seems to get better every time I go in with The Chicory Stout and The 90 Minute IPA. The coolers are usually stocked with the likes of Gritty's, Otter Creek and Sea Dog, Ipswich, Brooklyn. Six packs are easy to find if you know where to look. It's tight between the coolers and I like to search around to find a new jewel tucked away which usually is interrupted by some one trying to get around me with a 30 rack from the back cooler.
This place is worth checking out if in the area. The people behind the counter are well oriented with the stock and seem pleased to help.
1,107 characters
Vickers' Liquors in Newport, RI
2.91
out of
5
based on
8
ratings.