Brewers' Cut Kölsch
| Real Ale Brewing Company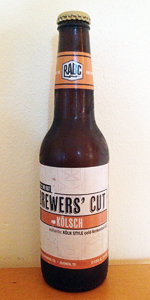 BEER INFO
Brewed by:
Real Ale Brewing Company
Texas
,
United States
realalebrewing.com
Style:
Kölsch
Alcohol by volume (ABV):
5.20%
Availability:
Limited (brewed once)
Notes / Commercial Description:
No notes at this time.
Added by Riccymon on 07-29-2013
This beer is retired; no longer brewed.
Reviews: 11 | Ratings: 51
3.23
/5
rDev
-17%
look: 3.5 | smell: 3 | taste: 3.25 | feel: 3.5 | overall: 3.25
Pours out a hazy pale straw. Smell is grainy and kind of boozy. Flavor is of light malts and tasty noble hops with a sharp hop bite. Could be a little less cerealy for me. I get a bit of booze in this, which is odd considering the low abv. Very distinctive Real Ale house taste which I really don't want in this beer. Mouthfeel is a little soft. Would like more bubbles. Overall this isn't bad, but I'd much rather Hans' Pils. This kills Love Street, but what doesn't?
468 characters
3.5
/5
rDev
-10%
look: 3.5 | smell: 3.5 | taste: 3.5 | feel: 3.5 | overall: 3.5
Beer has been retired. I drink this some time ago and remember it having a crisp, refreshing taste with a typical lager staleness. It was worth drinking but not worth looking for.
181 characters
3.71
/5
rDev
-4.6%
look: 4 | smell: 3.5 | taste: 3.75 | feel: 3.75 | overall: 3.75
12 oz bottle poured into tulip glass.
A - Light hazy straw color. A finger of bubbly white head.
S - Grainy, slightly sweet. Not much hop aroma.
T - Very subdued flavors. Grainy, sweet, floral, subtle hop flavor. Finishes dry and grainy.
M - Thin body, high carbonation. Crisp and refreshing.
O - Not my favorite style, but RA did a good job on it. Crisp and refreshing.
375 characters
3.75
/5
rDev
-3.6%
look: 3.75 | smell: 3.75 | taste: 3.75 | feel: 3.75 | overall: 3.75
Appearance: Slightly hazy, light golden in color with a massive, coarse white head, which fades all too soon. The carbonation is faint, Belgian-style lacing adorns the glass walls.
Aroma: Grassy hops with the scent of new-mown hay vie with lightly-toasted malts.
Taste: Grassy and noble hops open the taste, soon followed by lightly-toasted malts. The malts offer a bread and cracker flavor, slightly reminiscent of a Pilsner. As the taste progresses, the malt and hops find a harmonious balance, with neither outshining the other. Late in the taste, some leafy hop notes appear, bringing the taste to a graceful close.
Mouth feel: Smooth, pleasant, a touch thin, with soft carbonation.
Drinkability/notes: A nice example, very well-crafted as with all Real Ale offerings, and fairly true to its German antecedent, although a bit hoppier. A very pleasant summer beer, and quite acceptable to offer to macro beer drinkers.
Presentation: Packaged in a standard twelve-ounce brown glass long neck bottle with a pry-off crown, served in a New Belgium Brewing chalice.
1,068 characters
3.85
/5
rDev
-1%
look: 3.75 | smell: 3.75 | taste: 4 | feel: 3.75 | overall: 3.75
12oz, enjoy by 11/13/13 date
A: Pours light hazy yellow straw color. Thin layer of bright white. Leaves some lacing.
S: Euro hops. Light grains. Some notes of lemon.
T: Up bright you get some really clean Euro hops. Grains are really light and clean. As described, very crisp and dry finish. Good for the style. Liked.
M: Light and clean.
342 characters
3.93
/5
rDev
+1%
look: 3.75 | smell: 3.75 | taste: 4 | feel: 4 | overall: 4
Pretty good looking, lightly tan and clear, some rising bubbles, a nice white head that settled to a good cap and left some pretty good lace.
Aroma and flavor are somewhat more like my idea of a German pilsner, grainy, grassy, but still with that classic kolsch yeast note and some spiciness.
It's certainly easy to drink, tasty, and fits my idea of the level of quality that I've come to expect from RABC.
409 characters

3.94
/5
rDev
+1.3%
look: 3 | smell: 4 | taste: 4 | feel: 4 | overall: 4
Brewer's Cut 007 Kolsch
Real Ale
20130803
12oz bottle to modern pint
Best by 11.13.13
A – A slightly hazy, kind of clear straw color, with a hint of off-white. The color is thin and cold (flat, uninviting), but under some light it glows a little.
S – Pretty green; I'm getting straw, apple, and grain, as well as a tiny cabbage note. There's a hint of something coming out as it warms. As it warms a strange but pleasing biscuit-melon smell comes out.
T – Taste matches smell, but at first tastes better than I thought it would. But then the aftertaste is full of grain and green apple, which I don't like. The middle taste is actually very good. I'm having trouble pinning it, but I think it might be a melon, or a well-done sweet apple. As it warms, this flavor comes to dominate, which saves it from being a plain, average beer. I think it's cantaloupe.
M – Light and quite crisp, though a little rough feeling on the back end (with that grainy aftertaste). The finish is dry on just the tongue, and quite refreshing. The only downside is the slight roughness. As it warms, this roughness subsides, letting the beer be smooth and refreshing.
D – This beer was a curveball to me before it warmed enough. I liked half of each STM characteristic, and disliked the other half. However, as it warms (I left it out for 15-20 minutes before opening), the melon taste becomes confident and takes center stage, saving this beer from mediocrity. I went from 'I wouldn't buy a single again' to 'considering buying a six pack to slake my thirst after walking home in 100 degree weather for the rest this month' in about 15 minutes. But maybe I'm being generous at this late hour. There are other beers I'd rather have, but this one is gentle and light yet flavorful, and I wouldn't mind two a week for three weeks. But enough effusing. My numerics while considering style:
3, 4, 4, 4, 4; 3.97.
1,928 characters

4.05
/5
rDev
+4.1%
look: 3.75 | smell: 3.75 | taste: 4.25 | feel: 4.25 | overall: 4
12 oz bottle pours a fairly hazed yellow with a short-lived white head. Nice collar with a few splatters of lace.
Nose is light and grainy with a moderate amount of the signature kolsch yeast...light pickling spices and has a lemony twist. I give it a 6/10 on the kolsch yeast-o-meter.
Taste is grainy malt that is crisp enough to fool you into thinking wheat. The hops are light and provide a certain grassy-ness to it. Yeast is influential, but not anything too noteworthy. Where this beer shines is the brilliant use of pilsner malt and precise fermentation. So crisp and refreshing...a welcome addition to the late Texas summer.
634 characters

4.12
/5
rDev
+5.9%
look: 4 | smell: 3.25 | taste: 4.5 | feel: 4.5 | overall: 4.25
A: A golden blonde color with a mild haze. It was poured into an english style pint glass and formed a small half finger of foam that quickly fell leaving only a ring of bright white bubbles around the edge of the glass.
S: Light, subtle aroma in the way of fresh bread, lemon candy and grain.
T: Nice clean grainy, bready malt profile with a small amount of noble hop flavor in the middle and end. A lager like yeast character, very clean and balanced. A hard beer to describe in the flavor since its very simple but not boring. Balance is the key on this one.
M: Clean, crisp with a lower carbonation and a light body. very drinkable. a small amount of grainy astringency in the after taste from the dry finish but it works well and adds to the flavor.
O: This is a great Kolsch. Some examples I've had never come close to getting that lager character this one has and having be so balanced and refreshing on top of that makes this probably one of my favorite Kolsch's. Cheers to canadianghetto for the extra, it was a winner!
1,033 characters
4.19
/5
rDev
+7.7%
look: 4 | smell: 4.25 | taste: 4 | feel: 4.25 | overall: 4.5
Real Ale has been producing good to great entry-level styles for years, between Fireman's, Hans Pils, and Full Moon, so I expected a lot from this Brewers' Cut edition. And in typical Real Ale fashion, this kolsch really delivers. Among the best takes on the style I've had--not as fruity as Goose Island or Alaskan's (not that there's anything wrong with that)--but rather, what I believe to be more of a classic kolsch.
Pours from the bottle a sparkling straw-yellow color with a couple inches of pillowy white head. I'd comment on head retention, but honestly, I took this beer down so quickly I don't think I can be accurate. The nose is classic kolsch--sweet cereal and maybe a hint of spicy Noble hops.
Crisp, clean flavors from Noble hops with a light grainy backbone. Though the flavors may seem simple, they're really refined and well-balanced. Light in body and with plenty of carbonation, this kolsch finishes with a fitting dryness, leaving you immediately ready for the next sip.
I'm no BJCP judge, but everything about this kolsch screams true to style, and I'm rating it in that light. Incredibly easy to drink and delicious with a $7.50-$8.00/six-pack price tag. I'd love if Real Ale brings this back as a seasonal or on a permanent basis!
1,260 characters
4.3
/5
rDev
+10.5%
look: 3.75 | smell: 4.25 | taste: 4.25 | feel: 4.5 | overall: 4.5
A: Pours a clear straw/yellow color. At first a two finger bubbly white head forms with good retention initially. The foam recedes quickly after a minute with light lace.
S: Floral, earthy, and leafy hops. Fresh cut grass and hay. Peppery spice. baked bead with a dry cracker character. A bit of bitterness in the nose.
T: Follows the nose with that floral, earthy Noble Hop character. Toasted malt, baked bread and a dry cracker flavor again. A little more bitterness lingers on here. Really enjoyable, and pretty much spot on for the stye.
M/D: A light to medium body with crisp carbonation. Perfectly clean and dry. So easy and enjoyable to drink. All day with this, and near perfect for the style.
Real Ale is killing it with the Brewer's Cut releases. Spot on for the style, and something that will be a staple in my fridge while this lasts. Just like the Altbier was.
874 characters
Brewers' Cut Kölsch from Real Ale Brewing Company
3.89
out of
5
based on
51
ratings.