The Sword - Iron Swan Ale
| Real Ale Brewing Company
BA SCORE
82
good
15
Reviews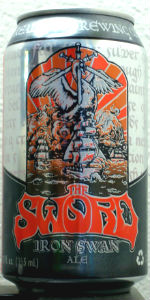 BEER INFO
Brewed by:
Real Ale Brewing Company
Texas
,
United States
|
website
Style:
English Pale Ale
Alcohol by volume (ABV):
5.88%
Availability:
Rotating
Notes / Commercial Description:
Real Ale partners with band The Sword to create Iron Swan Ale. Our newest canned offering is a tribute to the song that first introduced us to a packaging hall favorite, The Sword. Iron Swan pours a deep copper color and has an enticing intro of fruit and caramel with subtle hints of earth and spice. This medium bodied ale showcases the fruitiness of our house ale strain, along with the rich toffee flavors of English crystal malt. Added complexity is provided by generous amounts of English hops. Iron Swan finishes slightly dry with a mild spiciness that beckons another can. Fire up your turntable and audition Iron Swan yourself.
Added by whoneeds8 on 08-01-2013
This beer is retired; no longer brewed.
Reviews: 15 | Ratings: 99

2.87
/5
rDev
-19.8%
look: 3.75 | smell: 2.25 | taste: 3 | feel: 3 | overall: 3
I poured this out of a can into a pint glass. It poured a nice burnt orange color with I slight head that dissipated quickly. The nose was not much. A little hoppy, bread, malt. Taste was headed toward a nice English ale but fell a little short IMHO. Definitely a more hoppy version of an EPA but not excessive. Highly drinkable but not one of my favorites from Real Ale.
★
371 characters

3.18
/5
rDev
-11.2%
look: 3.75 | smell: 3.25 | taste: 3 | feel: 3.25 | overall: 3.25
12 oz can pours a hazed copper color with a dense cap of fine-bubbled off-white head. Pretty good retention and lace.
Nose is surprisingly hoppy with the malts contributing bready caramel and sweet toffee. It actually smells more like an American varietal of hops than a noble one. Fruitiness is surprisingly low for a British style beer. It seems to have more in common with a Scottish Ale than a EPA.
A lot more of the hop bitterness comes out in the flavors and mingles with a toasty malt that offsets most of the sweetness. The malts are quite earthy and remind me of a poor man's 90 Shilling Ale from Odell. I dont think the toast and hops play very nicely in here and the malt does not have much depth. I love most of the English Ales I have had, but this one is not doing it for me. Bummer.
★
799 characters
3.21
/5
rDev
-10.3%
look: 4.25 | smell: 3.75 | taste: 2.75 | feel: 3.5 | overall: 3
12 oz. can poured into tulip
(best by: 10/21/13 ... 204 15:43:18 printed on can)
L: almost 1 1/4-inch head of fluffy thick tan foam on top of brown/amber liquid that's about 60% clear but is clearly going to clear up all the way -- and it does ... as it settles, the brew becomes very easy to see through. loads of stick off the head, some lace as you drink it.
S: grain; slight sweet bread malt; spicy/grassy hops; hops really dominate the rest, but there *is* some malt in the background; it morphs into a tropical fruit/mango American DIPA smell as it warms
T: weirdish mix of tropical fruit hops, grain, malt (sweet?) ... in all honestly, a bit Sierra Nevada Pale Ale-like; there might be some English pale ale malt notes in there somewhere, but the hops dominate ... tastes like an American pale ale/IPA
F: nice carbonation, solid weight
O: thoroughly disappointing from a style point of view -- if this is a true English pale ale, my bank account balance includes 10 numbers. there's VERY LITTLE about it that comes off as a British-made pale ale. so it gets a 0 from me on the style points.
... with that said ...
if you want a solid American pale ale/IPA, this does just fine. it's as good as any of the others, possibly better. the disappointment is that it tastes more or less exactly like all of the other Real Ale pale ale products, and it's frustrating because you wonder how good some of their beers might be if they'd stop dry-hopping the hell out of all of them.
★
1,485 characters
3.25
/5
rDev
-9.2%
look: 3.25 | smell: 3.25 | taste: 3.25 | feel: 3.25 | overall: 3.25
Appearance: Small white head atop a clear golden orange body. The head retention is poor. Thin, fine-beaded lacing coats the glass walls.
Aroma: Caramel malt and herbal hops dominate the aroma.
Taste: Begins with prominent caramel and toffee, earthy hops balance the sweetness. As the taste progresses, the hops dominate, although there is a little apple rind as well. late in the taste, there are some bread malt flavors. Finishes with a lingering herbal bitterness.
Mouth feel: Smooth, soft, pleasant, and full.
Drinkability/notes: A decent example, nothing to write home about, but certainly OK.
Presentation: Packaged in a standard twelve-ounce aluminum can, served in a New Belgium Brewing chalice.
★
709 characters

3.49
/5
rDev
-2.5%
look: 3.75 | smell: 3.5 | taste: 3.5 | feel: 3.25 | overall: 3.5
Poured from a can. Described on the can as an "English style pale ale".
A: Poured aggressively into a pint glass. Deep copper, thick oatmeal colored head. Lives a nice lace on the glass.
S: Funky, but in a good way. Malty, slightly hoppy, hint of malt.
T: Malty sweet with a tiny bit of hop spice. Very balanced. The alcohol, such as it is, is hidden. The hops stay n play briefly.
M: Nice, semi-light. Doesn't linger but does leave some hop bitterness.
O: Solid execution, sessionable. I could see a sixer of this going down entirely too easily and quickly.
★
564 characters

3.5
/5
rDev
-2.2%
look: 3.75 | smell: 3 | taste: 3.75 | feel: 3.5 | overall: 3.5
I don't know the song or band to which this beer refers, but I am always game for something new from Real Ale.
Poured into a barrel pint glass, the Sword is a nice copper brown color with a solid two finger head on top. Decent lace. The nose is unassuming and nothing special, but I don't think that's uncommon for proper English style pale ales. Taste is good. Smooth and earthy with a nice hoppy bitterness in the finish. Mouthfeel is consistent.
I like this beer. It's not flashy (aside from the artwork on the can), but it is true to the style and it's quite tasty as well. At 5.88% ABV, I'm not sure I'd call it a true session ale, but it goes down easily and I can see myself revisiting this in the future. Good stuff.
★
727 characters
3.61
/5
rDev
+0.8%
look: 4 | smell: 3.5 | taste: 3.5 | feel: 3.75 | overall: 3.75
A: Pours a clear copper/red color. A towering and rocky beige head rises to well over two fingers, with excellent retention. Rings of lace are left all the way down the glass.
S: A fairly neutral nose. Very earthy and green hops with a light fruity aroma. Light apples and pears.
T: Follows the nose with an earthy hop character up front. Caramel malt then takes over with a hint of green apple and pears. Slick and oily hops linger.
M/D: A medium body and crisp carbonation. Almost a soapy and slick feel in the mouth. Easy to drink. I can put away a few with ease.
Certainly enjoyable. A nice beer to bring to a tailgate or outdoor party. Something I would love to find on cask, cause I think this would really shine with that presentation. As is, enjoyable, but not remarkable.
★
781 characters

3.62
/5
rDev
+1.1%
look: 4 | smell: 3.25 | taste: 3.75 | feel: 3.5 | overall: 3.75
Big off white head slowly settles to a quarter inch frothy layer above a clear copper to bronze colored beer.
Light sweet caramel grain malts with some light hops characteristics in the aroma.
Caramel malts which lean towards being sweet added with a light almost spiciness in the taste.
Dryish aftertaste with light caramel tastes remaining behind with this medium bodied beer.
Pretty decent and easy drinking beer and with the light spices makes this more than a amber like tasting beer.
★
493 characters

3.77
/5
rDev
+5.3%
look: 4.25 | smell: 3.5 | taste: 3.5 | feel: 3.75 | overall: 4.5
So I'm a huge Sword fan. Got Austin's hottest hot sauce by The Sword. Now I'm drinkin this Sword beer. Pours up a clear bronze color with a huge white head. Great lacing. Aroma is subtle buttery caramel. Subtle citrus hop bitterness. Taste is caramel, honey, bitter hop backdrop. Medium body, medium smooth carbo. Very easy drinkin Amber. I dig it.
★
348 characters
3.79
/5
rDev
+5.9%
look: 4 | smell: 3.75 | taste: 3.75 | feel: 4 | overall: 3.75
Poured into a stemmed glass translucent copper with a one finger white head. Great head retention and lacing. Scent of green hops. Taste is steady with a nice balance of hops with some carameled malts with a hint of spice in the back end. Medium bodied.
★
253 characters
3.98
/5
rDev
+11.2%
look: 3.75 | smell: 3.75 | taste: 4 | feel: 4.5 | overall: 4
On tap at Freetail in San Antonio, TX.
Pours a nice semi-hazy copper/bronze with a finger of very fine off white head. It smells pretty hoppy for an English Pale Ale, with a bit of sweetness added in. The flavor is not as hoppy, and much more balanced. Tastes of mild citrus hops, caramel, bread, biscuit. This is all rounded out with an exceptional creaminess and smoothness. The extremely fine head provides an awesome mouthfeel. This is well balanced, easy drinking, moderate carbonation and body. This is better than I expected from the style, and one I could drink all day. Good job Real Ale / The Sword.
★
610 characters
3.99
/5
rDev
+11.5%
look: 4 | smell: 3.75 | taste: 4.25 | feel: 3.5 | overall: 4
Great looking, clear and orange-tan monster head that lasted and left sticky lacing.
Citrus hops and a good maltiness come through on the aroma. The flavor has a nice crisp hops bite that compliments a solid malt backbone and plenty of citrusy notes. I also get a little bit of fruitiness, light fruits mainly.
Body is crisp, easy to drink, slightly slick and perfectly carbonated.
Personally, I love this beer. I will be buying it again regularly. I love this brewery in general, and love that it's pretty local to me too.
★
527 characters
4.06
/5
rDev
+13.4%
look: 4.5 | smell: 4 | taste: 4 | feel: 4.25 | overall: 4
The beer pours a caramel , burnt orange color with a thick off white head.
The aroma is filled with earthy hop notes, toffee and a hint of buttery sweetness.
Tastes like an English pale ale but a little hoppier, I tastes some lemon, caramel, bread, and herbal hops.
It has a medium body with moderate carbonation and a slightly dry finish.
I thought this was one of the better EPA's that I've ever had.
★
408 characters

4.09
/5
rDev
+14.2%
look: 4.25 | smell: 4 | taste: 4 | feel: 4.25 | overall: 4.25
Thanks to @xicanobeerrun for bringing me this treat from the heart of Tejas!
This pours a caramel-amber color with tight foaming.
There's a sweetish aroma which mixes some caramel notes along with a orangey-orange preserves hop character. It's a similar flavor profile with what the professionals call balance. The definition of balance, perhaps, with a flavor that's equal parts orange preserve-hop bittering and a caramelly-malt profile to balance it. I found it delicious.
★
483 characters
4.41
/5
rDev
+23.2%
look: 4.75 | smell: 4.25 | taste: 4.5 | feel: 4 | overall: 4.5
a- big white and thick 1 inch head when poured which settles down to a half/quarter inch. caramel/bronze color. its gorgeous.
s- sweet hoppy and citrusy scent. it's pleasant.
t- sweet bitterness with a citrus accent.
m- light/medium heft. sticks to taste buds initially but does not stick around too long.
o- i think this is one of the better English Pale Ale's i've had in a long time. it's sweet with just the right amount of hoppiness. the beer is very balanced.
★
473 characters
The Sword - Iron Swan Ale from Real Ale Brewing Company
3.58
out of
5
based on
99
ratings.