Burgundy Room, The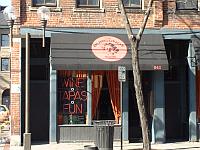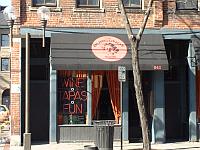 PLACE INFO
Type:
Bar, Eatery
641 N. High St.
Columbus
,
Ohio
, 43215
United States
(614) 464-9463
// CLOSED //
Notes:
No notes at this time.
Added by Wildman
PLACE STATS
Reviews:

10

Ratings:

pDev:

5.54%
HISTOGRAM
Ratings: 10 | Reviews: 10
Reviews by Osiris9588:

3.7
/5
rDev
-10.8%
vibe: 3.5 | quality: 4 | service: 3.5 | selection: 3.5 | food: 4
This swank little tapas and wine bar in the Short North focuses mainly on wine, yet has some harder to fine craft brews as well. They mainly focus on brining in imports, focusing on Belgium. However, the last time I went they had a featured beer list featuring the Fantome Noel, Three Poets Stout, Rodenbach Grand Cure, and others, but they were out of half the list.
The service is passable, except for the one time a friend and I ordered a bottle of $55 dollar Chateaunuef du Pape to split and the barmaid served it. However, she then told us that we had ten minutes to drink it, as they were closing. Why didn't she tell us they were closing in ten minutes before serving it?
The menu focuses on small plates, American takes on mainly French and Italian styles. It's alright, but if you're really looking for a "beer bar," I'd go elsewhere.
846 characters
More User Reviews:
4.4
/5
rDev
+6%
vibe: 4 | quality: 5 | service: 4 | selection: 4 | food: 5
Burgundy room is a great date place or a great place to meet friends. While clearly they market themselves for their superior wine selection, I am always impressed with heir variety of great beers..clearly the beer selection is not an afterthought.
The food here is exceptional..small plates of really top-notch quality and variety...
Atmosphere is upscale lounge lizard..meaning, it has an air of a club without being loud and cramped. You can actually enjoy a conversation without screaming at the person next to you.
I recommend this place to anyone trying to please both connoisseurs of beer and wine lovers alike.
622 characters

4.18
/5
rDev
+0.7%
vibe: 4.5 | quality: 4.5 | service: 4.5 | selection: 3 | food: 5
The Burgundy Room is a wine and tapas bar near the South cap of the Short North area. Imagine a casual "young professionals" bar and you've got it, complete with red-lighted round leather booths, massive draping room dividers, and mixed lounge and table seating. The wine "cellar" is an impressive wall of bottles behind the bar. It has a diverse customer base, like most locations in the Short North, so you'll find businessmen in suits, hipsters in tattoos, and everything in-between. Despite my description, it is not a pretentious bar. It's a good place to take a date, have an academic conversation, or just buzz through for tapas and a beer or glass of wine. It's a GREAT place to go if you are with a wine lover or a group with assorted tastes.
The service is welcoming and relaxed and servers will often annotate my beer choice with a quick fact or comment, showing that they are actually pretty knowledgeable of the beer there, too.
The beer selection is limited to a handful of taps (which usually carry Brooklyn lager, Great Lakes Eddie Fitz, Harpoon UFO, etc.) and a decent bottle selection of mixed Belgian, English, German, and Local beers. It's nothing too impressive, but most BAs would find something adequate. Expect to pay at least $5 for everything.
The food is phenomenal and more than worth the visit, albeit on the pricey side.
Overall, I'd recommend it.
1,377 characters
4.03
/5
rDev
-2.9%
vibe: 4 | quality: 4.5 | service: 3.5 | selection: 4 | food: 4
Excellent wine bar selections of wines but very expensive. Not really a beer bar - wine offerings include Araujo Eisele Vinyard, Harland Estates and Bond Vineyard plus a great selection of imports including items like Mongeard-Mugneret Grands Echezeaux, Palacios' L'Ermita and Jaboulet's Hermitage. They do have a small, cool beer selection but the service can be inconsistent.
The food is almost always excellent. The food has improved with larger servings added when previously there were only tapas; it is almost always above average with some very sophisticated offerings and the best beef Carpaccio around.
It is fun to hang out and try wine flights which are probably the best values. The beers are very expensive but this isn't your standard beer bar.
762 characters
4.43
/5
rDev
+6.7%
vibe: 4.5 | quality: 4.5 | service: 4.5 | selection: 4 | food: 5
I should start off saying I love this place, my woman and I had our first date here, for a while we were coming in once a month or so, and we got engaged here as well last fall. You could argue my review is biased, but I would argue I wouldn't spend so much time at Burgundy if it wasn't top notch quality. I'm a bit friendly with the kitchen, being a chef you make chef-friends, so we usually end up with a treat of some sort. The food is always solid, and while it can be a little pricey, every once and a while you need to treat yourself. The wine selection is outstanding, and the glass-pour list is massive, I mention this because a man can't live on just beer alone. If you are drinking beer they have a small draft selection, 5 taps I think, one of which is usually a Brooklyn product, look for monster and black chocolate when they're out, one is usually thirsty dog, and unfortunately Stella is always on too (it's the neighborhood). The bottle selection is really nice, always Orval, usually another Trappist besides, a fruit beer, some Sam Adams, Sammy Smith often shows up too. Even if you're drinking beer, do yourself a favor and drop a little change at the end of your night to taste one of the Madeiras they have on their dessert list, the layers of flavors in those old ass wines are amazing.
1,309 characters
4.36
/5
rDev
+5.1%
vibe: 4.5 | quality: 4.5 | service: 4.5 | selection: 4
A dimly lit bar as you come in the door with a couple of places on the right of the main walkway has dining tables and a fireplace with some nice couches to lounge on. Everywhere are candles lit to create a nice glowing ambiance.
Bottle selection was very nice. Some Fantome Noel, Liefman's Frambozenbier, Rodenbach Grand Cru, and many others from Belgium, Germany, and America. We tried the Noel and Liefman's and asked the very attentive bartender if we could get beer-to-go. Yea! she exclaimed. We took home another Noel, some Rodenbach Grand Cru, and Rodenbach Redbach.
Huge selection of wine and liquor to choose from and we didn't have anything to eat but the food smelled really nice. Wasn't very crowded and was only a short trek from Betty's Fine Food and Spirits. Ample parking everywhere, and it's free after 6.
Beer was very reasonably priced. 15$ for a Fantome Noel and 10$ if you're getting it to go. 12$ for Rodenbach (8 to go). Basically the same price you would pay at a beer or wine store.
I will definitely go back to this place next time i'm in Columbus.
1,089 characters
4.09
/5
rDev
-1.4%
vibe: 4.5 | quality: 4.5 | service: 4 | selection: 3.5
Location is short north and parking is difficult. Thankfully spring weather is currently in effect which makes walking easier.
The decor of this place is great: interesting lighting, bar chair tables and expansive booths in the front area, bar along the side lined to the ceiling with wine. Beer selection was good. Wines were very good. They had a pinot noir that was dry and fine. A fireplace separated the smaller back area which had a couple large comfortable couches parked in front of it. The food smelled amazing although I didnt sample it..actually the portions looked like samples as they were whisked past me to the lucky ones who were seated. The standing room was cramped, but offered a significant amount of room. The upside to this is that the bar could service all of us standing around the bar fairly easily for a Friday night.
The clientele was mixed, but mostly 30 and up, semi-formal. The conversational din was so loud that you had to shout or lean in close to have a dialogue. The music was actually drowned out by the crowd. I didnt like that, because I like to talk.
But overall nice place. Maybe go back on a quieter night.
1,150 characters

4.13
/5
rDev
-0.5%
vibe: 4.5 | quality: 4.5 | service: 4 | selection: 3.5 | food: 4.5
The Burgundy Room is a wine/tapas bar in the Short North area of downtown Columbus. Parking is always an adventure, your best bet is to luck out and get a nearby meter.
The atmposphere is upscale and...burgundy. Drapery, brick, exposed pipes. Very trendy. They keep it dark with good music. The bar is on the left side and is dominated by a wall of wine. Seating is on the right side, in small high-chaired tables and small U-shaped booths. All the seating seems pretty intimate.
The beer selection is pretty small but heavily weighed toward craft beers. 4-5 drafts with DFH 90-minute as the highlight, and around 20 bottled beers that were imports for the most part - Unibroue, Fantôme, Orval, Ayinger and others are represented. They also had US beers like CBC Pale and Boulder Brewing.
The service was good, the server was very attentive and obviously knew more about wine than beer but that would be expected in a wine bar.
The food here seemed reasonably priced until I noted they were "small plate" items. Don't expect a full meal out of only one plate of food, the portions are very small. Still the food was excellent, especially the smoked chicken ravioli.
All in all this place is a worthwhile visit even if the focus is on wine. It's low-key, relatively quiet and they have good food and beer. It's also located close to some other good beer spots like Betty's. Worth checking out.
1,408 characters
3.86
/5
rDev
-7%
vibe: 4 | quality: 4 | service: 4 | selection: 3.5
A nice new place in Short North. Wandered in on a weekday afternoon when not much was going on. The variety of tap beers is very narrow, but there is a lot of choice by the bottle. The surroundings are quite nice and this will likely become a popular haunt in months to come.
275 characters
4.3
/5
rDev
+3.6%
vibe: 4 | quality: 5 | service: 4 | selection: 4 | food: 4
This place just opened up as a wine& tapas bar. But since it was promoting itself as a good place for wine, I was hoping for good beer as well. Well they didn't disappoint and looked to be expecting me. They showed me La Fin de Monde, Orvel, Celebrator, Bell's Porter, Avery Salavation, Sam Smith Oatmeal, Stoudts Weiss, and Stella Artois that I remember. The wine selection of course was great as was the hard liquour with single malts and small batch whiskeys. The food is a very electic mix and will take time to give a good review on it. But go in for the beer and check it out.
582 characters
Burgundy Room, The in Columbus, OH
Place rating:
4.15
out of
5
with
10
ratings