Monolord-Rust
| Oliver Brewing Company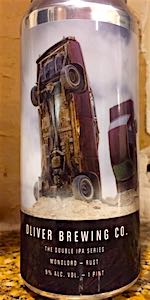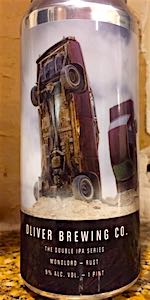 BEER INFO
Brewed by:
Oliver Brewing Company
Maryland
,
United States
oliverbrewingco.com
Style:
American Imperial IPA
Alcohol by volume (ABV):
9.00%
Availability:
Rotating
Notes / Commercial Description:
None provided.
Reviews: 2 | Ratings: 12

4.36
/5
rDev
+6.1%
look: 4 | smell: 4.25 | taste: 4.5 | feel: 4.5 | overall: 4.25
And now, Round 7, AKA the finale of New Oliver, The Belz Are Ringing Beer Sunday (Week 710) brought to you by Peter Belz of Shangy's Distributing in Emmaus, Steve Jones of Oliver Brewing Co. in Baltimore, MD & The CANQuest (tm)! Today has been a great one for drinking & reviewing a horizontal of Oliver BC CANs.
From the CAN: "The Double IPA Series"; "Long live rock and roll."; "In collaboration with Riding Easy Records and Monolord, this Double IPA is brewed with five hop varieties and has an assertive but balanced bitterness with the aroma of tropical fruits. Oliver Brewing Co. has been proudly brewing craft beer in Baltimore, MD since 1993."
From their website: "A collaboration with Riding Easy Records and Monolord in celebration of their new record, Rust. This double IPA is heavy in all the right ways with Southern Cross, Dr. Rudi, and Vic Secret hops."
The astute reader/observer/follower of my nonsense will remember that brewer Steve Jones is a British expat & as such, he has a propensity towards brewing English-style beers. This is just one example, but indicative of things to come.
Man, I feel like I am on the last stage of a marathon! Peter probably did not intend me to do this all in one day, but a) no time like the present & b) it is NBS & I like to get them in when/while I CAN.
I began with a loud Crack! but what next? It was a 16-fl. oz. pounder CAN & this was the end of the line on a long day. I shook my head & performed a slow, gentle Glug since any possibility of a mess was more than I could bear. It was still active enough to form two-plus fingers of dense, foamy, rocky, bone-white head all on its own. The sticky lacing that it left in its wake made me thankful that I am running the dishwasher tonight! Otherwise, a jackhammer might be required to remove it all. Color was a gorgeous Golden-Amber (SRM = > 5, < 7) with NE-quality clarity, prompting an impromptu visit from The Gelt Gang of Midas, Mammon & Croesus who were surprised to see me still going. Like Rust, I never sleep. Nose was like trying to stuff a pine tree air freshener up my nose! No kidding, it took me CANpletely by surprise & set off a bout of sneezing. Mmm. Mouthfeel was a big ol' dollop scooped onto my tongue for me to decide how to best deal with it. I responded by simply letting it roll around and warm, giving me time to CANtemplate my next series of moves. It definitely struck a tropical chord with notes of mango & papaya, but they were offset by a strong pine mintiness and my exhalation felt like smoking a menthol cigarette! Phew. Jeez-o, man, but this was getting me where I was going at 90 miles per when I would have preferred the city speed limit. It really rocked me back in my seat but I am a big boy, or so I am told, and so I pressed on smartly. I really liked the cool fruity flavors that this one imparted & I know that I would drink it again, based on availability. Finish was cool and dry, making for a wild ride. Mmm.
2,967 characters

4.42
/5
rDev
+7.5%
look: 4.75 | smell: 4.5 | taste: 4.5 | feel: 4 | overall: 4.25
Love Monolord, love Oliver, so here goes:
Pours beautiful, slightly hazy gold. White head, retention isn't that great, but leaves nice lace.
Hop aromas fill the area. Lots of tropical fruit: mango, passionfruit, some pineapple and citrus.
Clean, full maltiness. Hop flavors follow the aroma, still very full.
Bigger body than I normally like, but still clean. Lower carbonatio helps with the heavier alcohol, but still lively.
Overall, a nice balance between West Coast and New England style DIPA.
Still waiting for the super dank, piney, black DIPA for one of these doom releases, but that would probably have an audience of one
630 characters
Monolord-Rust from Oliver Brewing Company
Beer rating:
4.11
out of
5
with
12
ratings