Cropduster Mid-American IPA
| Thunderhead Brewing Company
BA SCORE
83
good
15
Reviews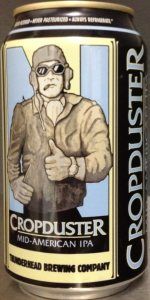 BEER INFO
Brewed by:
Thunderhead Brewing Company
Nebraska
,
United States
thunderheadbrewing.com
Style:
American IPA
Alcohol by volume (ABV):
6.50%
Availability:
Year-round
Notes / Commercial Description:
No notes at this time.
Added by StoneTSR on 11-15-2012
Reviews: 15 | Ratings: 87
3.55
/5
rDev
-1.1%
look: 3.5 | smell: 3.5 | taste: 3.5 | feel: 4 | overall: 3.5
just a really really light ipa, nothing bold or robust about it. pale yellow to golden on the pour, crystal clear, with a finger or two of white foam. the nose is balanced, almost lacking in hops, but i pick up a touch of citrus, maybe orange, and some bitterness, but this is a far cry from a hop bomb. the flavor is equally mundane, slight bitterness in the finish, but none of that fruit, hop oil, or resinous feel that makes american india pale ales great. this is more of a watered down session beer, but it isnt bad in any way, just not a real heady ipa. good carbonation and a crisp finish on a light body make it an easy drinker. somehow they snuck in 6.5% abv, feels more like 4. overall a decent brew, but dont come looking for a palate wrecker.
755 characters

3.22
/5
rDev
-10.3%
look: 3.25 | smell: 3 | taste: 3.25 | feel: 3.5 | overall: 3.25
Big white head slowly falls above a cloudy washed out straw golden colored beer.
Light aroma of slightly sour grains and even less hops presence but I think it's noticeable.
Very light almost sourish taste with a slight hops bite following.
A lightly dryish aftertaste on a lighter bodied IPA.
Very light hops for a IPA, maybe that's what a mid-American IPA is.
365 characters
2.72
/5
rDev
-24.2%
look: 4.25 | smell: 3.5 | taste: 2 | feel: 2.75 | overall: 2.75
L : From the can it pours OJ colored and forms into a darker hazy iced tea color. The head is huge and leaves tons of lacing as it recedes at a slow pace. After 2 minutes it's ready for consumption as the head has left just enough cap on top to wet the upper lip and imbibe the rest of it.
S : Quite a bit of brown sugar, grapefruit, pine needles, baked malts, and toffee. A deep fried breaded orange aroma wraps it up.
T : Dark bread crusts, blood orange, grapefruit, hop juice, tons of pine and toffee, and something I can't quite put a finger on. It's quite cloying with its caramel and toffee, and the rush of bitter sort of clashes with it. After a few sips I'm ready to dump it, it's not for me.
F : Creamy, buzzing, with a dry finish.
O : Tastes more like an overhopped scotch ale than anything, just way too sticky and cloying. Not a fan, probably Thunderhead's WORST offering.
892 characters

4.18
/5
rDev
+16.4%
look: 4 | smell: 4 | taste: 4.25 | feel: 4.25 | overall: 4.25
Poured into a shaker pint glass.
Look: Peachy light caramel color. Sea suds of off-white foam take forever to recede. Light lacing.
Aroma: Earthy, herbal, fruity, and hoppy.
Taste: A shot of malt sweetness, but this beer is all about hop bitterness. Love the faint peach touch. Citrus rind in the finish.
Mouthfeel: Medium body.
Overall: Another great beer from Thunderhead.
380 characters

4.19
/5
rDev
+16.7%
look: 4.25 | smell: 4 | taste: 4.25 | feel: 4.25 | overall: 4.25
On tap at the brewpub during a pitstop driving from Denver to Lincoln.
I don't know what these other reviewers drank but this is a very delicious IPA. I verified the name twice, too, to make sure its the right one. Fantastic hop presence with plenty of bitterness and pine. Some tropical fruits. Not too intense or heavy on the booze. 60-70 IBUs according to the bartender. A bit of malt to balance it slightly but its definitely a hop bomb.
I could drink this every day if I was local. Honestly it reminds me of Stone Enjoy By. Seriously.
541 characters

3.48
/5
rDev
-3.1%
look: 3.5 | smell: 3 | taste: 3.5 | feel: 4.5 | overall: 3.5
APPEARANCE: Very pale, straw-yellow in color. It reminds me of Stone's Ruination with a bigger, fluffier, whiter head. The lacing comes in layers up top, but becomes more solid towards the bottom.
SMELL: The aroma is one area where the Cropduster stands to improve. No, it isn't a bad smell, just not very strong. It smells like grapefruit and grass clippings, which, for an IPA is fantastic, but you really have to get your nose in deep.
TASTE: For some reason the first word that comes to mind when I sip this beer is green. It almost tastes like a bitter green salad. Earthy is the second word. Anyhow, the green salad also has a little grapefruit, some lemon zest and a big taste of grassiness.
MOUTHFEEL: The Cropduster has a crisp, clean and dry feel all the way through. The carbonation is moderately strong and the dry, grassy flavor produces a little bit of a pucker towards the end of each glass.
OVERALL: This beer is dank, earthy, grassy and almost weedy. It isn't the best IPA on the market but it has already improved and has room for more. Thunderhead has much more room for expansion. I hope they continue to can and lead.
1,150 characters

3.78
/5
rDev
+5.3%
look: 4.5 | smell: 4.5 | taste: 3.25 | feel: 3.75 | overall: 3.75
Fluffy, creamy white head, leaving a big ring of what will surely be crusty/dried head by tomorrow morning. Hazy golden through the pint glass.
Not a huge IPA in the nose, which is actually refreshing for a chance. Wafts of floral and citrus, like violets and fresh oranges, illuminate the nose to what should be a really good beer.
A bit bracing in its vegetative bitterness, with less of what the nose might lead you to believe is here. In fact, any florals here are very secondary, with only the possibility of orange rind being a citrus component.
Vegetative and heavy on the tongue, like masticated leaves. Something to be desired here.
Nice for a different take on IPA, especially here in the summer, but not to enjoy in the long-term.
749 characters

3.45
/5
rDev
-3.9%
look: 3.5 | smell: 3.5 | taste: 3.5 | feel: 3 | overall: 3.5
a: pours a golden yellow, very hazy, moderately carbonated
s: hops are very piney, light spiciness, with a mellowness notable in the malts
t: begins very refreshing and robust, hops are piney but mellow, finishes lift yet crisp
o: good American-style IPA, decent abv, worth a try
282 characters

3.48
/5
rDev
-3.1%
look: 3 | smell: 3.75 | taste: 3.5 | feel: 3 | overall: 3.5
Holy hopsickle..
Yellow beer from the muthaland with tons of hops..
Needs more malt..nice hop profile but all IPA's worth drinking have tons of hops.
So fizzy and fresh tasting from the can..the alcohol content surprised me at went along well without turning into one of the IPA's that is more alcohol than hops..surprising feat indeed..
A solid IPA that needs a lil more sweetness to compete with the big boys..this one tastes like the lemon after you drank your iced tea..LIKE I SAID A TOUCH MORE MALT FELLAS and you got a winner..a malt that will add some maybe orangeish amber maybe?
592 characters

3.68
/5
rDev
+2.5%
look: 3.5 | smell: 3.5 | taste: 3.75 | feel: 3.75 | overall: 3.75
Went to visit my family in Nebraska and found this thunderhead beer which I had heard little of so I decided to give it a try
So I have to say that the can art on this guy is great. Poured this into a pint and was greeted with a nice 1 finger white foamy head and a cloudy yellow color. The smell is big citrus, orange rind, and definitely some grain. Alright, the taste is dry, dry, and dry! Very little malt presence in this beer, very bitter, citrus, and pine resin taste. It reminds me alot of the Smuttynose IPA. Mouthfeel is medium with fairly aggressive carbonation.
Overall this is a different IPA than the usual West coast style and I enjoyed it. Its not real refreshing and not very smooth but it is a bold IPA. I have to give them credit for trying something different.
783 characters
3.89
/5
rDev
+8.4%
look: 4 | smell: 3.75 | taste: 4 | feel: 3.5 | overall: 4
I try anything called IPA and have for years. Most disappoint; this one does not. The color is light straw yellow, not golden. Develops a good, thick, head that hangs around for a while, with plenty of lacing. Aroma is of hops; fruity, citrus. The taste is also of hops (what else?) but not overpowering. The mouthfeel is perhaps a bit thin - but maybe that's a good thing since you'll want another. And, I like that it comes in cans.
These guys can brew. If they don't already make a beer called Sodbuster, perhaps that's next.
529 characters

3.91
/5
rDev
+8.9%
look: 4 | smell: 3 | taste: 4.25 | feel: 4.5 | overall: 4
A friend of mine gave me a couple of cans of this beer, and I have to admit to being pleasantly surprised upon consuming this tasty beverage.
Appearance: Has a even golden color, doesn't seem to be anything other than pure beer in this IPA. There was quite a bit of lacing when I poured this sucker out. The head of the beer was craggy, looked a bit like whipped cream. Basically, just a very foamy head that lingers longer than most.
Smell: Honestly not a lot to the smell of this beer. From what I could detect, caught floral scents with a hint of citrus which isn't surprising for this genre.
Taste: This was the winner for me. Had a lot of hops flavor but seemed very smooth. I don't generally like IPAs or APA for that matter. But this beer was good enough to make me rethink that policy. Not much of an aftertaste.
Mouthfeel: You won't fill up drinking this beer, which would make it great to take to a tailgate, bbq or just for a lot of drinking. Carbonation is there, but doesn't overpower the rest of the drink.
Overall: I wished I lived closer to Kearney, or at least wish that Cropduster distributed to my area. Next time I visit Big Red Nebraska I'll have to pick up some more of this delicious brew. Thumbs UP
1,228 characters

3.47
/5
rDev
-3.3%
look: 4 | smell: 3.25 | taste: 3.5 | feel: 3.5 | overall: 3.5
Served in can. Poured into shaker pint glass.
Appearance - Hazy, deep golden, with a tint of bronze. Head is a fluffy white with light lacing that slowly trickles down.
Smell - Initial: Bright floral with a light malt backing. I kept getting a hint of grapefruit out in front with floral aromas. Midway: Finding some caramel notes mixed with floral scents. It's enjoyable.
Taste - Initial: Light and smooth with a gentle crispness. The light malt balances well with the floral hops. Hops stay present through the somewhat dry finish. Midway: Best part of this beer I think. The beer has warmed a little bit and the hops seem to have awakened. Earthy notes are balanced well with the floral flavors with that dry finish.
Mouthfeel - Dry, medium mouthfeel.
Overall - Wish I had more than three. This is my second helping of this beer and I really enjoyed it. Definitely an IPA I'd keep stocked in the fridge if I could ready and easily procure it. Easy to drink with well balanced flavors and bitter hops at the finish. Leaves you wanting more without feeling weighed down.
1,077 characters

3.55
/5
rDev
-1.1%
look: 3.75 | smell: 3 | taste: 3.75 | feel: 4 | overall: 3.5
A: Poured from a can to a pint glass. Pours a very nice amber, 1 finger of carbonation, good start
S: Didn't get much off of it, for an IPA expected a bit more, although can't discount possibility that my allergies were acting up
T: Taste is very good. Piney hit with grapefruit hops on top, and a mild bitterness that lingered but overall balanced, as the mid-american moniker would suggest. Very nice lacing on the way down, too.
M: Not too thin, as above a good solid balance, pretty easy to drink really especially on a hot summer day.
Overall: I would definitely pick this up again. Can't say it does anything amazing, but on the other hand it was citrus'y enough and had a good punch. And maybe a bit of bias as a mid american myself :)
If I saw it on tap somewhere, I would get it first no questions asked to get things rolling, if that helps.
855 characters
3.51
/5
rDev
-2.2%
look: 4 | smell: 3 | taste: 3.75 | feel: 3 | overall: 3.75
Aroma was not especially noteworthy. However it wasn't bad either. Bottomline it was okay. Flavor was very good though. I enjoyed the slight but not overpowering bitterness. Mouth feel was not add full as I preferas out seemed a little watery. However it was the one I decided to have when it came time for a point with
my pizza
.
330 characters
Cropduster Mid-American IPA from Thunderhead Brewing Company
3.59
out of
5
based on
87
ratings.