European Pilz
| Orlando Brewing Partners
BA SCORE
83
good
11
Reviews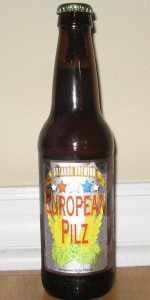 BEER INFO
Brewed by:
Orlando Brewing Partners
Florida
,
United States
orlandobrewing.com
Style:
Czech Pilsener
Alcohol by volume (ABV):
6.15%
Availability:
Year-round
Notes / Commercial Description:
No notes at this time.
Added by cjgator3 on 06-03-2008
Reviews: 11 | Ratings: 15
4.73
/5
rDev
+30.7%
look: 5 | smell: 4.5 | taste: 5 | feel: 4.5 | overall: 4.5
What a pleasant surprise!
While on vacation, with the family at Disney World; I discovered the Orlando Brewing Co.
I never knew they existed. One of the bars at our resort had the "Old Pelican" on draft. I was so impressed with it that I made some inquiries as to where I could buy some bottles to take back home with me (PA).
I found a "Whole Foods" market nearby, and I bought a mixed case of OBC offerings.
This European Pilz is typical of all their brews--high quality, and attention to detail.
Often this style of beer is whimpy. not this one; she got legs! Pilsner Urquel, look out.
Great taste, head retention and lasing.
A "must try"
I would highly recommend anything from this producer.
697 characters
4.17
/5
rDev
+15.2%
look: 3.5 | smell: 4 | taste: 4.5 | feel: 4 | overall: 4
First time trying a beer from Orlando Brewing. Like a lot of reviewers I purchased it at Whole Foods while visiting O-Town. This is not my first time trying an organic beer. I like a lot of the offerings from Peak Organic (especially the Espresso Amber Ale), so I was excited to try another organic offering from a different brewery.
Poured the beer into a Pilsner Urquell glass. WHOA THERE what a head! The head on this beer was so intense it had a cartoonish quality to it which left some beautiful lacing. Taste is really spot on for the style. I'm a huge Pilsner Urquell fan and although European Pilz isn't as good as a Pilsner Urquell straight from the source; it does give the bottled and shipped version a run for its money. I love the hoppy bite and easy drinkability of this brew. Highly recommended.
811 characters
3.95
/5
rDev
+9.1%
look: 4 | smell: 4 | taste: 4 | feel: 3.5 | overall: 4
I had the opportunity to visit the brewery and drink at the tap room. I picked up a mixed six pack and only had two bottles of this.
A: Poured a deep golden, almost orange color. Not much of a head. What was there faded quickly. Light carbonation.
S: Citrusy, grassy, spicy. I don't get much malt from this one.
T: Leading edge is the hops then transitions to the sweetness. I'm use to the opposite where the maltiness hits you first. An interesting sensation.
M: This one wasn't really that carbonated. Smooth in the mouth - nothing harsh.
D: This tasted OK. I would like to drink more but I can't get it around my neck of the woods. If you are in an area where you can get this, pick some up. It' worth it.
717 characters

3.94
/5
rDev
+8.8%
look: 3 | smell: 4 | taste: 4 | feel: 4 | overall: 4
Wow, this is fairly high octane for this style.
A: Not quite the fizzy, yellow color that Stone Brewing Company warns you about on their bottles, but close. The slight murkiness added some character, along with the 1/4 finger solid white head.
S: Lots on the nose here! It had a very strong bread character along with some musty, almost moth-ball-esque citrus notes. Very classical indeed.
T: I got a lot of the same stuff I got on the nose, but there was a pronounce taste of honey that I totally dug. It had a clean, fresh filtered water taste on the back end that was very nice.
M: Bubbly and spritzy to the 10th power... almost champagne-like even. It had some sweetness on it for sure, but it was more of a sourdough bread-like flair. Crisp and refreshing!
O: I haven't had too many organic beers in my life that I've actually liked, but I dug this one.
863 characters
3.88
/5
rDev
+7.2%
look: 4 | smell: 3.5 | taste: 4 | feel: 4 | overall: 4
This pours hazy light yellow and has a big foamy head. The lacing and retention are awesome for a pilsner. The smell is grainy and beery. The taste of this brew is fantastic. I love the complex cereal/bread flavor of this beer. There is a pleasant bitterness as well. For a "lighter" style beer, this is a great example of an easy drinker with a great flavor. The feel of this beer is just a little more tart/crisp than say…a German lager. I got this beer in a sample pack straight from Orlando Brewing, I'm glad I took a chance on this one.
549 characters

3.87
/5
rDev
+6.9%
look: 3.5 | smell: 4 | taste: 4 | feel: 4 | overall: 3.5
12oz bottle
A- Pours a golden orange color with a nice off-white head.
S- The aroma is sweet malt and a bit bready, with a hint of hops.
T- The taste like the aroma features some sweet malt with the herbal hops hitting the palate that helps balance thing out. There is a little more body than most European Pilseners but this isn't necessarily a bad thing.
M- Again a bit more body, with a good amount of carbonation.
D- This is a pretty solid Pils that is definitely worth a shot. Good stuff.
499 characters

3.76
/5
rDev
+3.9%
look: 4 | smell: 3 | taste: 4 | feel: 4 | overall: 4
Pours a dark gold with good lacings. A slight hop and malt smell; somewhat grassy and a hint of roasted malts that were rather unpleasing. An ultra smooth beer with a herbal and citric twang, complemented by hints of malt and finishes with a dry backbite. A good pils to relax with.
282 characters
3.53
/5
rDev
-2.5%
look: 4 | smell: 3.5 | taste: 3.5 | feel: 3.5 | overall: 3.5
The beer was served on-tap at the Orlando Brewing tasting room, and served in a pint glass. The beer pours a vibrant, orange-gold color with a thin, white film of head. There is a slight butterscotch aroma, with toasty notes. The flavors are very robust foral initially, with a hop-note at the end. The beer is mid-bodied and creamy. Some slight souring, also. The aftertaste is a little bit of booze, a little bread, and a little bitter. The finish is dry/astringent, puckering the tongue a bit. Very interesting.
514 characters

3.47
/5
rDev
-4.1%
look: 3 | smell: 3.5 | taste: 3.5 | feel: 3.5 | overall: 3.5
The appearance is pale gold with an average head. The aroma is has a big hop element and is somewhat malty. The taste is like the aroma with the hops hitting you first then the sweet malt yet the finish is dry. The palate is better than most for the style being smooth and full. I was really impressed with this one. I really liked it because it is actually what I want out of the style more than it is an exact replication of the ideal for for this style. It's more robust than most and it has a strong hop character.
518 characters
3
/5
rDev
-17.1%
look: 3 | smell: 3 | taste: 3 | feel: 3 | overall: 3
The Euro Pilz from Orlando pretty much hits the mark for the beer style. Nothing magical and nothing wrong....just a solid beer. The beer poured a pale clear yeallow with white head that left some lacing. The smell was bolstered by the Saaz hop. The taste is like the smell but with decent malt balance. The mouthfeel was lighter in body and good carbonation. Overall it wasnt bad.
381 characters
2.85
/5
rDev
-21.3%
look: 4 | smell: 4 | taste: 2.5 | feel: 2.5 | overall: 2
Poured into a standard frozen pint glass.
A: Dirty but clear tannish gold with a nice head of multi-sized bubbles.
S: Fragrant blast of caramel, malt and bananas followed by a hint of what I can only describe as dirt; like I'm digging-in-the-garden dirt.
T: Malt and caramel with a little bananas. Very earthy, dirty finish that left a bitter taste in the back of my throat. Almost made me want to cough.
Drinkability: Simply due to the "dirt" character of this beer, I couldn't drink more than one.
Value: I paid $1.59 for a single. Can't complain about that.
565 characters
European Pilz from Orlando Brewing Partners
3.62
out of
5
based on
15
ratings.