Thousand Islands Pale Ale
| Sackets Harbor Brewing Co.
BA SCORE
79
okay
35
Reviews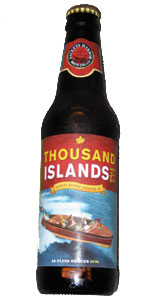 BEER INFO
Brewed by:
Sackets Harbor Brewing Co.
New York
,
United States
1812ale.com
Style:
American Pale Ale (APA)
Alcohol by volume (ABV):
6.30%
Availability:
Year-round
Notes / Commercial Description:
No notes at this time.
Added by BeerAdvocate on 09-06-2005
Reviews: 35 | Ratings: 53
3.03
/5
rDev
-10.4%
look: 3.5 | smell: 3 | taste: 3 | feel: 3 | overall: 3
Very pale orange with a thin but sticky eggshell-colored head.
Tea-like aroma, slightly peppery.
Taste is a bit unrefined. There's a big upfront swat of leafy, astringent, slightly bitter hops with no sweetness to temper it. Stays dry and finishes with another hint of pepper; malt fails to uphold its end of the bargain.
I didn't really enjoy this beer much, it seemed to push all the wrong buttons.
★
409 characters
3.83
/5
rDev
+13.3%
look: 4 | smell: 3.5 | taste: 4 | feel: 3.5 | overall: 4
Appearance: Pours a deep copper color with a small white head, good retention.
Smell: Decent aroma. Not comparable to the greats (Alpha King and New River) but a pleasant biscuit malt and pine hop citrus aroma.
Taste: Smooth dough malts with a bit of grain and a solid bitter grapefruit pine hops (which lean toward dominating) character make this a tasty straightforward American Pale Ale.
Mouthfeel: Medium body beer with decent carbonation and a bit of slick juiciness through the center.
Drinkability: It is a hoppy beer and a tasty one. Not big or cloying in anyway and yet not completely balanced, still I could drink a few of these.
Hope this is helpful.
Cheers!
★
685 characters
2.87
/5
rDev
-15.1%
look: 3 | smell: 3.5 | taste: 3 | feel: 2.5 | overall: 2
My first of this newer brewery, on cask at Clark's Ale House real ale fest. There was noticeable carbonation in this one, which was unexpected from a fresh cask, bubbles on the top and throughout. C-hop aroma. A few sips, but not entirely finishable which is not my usual treatment of a cask ale.
★
296 characters
3.74
/5
rDev
+10.7%
look: 3 | smell: 4 | taste: 4 | feel: 3 | overall: 3.5
Bought this a sixer of this in the 1000 Islands on vacation.
Appearance is a medium amber with an impressive head and lacing that lasts througout.
Aroma is good and definitely the best feature of this beer. Floral hops are strong - more like an IPA aroma. Grapefruit jumps forward.
Taste is not bad - Maltly up front and and finishes with a bitter bite.
Mouthfeel is smooth - carbonation not overbearing.
Definitely an average pale ale. After a bit of a let down from the great aroma this beer redeems itself.
★
518 characters

3.86
/5
rDev
+14.2%
look: 4.5 | smell: 3.5 | taste: 4 | feel: 3.5 | overall: 4
Poured a medium copper hue with a one finger with foamy pillowy head. There was very good retention and sticky lacing.
The smell featured a well balanced flowery hop and doughy malt aroma. Mild resiny hop detected as well.
The taste was well balanced as well. However there was a bit of a cereal flavor present which affected the enjoyment. A good spicy citrusy hop presence dominated.
The mouthfeel was a bit slick, but otherwise good.
Overall a nice spicy and aromatic APA. Good ABV is disguised well.
★
515 characters
3.75
/5
rDev
+10.9%
look: 4 | smell: 4 | taste: 3.5 | feel: 3.5 | overall: 4
Orange amber with a creamy, rocky just-off-white head. Pleasant and somewhat subdued citrus aromas predominate: kumquat rind, grapefruit juice, etc. Grapefruits are much more pronounced in the taste, which begins with a sweetish biscuity malt flavor but then quickly yields to an avalanche of bitter citrusy hopping. Understated mineral finish. Pithy bitterness lingers for a long time in the aftertaste. Sort of a one-trick pony as the malt is basically MIA. Mouthfeel is somewhat thin, but this really only lends to the drinkability. If you like hops and nothing but in your Pale Ales, then this one's for you.
★
612 characters
4.03
/5
rDev
+19.2%
look: 4.5 | smell: 4 | taste: 4 | feel: 4 | overall: 4
The bottle has a boat on it - has to count for something. What comes out of it is medium dark gold with a pillowy white head that shows no signs of leaving any time soon. Toasty-caramel malt hides behind a sharp pine/citrus hop nose.
The sharp hoppiness continues in this one, with citrus (Amarillo?) and lesser earthy/pine hops in charge of the flavor, the toasted grain-caramel malt maltiness a secondary player that manages to balance the hops. The bitterness has a rind-like character that I like. Finishes clean with a lingering bite. Slightly tingly mouthfeel with a light-medium body. Seems to sit in the nether regions between an APA and an IPA - hops are big for an APA, not quite big enough for an IPA. Whateverthehellitis, I like it.
Gotta get north and try this on tap.
★
788 characters
4.2
/5
rDev
+24.3%
look: 4 | smell: 4 | taste: 4.5 | feel: 4 | overall: 4
This is an amber colored ale with a tall white frothy head that provides excellent retention and lacing.
The aroma is a nice blend of piney and citrus hops.
The flavor goes along with the aroma, as it is mostly of pine and citrus, but there is also a graininess and a bit of hidden malt.
The mouth feel is medium in body, a bit oily and generously carbonated.
Overall, this is a very good pale ale; definitely recommended.
★
429 characters

4.07
/5
rDev
+20.4%
look: 4 | smell: 4.5 | taste: 4 | feel: 3.5 | overall: 4
The beer pours a dark golden/amber color with a thick frothy offwhite head that slowly fades to lacing. The aroma is great! It has a wondeful balance of malts and hops. It boasts of pale and crystal malts along with a boat load of bitter hops. The taste is good. It has an intensely bitter flavor that goes down easy and finishes dry with a moderate malt balance. The mouthfeel is decent. It is a medium bodied beer with adequate/good carbonation. This is a good drinking beer, but could use a little more body. This was a nice surprise.
★
537 characters

4.08
/5
rDev
+20.7%
look: 4 | smell: 3.5 | taste: 4.5 | feel: 4 | overall: 4
A nice find on my last beer foray of my Buffalo area trip,poured a lighter amber shade with white sticky 1/2 fingered white head.Alot going on hop wise in the nose but it seems to go all over the place,piney and herbal with different citrusy notes with just a lighter touch of caramel underneath.Flavors come together much better a nice dose of hops Amarillo are in there no doubt with a mix of Cascades?Nice piney,herbal hop profile quite resiny with just a touch of light sweet caramel malt underneath to let you know its there.A strong pale ale according to the website,I guess but seems more like an IPA either way a nice beer from a lesser known here in NY.6.3% alc per web site.
★
684 characters
Thousand Islands Pale Ale from Sackets Harbor Brewing Co.
3.38
out of
5
based on
53
ratings.