Servall Liquor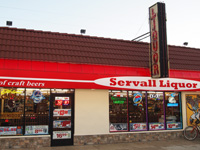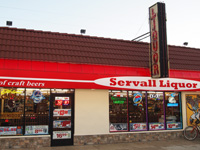 PLACE INFO
Type:
Store
1279 University Ave
San Diego
,
California
, 92103-3311
United States
(619) 692-3225 |
map
Notes:
No notes at this time.
Added by BeerAdvocate
Ratings: 12 | Reviews: 10
Reviews by d0ggnate:
3.5
/5
rDev
-11.4%
I've made a few trips to Servall and find the selection to be above average, but lacking in anything special or limited. A good place to drop in if you are in the area or just need a change of pace. They have a pretty large section of six packs as well as bombers/750s to pick from . It is nice to know that not a lot of people look here, too. However, this plays both ways. On my last trip, I saw some RR Blind Pig dated sometime in July 09. Probably aren't getting more until they sell what they have and there was plenty.
Either way, a trip to Servall is worth it if you know not to expect anything out of the San Diego ordinary.
634 characters
More User Reviews:

3.89
/5
rDev
-1.5%
vibe: 3.75 | quality: 3.75 | service: 4 | selection: 4
I purchased from these guys pretty regularly through their website (www.craftcity.com) when I lived in Minnesota (because they shipped to Minnesota - not so to Texas), and they had a good selection, especially West Coast stuff I didn't have access to, and their service was excellent.
284 characters
4.94
/5
rDev
+25.1%
vibe: 4.5 | quality: 5 | service: 5 | selection: 5
this is a great place right after you are done studying next door at filter coffee house. they have a beer cooler
113 characters

3.35
/5
rDev
-15.2%
A good go-to store. As the name implies, it's a liquor store, so there's also wine, booze, cigarettes and cigars, etc. available. The beer selection is pretty good, though, and the place is big enough to accommodate a decent amount. They have a fairly big walk-in cooler (I was told it used to be their humidor before they put in a new one) that houses a decent selection of 750s, almost all Belgian or Belgian-style.
They've got almost all the standard Left Coast craft brews, mainstream Belgian and German beers. Nothing unusual or jaw-dropping, but a if you're looking for something that's not out of the ordinary, there's a decent chance they'll have it.
659 characters

3.62
/5
rDev
-8.4%
vibe: 3 | quality: 3 | service: 4 | selection: 4.25
I lived down the street from this place for a few years, and was never disappointed. They have a large selection of cigars, wine, liquor, and of course, beer. As other reviewers have mentioned, they don't really have a lot of "hard to find" brews, but always manage to keep stock of current beers from all the local breweries, which makes me happy. They also have a large selection of a range of European imports. A major downfall for me is that there is very little street parking out front at the times of day I would go after work, but I guess everyone likes a good beer. The prices are reasonable and the guy behind the counter was friendly. One of the guys that was a stocker or something seemed to think he knew a lot more about beers than he really does. I remember one time he was trying to tell me that Stone 11th anniversary was the rarest beer in the world, and it sells for $100 a bottle. This was when it was just released. So I'd recommend not asking any difficult questions when you're there. Or ask the guy behind the counter, and not the stock guy. All in all, I'd definitely recommend Servall to anyone in the area. Better than Vons and Ralphs, and slightly cheaper to comparable prices at Whole Foods.
Originally wrote this review in 2008/9. Updating in Jan. 2013.
Since my initial review, they have added a walk in cooler. Conversion from a humidor that used to be there. It works well. They have started getting more limited releases. I've found a few things there that I couldn't get other places. Their prices remain reasonable. Unfortunately, it seems that their selection far outpaces demand at this store. They have bottles sitting on shelves for far too long. I've taken a chance on a few. Some were good, some weren't. The best advice I could give about this place is, only buy beer out of the walk in cooler, and still check bottling dates if available. I wouldn't recommend buying the beers out on the shelves unless it's something robust that could hold up really well, or something you know to be a new release.
Downgraded quality from 4 to 3 due to old stock.
Upgraded selection to 4.25 because they are getting more limited releases in.
2,175 characters
3.35
/5
rDev
-15.2%
A nicer liquor store, but still a liquor store. Parking available out front. Decent selection of what is popular. Boulevard, Lightning, and a fair mix of Belgians and Euros. Nothing that is rare or hard to find. Great prices on Stone XS series beer. The owner knows his stuff, but there just aren't many you can't find elsewhere. Decent prices. Very good cigar selection. Probably the best beer store I've found in North Park/Hillcrest. Sadly, that's not saying much seeing that the only competition is Whole Foods.
515 characters
4.35
/5
rDev
+10.1%
Stopped by Servall today as I recently moved from Seattle to San Diego and have been looking for a decent beer store.
Parking was easy, spots in front with plenty to spare on a Saturday around noon.
The selection was the best I have seen so far in town, comparable to some of the standard places I would go in Seattle. There were probably 8-12 coolers with various 6 packs and 22oz bombers, and a nice selection on the shelf as well that didn't fit in the coolers. They had quite a few locals I hadn't actually seen before (Hop Juice from Left Coast, Alesmith IPA, and some Green Flash Brewing as well) along with a complete Stone collection in 6 and singles. They had quite a few Belgians, and was the first place I had seen my go to, 90 min IPA from Dogfish Head.
The prices were very reasonable, $11 for a 4 pack of 90 min, $13.99 for a sixer of Ruination, and the 22's were anywhere from 3.99-5.99.
When I went to check out the gentleman behind the counter gave me their number and his name, and said if there was anything they didn't have that I wanted, they would order it no problem.
Overall, not really a "Beer Specialty Shop" as they had wine, liquor, snacks, etc., but definately a great stop to get some great beer.
1,232 characters
4.45
/5
rDev
+12.7%
Being from out of town I was looking to get a good selection of CA beers and they had it. There was a good Belgian selection as well and a few other states were there as well, very happy to have a few Avery Hog Heavens. Spent about a half hour there and $125 and they gave me a free bomber of Reaper Ale Slayer, which had never hear of but am always happy to try a new free beer. He also told me that if they didn't have anything I wanted he could try and get it for me. Which normally I would take full advantage of, but who knows when I'll be in San Diego again. The only complaint I had is that the majority of the good beers were on a shelf and not in a cooler. Doesn't bother me so much for some of the Belgians, but was afraid to try anything that looked a little dusty.
776 characters
4
/5
rDev
+1.3%
Servall is my former neighborhood liquor store and still the place I buy much of my beer.
They have a good selection of local and California beer and a decent selection of other US micros. The selection of Belgians is pretty good and they have quite a few German and Brittish beers. Prices range from "average liquor store price" to a bit more, but aren't really out of line.
They also have a decent wine, liquor and cigar selection.
Overall it's probably not someting to go out of your way for, but if you live or are staying in the area it's worth stopping in and picking up a few bottles.
600 characters

4.05
/5
rDev
+2.5%
Noticing the last review (addendum) was not all that positive, but was a few years old, I decided to give it a shot as I was in town on a beer buying trip/vacation last weekend. Well, things must have changed for the better, as there were quite a few very good beers, both imports and US micro's. I picked up a Celis Grotten Brown, Avery Salvation, and Victory Golden Monkey - also represented were the local brews such as Stone, Coronado, Green Flash, etc. Noticed quite a few good German, British and Belgian brews in addition to the solid us micro selection - all reasonabley priced, perhaps a touch higher than some bigger places. Beers are sold both off the shelf and cold, but it seems like beers sold cold aren't available at room temp and vice-versa in most cases.
Needless to say i was glad it seemed to turn around and get better, now it's a worthwhile place to stop by. It strikes me that you could satisfy a good chunk of beer buying between this and the Whole Foods down the street- at least until you go to Holiday in Escondido and shoot your wad.
1,065 characters
3.85
/5
rDev
-2.5%
An impressive offering of singles was the major impression that I drew from this stop. The other major attribute is that most all of the beer is kept cooled. On-street parking only is available here. The quality of beer here is quite high here with a goodly selection of quality imports. Definitely worth a stop when hunting for singles.
337 characters
Servall Liquor in San Diego, CA
Place rating:
66.7%
out of
100
with
12
ratings