Rothaus Hefeweizen
| Badische Staatsbrauerei Rothaus AG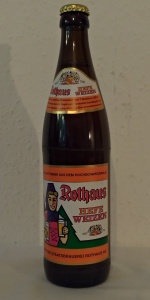 BEER INFO
Brewed by:
Badische Staatsbrauerei Rothaus AG
Germany
rothaus.de
Style:
Hefeweizen
Alcohol by volume (ABV):
5.40%
Availability:
Year-round
Notes / Commercial Description:
No notes at this time.
Added by brewdlyhooked13 on 03-26-2004
Reviews: 34 | Ratings: 64

4.23
/5
rDev
+6.3%
look: 4.5 | smell: 4 | taste: 4.5 | feel: 4 | overall: 4
Poured into a large flute glass. Copious head, very nice and fluffy. The head sticks around better than other hefeweizens I've had. Nice cloudy gold color.
Taste is subtly sweet with a good fruitiness. Some serious banana flavors that come through on the nose as well. A bit of spice and cloves as well. Good bubbles and quite refreshing. Very drinkable and smooth. The Rothaus hefe is every bit as good as the more common and popular Weihenstephaner and Schneider-Weisse stylings.
An excellent german wheat with a great pour/head and smooth flavor.
*Reviewed in Berlin, so freshness/flavor may deviate from imported bottles.
★
629 characters
4.1
/5
rDev
+3%
look: 4 | smell: 4 | taste: 4 | feel: 4 | overall: 4.5
Things are getting a little blurry as I try so many ales and lagers while on vacation, everything is exellent but not everything is mind-blowing... this is a exellent hefe, like many others here.
Straw-orange ale, murky from yeast. Aroma is a little sour and citric, some notes of hay and fresh yeast. Flavors : citrus, slight sour twang and a hoppy edge. Simple and refreshing.
★
379 characters
4.32
/5
rDev
+8.5%
look: 4 | smell: 4.5 | taste: 4.5 | feel: 4 | overall: 4
A very murky orange beer with a thick, creamy head that stays on the entire beer.
Smell is wonderfull, there is the obvious banana and grainy wheat, but also a citric, fruity smell. Reminds me of pineapple and somewhat orange.
Taste of ripe bananas and exotic fruit. Great taste, pineapples, mango's, lychees, everything. Almost like a tropical island. The wheat comes in second and adds to the complexity of the beer. The present yeast makes the beer taste yeasty (duh!), but also makes the mouthfeel a little chewy. Mouthfeel is also a bit astringent and slightly sticky.
★
579 characters

3.43
/5
rDev
-13.8%
look: 4 | smell: 3.5 | taste: 3 | feel: 3.5 | overall: 4
Mindestens haltbar bis: 02.06.06
A: Murky, golden straw. Fizzy white-head, little retention, some lace.
S: Bready with a little pineapple and citrus.
T: A little bread with lemon/lime tartness. Quite refreshing, but not full of flavour.
M: Light, somewhat creamy body, slighly acidic. Moderate to highly carbonated.
D: Good.
★
339 characters
4.03
/5
rDev
+1.3%
look: 4.5 | smell: 4 | taste: 4 | feel: 4 | overall: 4
500 ml bottle, bought in Bier Spezi Hamburg. Typical hefeweizen enormous head which lasts "forever", very cloudy golden. Typical h.w. aroma of cloves and ripe bananas. Flavour is relatively dry with the typical hefe character, notes of cloves and herbal spices, moderate hops. Another very nice and refreshing h.w.!
★
315 characters
4.8
/5
rDev
+20.6%
look: 5 | smell: 5 | taste: 4.5 | feel: 5 | overall: 5
What can possibly be more alluring than the perfume of muesli coated banana smoothie drizzled over natural herbed vanilla? This beer was smuggled via air directly a week ago from Baden Germany. You can almost taste the pine straw Schwarzwald floor; the rural banks where the Donau begins to flow; the Schwenninger Moos, or merely a quality hazed weizen fit for a clerk.
★
369 characters
4.4
/5
rDev
+10.6%
look: 4.5 | smell: 4.5 | taste: 4.5 | feel: 3.5 | overall: 4.5
I found this jewel recently at a beer kiosk in the northern part of central Moscow. 33cl brown bottle with gold foil around the neck. The label is similar to the one pictured, but on mine, the words Hefeweizen appear in the upper band of the label, next to "Rothaus", while the center features the word Zäpfle ("small (beer)tap"). Purity law applies, of course. Best before 9/1/05, I opened it on 8/7/05.
The pour is magnificent: hazy orangish straw under a firm 1.5 finger white head with good retention and a bit of lacing. This is one good looking beer. The nose is also just right: yeast and spice blend beautifully, assertive with being overpowering. The mouth is a bit flat for a Hefeweizen, and nicely sticky. The flavors are prototypical of the style: light, slightly sweet, coriander-spiced yeast and wheat. No hops. The finish is dominated by the spice, which lingers well in the aftertaste, filling the jowls and inviting another sip. A beautiful brew for a warm evening. I'll be headed back to that kiosk soon!
★
1,026 characters
3.08
/5
rDev
-22.6%
look: 3.5 | smell: 3 | taste: 3 | feel: 2.5 | overall: 3.5
Without yeast, it has a full golden color; after pouring the yeast, it becomes a more classical dark orange, hazy. Compact, dense and creamy head.
In the smell a classic banana-yeast, well balanced, but there are also some hop (!) and hay notes (!!). Maybe berry-fruit hints, and apricot.
Taste more dry than a standard weizen. Sharp citric, and some banana. After some while, the taste becomes more classic.
Standard body. Fruity aftertaste (orange, banana), and again, herbal notes.
★
487 characters
4.13
/5
rDev
+3.8%
look: 4.5 | smell: 4 | taste: 4 | feel: 4 | overall: 4.5
Nice golden color, kind of opaque. half inch persistent head. Tiny bubbles keep moving as you drink the beer.
Wheat in the smell with some fruits and a nice yeast aroma.
The wheat is very present in the taste, together with the yeast. A classic hefe weizen taste, smooth, enjoyable, with very little hops. But there's also a slightly sour sensation, something like lemon and clearly banana, that makes the beer a bit different and interesting. The sourness is well balanced with the general wheaty flavor of the brew. A dry finish.
Highly drinkable. A nice beer.
★
569 characters
Rothaus Hefeweizen from Badische Staatsbrauerei Rothaus AG
3.98
out of
5
based on
64
ratings.