BJ's Restaurant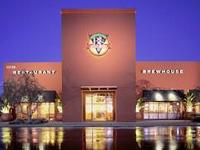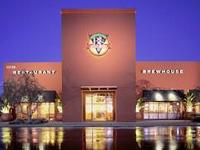 Bar, Eatery
13130 Jamboree Road
Irvine
,
California
, 92602
United States
(714) 665-8595 |
map
bjsrestaurants.com
Notes:
Reviews by TheLongBeachBum:
TheLongBeachBum from California
4
/5
rDev
+0.8%
vibe: 4 | quality: 4 | service: 4 | selection: 4 | food: 4
My impromptu Columbus Day 2006 tour of Irvine had already taken in Steelhead Brewing and the local Beverages and More! so it was an easy drive further up Jamboree to get to the Irvine BJ's. Situated at the junction of Jamboree and Irvine Boulevard it is easy to locate and sits in the extreme corner of the parking lot, one which I may add has the most palm trees that I have ever seen.
Rather staid boring square angulated dark red painted exterior is nothing special but it is very "BJ's". The sign promotes "BJ's Restaurant and Brewhouse", though no brewing takes place at Irvine and the beers and shipped in I believe.
After an overcast rather cool start to the day once I parked the jalopy nearby it was apparent that the sunshine in Irvine was breaking out with a vengeance. Once inside the building the darkened interior boosted the feel of the cooler clime from the air conditioning and was very welcome, I imagine during hotter times of the year this place is a great escape for a cool brew. During my visit the whole place had about ten people in total maybe, must remember to head back here for a quiet beer on Columbus Day next year!
The interior maintains a conformity with other BJ's, however I noted that the interior of the Irvine location is very dark and (no doubt purposely) heavily screened from the scorching midday sunshine outside. Lots of dark wood slatted window blinds keep the heat out, the air conditioning ducting is all painted in a dark purple and blends into the black painted roof. Black & Tan leather seated booths line the walls whilst dark wood tables and chairs line the inner walkways with more seating as you get closer to the bar area which is set back against the wall. Dark black counter tops and lots of glass and yet more dark wood behind the bar. A very large flat screen is located behind the bar and can be seen from most places around the floor area, it looks like six separate screens in a 2 x 3 set up but closer examination reveals that it is actually six screen shots on one larger screen, nifty stuff. I did note a small building close to the entrance which appeared to be all brick and contained storage vessels, which many could mistake for brewing equipment I am sure.
I decided to take one of the very comfy black and tan leathered booths nearby a window, from here I could also see an outside seating area which is covered by a roof but open to the environs, this looked to be a cool place to spend the evenings when the sun goes down though it was completely empty on my visit.
Service was very quick and attentive, and my server knew all of the beers available, plus points for that. I waived the usual BJ's brews having tried them before and opted for one the two specials, the Altbier sounded boring in comparison to the Juniper Rye so I went for the latter, strange stuff indeed. In addition to the BJ's house brews there are some guest beers and a small but solid variety of bottled Belgium beers for those that fancy something different. The Food Menu is very good here, lots of pub fare but some nice variation too. I went for a rather messy sounding Meatball sandwich with large wedge skinned fries, it arrived in good time with the beer, and I had no complaints about the food, decent portions and good quality.
Despite being on my own and visiting on a very quiet day, the BJ's in Irvine tends to blend the comfort zone and consistency of a well known chain with a little bit of variation to add something interesting on each visit to warrant a return trip. The whole place had enough character to keep me entertained, the service was very good, beer range interesting enough to find something new but with solid tried and tested back-ups and it's a great place to eat. Not much to look at from the outside but well worthy of a visit if you are in the neighborhood, and hey, if you hate crowds head out here on Columbus Day 2007….
Last Visit: Monday 9th October, 2006.
Oct 14, 2006
More User Reviews:

nate714 from California
4.28
/5
rDev
+7.8%
vibe: 4 | quality: 4.5 | service: 4 | selection: 4.5 | food: 4
its been a little over a month since ive been here 12/31/11 new years eve lol but anyways its always a pleasant place to come with the family. seating can be a hassle on a weekend or special holliday but usually get seated in 15mins. always nice and clean! our waiter was very knowledgable on the beer and he told me that i should try the harvest heff so i did and it was the best heff ive had at a brewery. then i got the tatonka stout since i kind of wanted to get my buzz on but geez i shouldnt have got it. it tasted like pure alchohal and i had to practicly force myself to drink it. but overall bjs is a great place to come and eat and get your drink on!
Feb 09, 2012

womencantsail from California
3.75
/5
rDev
-5.5%
vibe: 4 | quality: 3.5 | service: 4 | selection: 4 | food: 3
I've been here a couple of times, but never got around to writing a review of the place.
Like most other BJ's, the decor is nice and clean. This is one of the larger BJ's I think I've been to as there is an expansive indoor dining and bar area as well as a large patio outside. We sat outside most of the times I've been here.
The service seems to be better here than most other BJ's locations and the wait staff was friendly, but certainly not terribly knowledgeable about beer.
The food is what you get at all BJ's. I don't really like their pizza--I find it too oily/greasy--so I stay away from it. There are some other food items that are okay, though.
The beer is decent. It's BJ's, so again, you pretty much know what you're getting here.
Apr 16, 2011

Mooch273 from California
4.38
/5
rDev
+10.3%
vibe: 4.5 | quality: 4.5 | service: 4.5 | selection: 4 | food: 4.5
If there was ever a place to review a chain establishment, Irvine is definitely the city to visit with its multitude of chain restaurants, bars and cafes. BJs Restaurant in Irvine is probably the benchmark BJs to compare all others.
The clean, contemporary, comfortable character creates a nice atmosphere that is inviting to beer-seeking bachelors, families celebrating a birthday, and corporate types on a casual business lunch or dinner. Decorated with dark woods, blacked out ceiling, flat screens, a prominent bar, and a display case featuring polished brewing equipment, this restaurant and brewery is the quintessential BJs that we've all grown accustomed.
Happy hours are always enjoyable here. The food is great and reasonably priced. The wait staff is courteous, helpful and friendly. There's not much to complain about here. Although, I would appreciate a little more variety in the guest tap selection. It would be nice if they featured some local craft brews from Bootleggers, The Bruery or Port Brewing. BJs beers are enjoyable, albeit somewhat tame to please the masses. I had their Pumpkin Ale the other night, and it was quite nice.
Overall, I would gladly recommend this location when you're in the mood for decent beer while you watch a game, or are looking for a restaurant with a diverse menu.
Oct 28, 2010
DoubleJ from Wisconsin
3.58
/5
rDev
-9.8%
vibe: 3 | quality: 3.5 | service: 3.5 | selection: 4
I stopped in at this location after my work shift today for a quick pint. Interior is fresh though sterile, lots of dark wood all around the restaurant, especially at the bar, where there might have been too much of it: I was staring at a chest of drawers at my seat at the bar. All of BJ's beers were available on-tap (no cask at this location unfortunately) with a handful of guest taps, which included Stone IPA, Delirium Tremens, and Lindemans Frambroise. Service is competent, but my one minor complaint was I thought my PM Porter was a little too cold, though still sweet and delicious. Give it a whirl if you're in the area.
Jul 06, 2008
t0rin0 from California
4
/5
rDev
+0.8%
vibe: 4 | quality: 4 | service: 4 | selection: 4 | food: 4
I was hoping that they brew beer at this location and upon seeing the fermenters I thought I had chosen a BJ's location wisely. But when I asked the bartender I found out that they just ship it in from other locations. I also saw a collection of Belgian bottles on the shelves in the back room but after hearing the list from the bartender, its nothing you can't get at bevmo.
The place was packed but nice and comfortable. A little loud but I guess thats what you get with a trendy place like this. The pizza that we had was spectacular. We ordered the BJ's special or what ever its called. We also got 7 beer samplers in order to try all 11 of the BJs beers on tap. There were some pretty good ones like the german style hefe, the pumpkin ale, and the IPA. I hate to say it but the Berry Burst Cider was actually pretty good as well. The bartender filled the last 3 samples with Stella, Leffe, and Lindemans Lambic. Now I don't want to complain about the sample sizes but they were 5 oz each and after drinking most of the 14 samples, and after having been at Back Street an hour before, I was pretty buzed by the time we left.
All in all everything was good about this place, I think we got out of there for about $35.
Nov 18, 2007

SwillinBrew from California
4
/5
rDev
+0.8%
vibe: 4 | quality: 4 | service: 4 | selection: 4 | food: 4
This is just a fun place to come to whether you're with your friends or your honey. It's also one of the few places in this part of Irvine that you can get a good drink (FYI - Backstreet Brewing is about a mile south)
The bar is to the back as you walk in. There are various TV's around the restaurant and bar area with various sports on. Sounds of laughter, dining utensils being used, pints being set down, sports fill the restaurant with a nice vibrant feel. The crowd is always a good mix when i've been in ie people out on dates, families, college kids, older folks, just a bunch of people enjoying themselves and that's just nice.
The quality and service have always been above par. Things are clean, servers are attentive, etc. You may have to wait a little when it's busy, but hey, it's busy.
The brew selection is very well rounded and solid. They have about 7 of their standards on tap, a few seasonals and a few guest brews not to mention the quality bottle selection that centers on belgians. I usually get the kwak or delirium tremens when i go the bottle route.
The food is always hot and the portions are on the generous side. I usually get a cheeseburger because their burgers have that great grill taste to them and they're alway sooo tender and juicey. If you didnt know better, you wouldnt think this was a chain. Great place to bring a date, friends, coworkers for a good meal, in a cool environment and have some great beer.
Sep 29, 2006
IceAce from California
4.33
/5
rDev
+9.1%
vibe: 4 | quality: 4.5 | service: 4 | selection: 4.5 | food: 4.5
Atmosphere: Very nice for a Brewpub chain...BJ's has a very consistant feel from one location to another. This location features a wide-open format with the bar directly across from the entrance. The chain-wide theme of used brick, hardwood flooring, and dark wood is present throughout.
Quality: A cornerstone for the chain is their consistency and quality from store to store...and Irvine does not dissapoint in this area.
Service: Not only is the staff helpful, they are well-versed on the beers they brew and their guest beers as well. My bartender proved to be very knowledgeable and well rounded about all things beer.
Selection: Doesn't get much better than this...see the beer list after the Food section.
Food: Not only is the selection and quality of the food outstanding...the portions are very Clain Jumper like in size. I had the Meatloaf Sandwich for lunch and nearly lapsed into a food coma an hour later.
Beers Offered:
Standard Draught---
Brewhouse Blonde
Harvest Hefeweizen
Jeremiah Red
Piranha Pale
PM Porter (nitro)
Tatonka Stout (nitro)
Berryburst Cider
Guest Draught:
Piraat Tripel
Anchor Steam
Guinness Stout (nitro)
Seasonal Draught (Nov. 11, 2004):
BJ's Kamalani Saison
BJ's Pumpkin Ale
BJ's Dunkel
Bottled Beer:
Chimay (Blue & Red)
Duvel
Orval
Kwak
Scaldis
Westmalle
Saison Dupont
Lindeman's
Delerium Tremons
Hoegaarden
Heineken
Amstel Light
Corona
Needless to say, this location has something for everyone. The bar also features Hard Liquor, Wine, and selected Domestic Beers...seemingly something for everyone!
Nov 12, 2004
jcalabre from California
4.3
/5
rDev
+8.3%
vibe: 4 | quality: 4 | service: 4.5 | selection: 4.5 | food: 4.5
Yes, this is part of the BJ's chain; however, for a chain, they do a pretty darn good job. The menu has a wide variety of items and the quality was very good. Their beer line up was pretty nice. They have a lineuup of 5 or 6 of their own 'regulars' on draught, along w/ their seasonals & some Belgians. Piraat was on draught last time I was there. AFA their seasonals, one time they had a Grand Cru, reminiscent of Celis Grand Cru. This is a nice place to have a beer, or to take the family to dinner.
May 22, 2003
BJ's Restaurant in Irvine, CA
Place rating:
3.97
out of
5
with
11
ratings