Buckleys Dark Bock
| Yarra Flats Brewery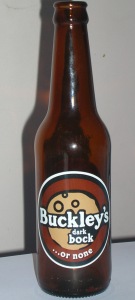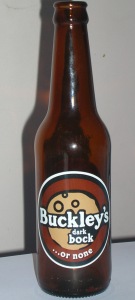 BEER INFO
Brewed by:
Yarra Flats Brewery
Australia
Style:
Bock
Alcohol by volume (ABV):
not listed
Availability:
Year-round
Notes / Commercial Description:
No notes at this time.
Added by diablo14 on 10-20-2003
HISTOGRAM
Ratings: 10 | Reviews: 9
Reviews by jamie2dope:
3.66
/5
rDev
+31.2%
look: 4.5 | smell: 3.5 | taste: 4 | feel: 3.5 | overall: 3
Picked this one up cause it had a really cool different looking label. Pours a very murky brownish black color with no head, but a small white lace to compensate. Smell was of chocolate, coffee, sweet carmalized sugars and a bit of mily lactates as well. Taste was very similar to a weak iced coffee with some espresso and caramel characteristics pulling through towards the end. I didnt pick up on too many hops, maybe a trace here and there, but overall the absence of hops made this a somewhat clunky beer despite its medium body. Drinkability was fair, one or too would be more then enough for me. I have to say that this is a very interesting drink. If your looking for something new and different to try, buy this delicious sensual beverage.
747 characters
More User Reviews:
1.83
/5
rDev
-34.4%
look: 3.5 | smell: 3 | taste: 1.5 | feel: 1 | overall: 1
330mL brown bottle, bought a couple of months ago in Melbourne and left alone in the fridge until now. The other Buckley's I had was egregious, let's hope this one is less so!
App: Apart from the nicely designed label, this beer looks good. Pours a mud-cake coloured dark brown, cloudy with a thin powdery head and moderate carbonation. Looks nice.
Smell: Typical bock aromas - dark malt, some sugar flavours - nothing really jumps out because it's served pretty cold. But I can tell it's not an extraordinary beer.
Taste: MASSIVE DISAPPOINTMENT. This beer is shocking, if not as repugnant as the pale. Man, I'm avoiding this brewery from now on, they are complete fuckups. It can't just be me can it? Have I done something wrong by storing these beers in a cool, dark place until serving? Unless Dan Murphy's mishandled two separate beers from the same brewer (and that's unlikely because their transport standards are pretty high), then it's the brewer's fault. In their favour, it does taste more like a bock than the other one even resembled a beer, but it's a crap bock. I'll knock it back and head out, but I'm not going to bother with the rest of this review.
I don't know what they did wrong, but it is a sin. I've never been so insulted by a brewery - at least with macros you have some idea of the standard you'll be drinking - but this is a small Victorian micro and I hoped they would be better.
Awful.
1,429 characters
3.23
/5
rDev
+15.8%
look: 4 | smell: 3.5 | taste: 3 | feel: 3 | overall: 3.25
Pours light tan with a large, lasting off-white head.
Nose shows bready, toasty malt, caramel, melanoidin hints and chocolate.
Slightly sour flavours with chocolate and toasty malt. A little sweet malt underneath the sourness.
Could use more carbonation.
257 characters

3.73
/5
rDev
+33.7%
look: 2.5 | smell: 4.5 | taste: 4 | feel: 2 | overall: 3.5
Pours a very dark ruby brown with a minimum of reddish tan head that disappears rather quickly and leaves what sort of looks like a scorpion of bubbles in the center of the glass. Smells malty and spicy, almost cinnamony and with lots of fruitiness there, cherry I think. The taste is also very malty and fruity, with lots of roastiness on the back end. No real bitterness to speak of, but that's to be expected from a bock. It really is pretty true to the style. Mouthfeel is fairly heavy, but mostly watery. Overall, it's a very drinkable bock and a tasty beer if you're into bocks. I just wish it had some head and/or body to it.
632 characters

3.24
/5
rDev
+16.1%
look: 3 | smell: 4 | taste: 3 | feel: 3 | overall: 3
This pours a murky dark brown with a reasonable beige head which doesn't stick around for long.
The aromas started out with some dark fruits but as it warmed up a yeasty smell is pushing everything else out of the way. vegemite diluted in water. Reminds me of Weltenburger Kloster Asam-Bock. That doesn't mean I particularly like it but it does mean that it is typical of a bock's aromas. some choc in there as well.
Yeastyness continues. A lot of sourness. Roasted malt.
Medium bodied.
This doesn't work for me but I think it's because I don't like the style.
565 characters
2.34
/5
rDev
-16.1%
look: 3.5 | smell: 2 | taste: 2 | feel: 3.5 | overall: 2.5
Dark yes, Bock no!
A - Murky black with tan highlights in the glass. Compact tan head but needed to be poured hard to develop.
S - A disconcerting background sourness peeps through roasted malt accompanied by a slight fruitiness. Either this was fermented with an ale yeast, or a lager at high temperatures. Very strange.
T - Roasted malt, a little coffee, a slight lactic sourness as detected in the aroma, with quite a dry finish. Nothing like I would expect from a Bock.
M - low carbonation and light body gives a silky feel.
D - I have reviewed this as a Bock, however it would score higher as a Porter. Apart from the light sourness, it would make a reasonable Porter.
688 characters
3.08
/5
rDev
+10.4%
look: 3.5 | smell: 3 | taste: 3 | feel: 3.5 | overall: 3
Dark brown/dark cola in colour with a light tan head and good carbonation.
Nose is very light and clean. A little bit of roasted malt, toast and spice.
Flavours on the palate are also on the lighter side, with some chocolate, caramel and spicy/peppery flavours with a long and creamy taste. A bit of end of palate sweetness. No real bitterness.
This is buckley's best beer, but still nothing substantial.
413 characters

3.63
/5
rDev
+30.1%
look: 4 | smell: 3.5 | taste: 3.5 | feel: 3.5 | overall: 4
good effort from the boys at buckleys with this one. while its not in the league of great german bocks they certainly havent disgraced themselves here.
theres only one place in melbourne you can get this on tap, and when i got my pint, it was just too cold for a bock. i sat it down and tried a few other beers while i waited for it to get to the right temperature. after clearing the palate and coming back, it was where it should be. what i found was quite good.
it sure looked like a bock. dark brown, almost black with a full but foamy tan head which thinned but never left. lovely roasted smell with a hint of sweetness and slightly earthy notes. smooth texture with an impressive balance for an aussie bock. perhaps not quite robust enuff, but still traces of burnt wood and a slightly peppery spiciness. very very drinkable tho. this beer was clean and fresh, without lacking too much in character. in fact i still had a delicious aftertaste in my mouth from this one an hour later.
the few bocks that have been attempted here have been in the main darn ordinary. this one is head and shoulders above the others, and while theres still plenty of room for improvement, if buckleys are willing to have a bit of a tweak at this one over time theyve got a classic in the making.
1,292 characters
2.18
/5
rDev
-21.9%
look: 3.5 | smell: 3 | taste: 1.5 | feel: 2.5 | overall: 2
Batch 0082 - ABV listed as 5.9%. I'm going to attempt to make this an ubiased review after being very disappointed by this brewer's sad try at a pilsner the other night. Here we go...
Appearance - Ultra-black body but without the oily look that some stronger stouts have. Nice two fingers of head that dissapates to a nice layer of lace on top. Not bad looking... lets looks further.
Smell - Somewhat weak. Slightly sour yeastiness at first (!), but underneath there are hints of roasted malts and the coffee smells associated with that, along with some whiffs of dark, sweet fruit (dates, raisins). Not bad - pretty inviting.
Taste - The taste is not what I expected from the smell - There is an out-of-place sourness. Certainly the aftertaste is a bit yeasty and even slightly metallic, which takes away big marks as well. I believe this was actually an attempt at a bock, but it is missing out on so many basic elements of the style, that it's going to get low marks here. There's a distinct lack of strong malty flavors and sweetness that usually comes with a bock and not much roastiness to speak of at all - sometimes I think I can taste them, then that damn sour flavor comes and sucker-punches me.
Mouthfeel - Quite watery, but appropriate level of carbonation and I think fairly fitting to the bock style, though
Drinkability - It's not a totally disgusting beer, and certainly down-able, but don't buy this if you want a bock. I was excited to see an Aussie microbrewery putting out a style rarely attempted here, but this is a miss guys... I'll give Buckley's a year, and then see how they're going with some later batches.
1,650 characters
Buckleys Dark Bock from Yarra Flats Brewery
Beer rating:
2.79
out of
5
with
10
ratings