Jamieson Brown Ale
| Jamieson Brewery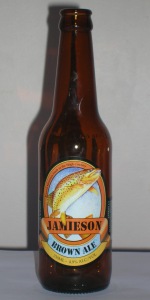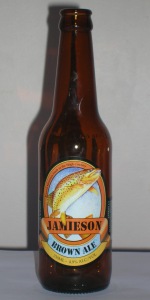 BEER INFO
Brewed by:
Jamieson Brewery
Australia
jamiesonbrewery.com.au
Style:
English Brown Ale
Alcohol by volume (ABV):
4.90%
Availability:
Year-round
Notes / Commercial Description:
No notes at this time.
Added by rastaman on 05-28-2003
HISTOGRAM
Ratings: 9 | Reviews: 8
None found.
More User Reviews:
2.1
/5
rDev
-33.5%
look: 2 | smell: 2 | taste: 2 | feel: 2 | overall: 2.5
Sweet and caramelly, a bit light on in flavour, but nice enough, the finsih is too sweet and there is only a small hint of hops (which i suppose is too the style of a Brown Ale?), i've never really been a huge fan of Brown Ales, pretty easy to drink though.
257 characters

2.86
/5
rDev
-9.5%
look: 4 | smell: 3 | taste: 3 | feel: 2 | overall: 2.5
This pours a clear light brown colour with a centimetre of loose off white head.
Lots of caramel malt on the nose. There is something else in there as well maybe a touch of diacetyl?
I don't get the diacetyl on the palate though. Lots of maltiness. A bit of cola(?).
There is thiness and sharpness to it which isn't that appealing.
Not a fan.
347 characters
3.25
/5
rDev
+2.8%
look: 3 | smell: 3 | taste: 3.5 | feel: 3 | overall: 3.25
A: Pours a dark amber color with a decent tan head that fades to some lacing.
S: Aroma of roasted malt, nuts and a hint of caramel sweetness.
T: Taste of roasted malt with some caramel sweetness and a bit of nut flavor in the background. Mild bitterness and a clean finish.
F: Medium body, smooth with a decent balance.
O: Fairly average brown ale but still good for a couple.
384 characters

3.77
/5
rDev
+19.3%
look: 3.5 | smell: 4 | taste: 4 | feel: 4 | overall: 3
the first time i tried this my mind was immediately cast towards the father of brown ales, the one and only newcastle. in my readings on this site it seems the brown ale style is close to the most maligned. you either love it or hate it. jamiesons have come up with a nice one here. quite complex for a brown ale, its just a bit fuller and richer than newky.
pours with the classic brown/dark amber color, and had a smallish head which didnt persist. this seems to be considered a problem in the brown ale reviews ive read, but then my understanding is that traditional brown ales are not brewed to have a huge head. therefore i dont have a problem with the lack of head retention. sweet nose with hints of toffee and spice, and a slightly floral hops aroma. taste is typically sweet also, very biscuity and rich with caramel and toffee like notes with some cinnamon and nutmeg in there. smooth hoppy finish that stays unobtrusively in the background but does provide a nice finish to a sweet and marginally syrupy beer.
loses a bit in the drinkability stakes solely because it is fairly rich and after two or three does get a little bit too much for the palate. i do like to incorporate this into a night of fine beer drinking, and i think it can hold its own against some pretty good beers. it is definately the best brown ale from the southern hemisphere.
1,365 characters
2.75
/5
rDev
-13%
look: 2.5 | smell: 2.5 | taste: 2.5 | feel: 4 | overall: 3
Reminds me a little of creaming soda in colour - light brown with a reddish tinge. Piss poor head and retention. Soft nose with some sweet 'brown notes' (err..great description?). Fizzy palate with more sweet malt notes, a touch faint, but not too bad. I usually dislike too much fizz but for some strange reason seems to work ok in this instance
350 characters
3.55
/5
rDev
+12.3%
look: 3.5 | smell: 3.5 | taste: 3.5 | feel: 4 | overall: 3.5
Dark tan with a reddish tinge , unable to sustain a head on my pouring
Plenty of esters over the maltiness both in the smell and the taste
It is quite sharp without being bitter , which is probably the esters? and there is a dose of nut in there as well
It balances well in the mouth being smooth and cleansing.
Not a style I would drink a lot of at a session but this seems to be a reasonable attempt at the style
421 characters
3.65
/5
rDev
+15.5%
look: 3.5 | smell: 3.5 | taste: 3.5 | feel: 4 | overall: 4
Pours a mahogany tinged light brown with a few centimetres of head that quickly falls away. Heavy lacing is left down the glass.
Big caramel malty aroma that continues through to a rich malty taste.
Mouthfeel is quite full & lively. The malt flavours linger.
Seems pretty true to style. Not a session beer due to the rich flavour but still quite drinkable.
359 characters
3.48
/5
rDev
+10.1%
look: 3.5 | smell: 3 | taste: 3.5 | feel: 3.5 | overall: 4
Light fruity esters. A hint of hazelnut, sweet malt and chocolate. No real hop presence.
Quite a clear, deep amber colour. The small light tan head is very shortlasting.
The flavour is quite good. Moderate nuttiness, just a hint of toast that almost approaches roast. Light minerality. On the whole I like this but I get a bit of emptiness in the mid-palate.
Medium-light body with moderately-high carbonation. Good.
A tasty drop that easy to drink. I prefer some of their other beers but it is decent.
507 characters
Jamieson Brown Ale from Jamieson Brewery
Beer rating:
3.16
out of
5
with
9
ratings