Jamieson Pale Ale
| Jamieson Brewery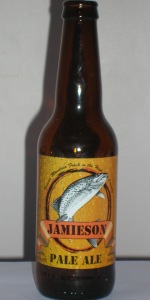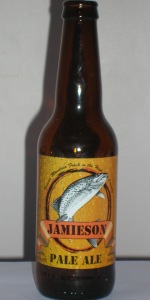 BEER INFO
Brewed by:
Jamieson Brewery
Australia
jamiesonbrewery.com.au
Style:
English Pale Ale
Alcohol by volume (ABV):
4.60%
Availability:
Year-round
Notes / Commercial Description:
No notes at this time.
Added by BeerAdvocate on 01-16-2005
HISTOGRAM
Ratings: 10 | Reviews: 10
Reviews by dwheeler:
3.39
/5
rDev
-0.6%
look: 3 | smell: 4 | taste: 3 | feel: 3.5 | overall: 3.5
A deep copper beer with a nice off white foamy head, not too bad to look at. Smells great, lots of hop aroma with some sweet malt mixed in for kicks, very nice.
First taste, not bad, but something's wrong. I think it is the balance, lots of sweet malt up front, but it lacks that smooth hop bite- its out of whack.
I think the hop bitterness and taste don't back up the great aroma. Love that smell though!
416 characters
More User Reviews:

4.01
/5
rDev
+17.6%
look: 4 | smell: 3 | taste: 4.5 | feel: 4.5 | overall: 4
A very hoppy beer with good carbonation and mouthfeel. Poured with a good, white head which it retained throughout the drink. No distinct nose - maybe a little malty. Flavour included a lot of hops and some nutty malt.
Really enjoyed the hoppiness of this beer.
262 characters
2.96
/5
rDev
-13.2%
look: 4 | smell: 3 | taste: 3 | feel: 2 | overall: 3
Pours golden amber with a large suddy head leaving lots of lacing.
Aroma has some lemon and orange hoppy notes and some faint clean malt. Subtle, but nice.
Flavours are more of the same, but the malt has a slightly cardboard-like note.
Carbonation is way too strong. Massively over the top.
290 characters
3.79
/5
rDev
+11.1%
look: 3 | smell: 4 | taste: 4 | feel: 3.5 | overall: 3.5
"Hey, this is a nice beer!" I said, half suprised, as I sipped my Pale Ale at the brewhouse. Nice cascade citrus hop aroma well balanced against a backbone of malt. Really good level of carbonation and a nice finish. I wish this brew were more readily available. I'd be a good customer!
286 characters
1.71
/5
rDev
-49.9%
look: 1 | smell: 2.5 | taste: 1.5 | feel: 1.5 | overall: 1.5
This was the biggest gusher I have ever seen. I don't feel all that sorry for the brewery though when they don't put any bottled on or best before dates on their bottles so I can only rate it on what is in front of me. Smells a little past it's prime but again with no date to verify this Í'm not going to give them the benfit of the doubt. All the carbonation dissipated in the gush so it feels flat with just some semblance of bitter hops. These guys do some decent beers but I have no motivation to ever try this again with my own money. Thanks for coming.
560 characters
3.64
/5
rDev
+6.7%
look: 4 | smell: 3 | taste: 4 | feel: 3.25 | overall: 3.75
On tap at the brewery.
A: Served a cloudy deep copper color with a big head that fades very slowly to ample lacing.
S: Aroma of mild citrus malt sweetness with a bit of nut in the background.
T: Taste has a nice hops crispness up front with a mild caramel sweetness and a bit of nut in the background. Mild bitterness that lingers justra bit with a clean finish.
F: Medium body, crisp, quite smooth with a bit of character.
O: Enjoyable beer that goes down easy. good for a few. Worth checking out.
508 characters
3.46
/5
rDev
+1.5%
look: 3 | smell: 4.5 | taste: 3 | feel: 3 | overall: 3.5
Awesome bouquet; fruitiness and candy malts. Has some character. Follows up well in the palate although these enticing friuty notes do fall away in the back half of the palate. Even so a pretty good drop. I think these guys deserve a bit more profile that currently enjoyed.
274 characters
3.43
/5
rDev
+0.6%
look: 3.5 | smell: 3 | taste: 3.5 | feel: 4 | overall: 3.5
Deep cloudy amber in colour with a thin white head
I thought this Pale ale had a dominant caramel quality initially on the tatebuds.It mellowed out to a bitter sharp finish .
Didnt have enough fruity hops for me .Its still very drinkable though,
a different Pale ale to Little Creatures and Hargreaves Hill
311 characters
3.78
/5
rDev
+10.9%
look: 4 | smell: 3.5 | taste: 3.5 | feel: 4 | overall: 4.5
Dark straw colour with very little head. Minor lacing.
Smell was dominated by caramel maltiness.
The maltiness continued through to the flavour with the slightest touch of some grassy, herb hop flavours.
Quite a full bodied mouthfeel with medium carbonation.
Highly drinkable beer from another small victorian regional micro.
In my opinion, a bit more hoppy would be a nice touch.
385 characters
3.97
/5
rDev
+16.4%
look: 3.5 | smell: 4 | taste: 4 | feel: 4 | overall: 4
Appearance - 3.5
Slightly hazy deep gold to amber body topped with a thin head of white foam.
Smell - 4.0
Citrus (orange and grapefruit) lead from the front with light caramel sweetness in the background.
Taste - 4.0
Beautifully balanced with considerable hopping (I would guess about 35IBUs) and moderate sweetness. A little pale malt character is there, but this is really a hop-centric beer tasting of grapefruit, mandarin and musky yeast, finishing bone dry.
Mouthfeel - 4.0
Fine and rather lively carbonation and a light to medium body.
Drinkability - 4.0
Very much my kind of beer - this is something I could easily drink a lot of.
OVERALL - 3.9
For my money, this beer is nearer to an American pale ale than an English (due to the hoppiness and relatively high carbonation). Still, it's good enough that I don't care - a full-flavoured and highly drinkable pale ale.
878 characters
Jamieson Pale Ale from Jamieson Brewery
Beer rating:
3.41
out of
5
with
10
ratings