Summit Dunkel Weizen
| Summit Brewing Company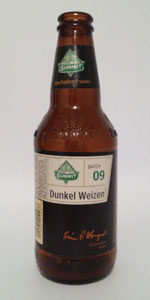 BEER INFO
Brewed by:
Summit Brewing Company
Minnesota
,
United States
summitbrewing.com
Style:
Dunkelweizen
Alcohol by volume (ABV):
6.00%
Availability:
Limited (brewed once)
Notes / Commercial Description:
No notes at this time.
Added by bsp77 on 03-06-2012
This beer is retired; no longer brewed.
Reviews: 53 | Ratings: 122
3.15
/5
rDev
-17.1%
look: 2.5 | smell: 2.5 | taste: 3.5 | feel: 4 | overall: 3
12oz into tulip. no bottled on date.
A: a hazed, but very bright, light brown/almost orange hue. head is brownish and white. retention is terrible as it disappears quickly.
S: a little bit of a vinous, corky aroma. banana. ground ginger. the vinous scent is a little off-putting.
T: pretty classic dunkel flavors to start. caramel, sweet fruits, a little bit of clove. a little cheesy? a lingering caramel flavor lasts long into the finish. along with a mild fruitiness.
M: ample carbonation on a medium body.
D: not bad, just not too impressed either. not sure if this was sitting for too long or just not great. maybe better closer to the source....
661 characters
3.1
/5
rDev
-18.4%
look: 3 | smell: 3 | taste: 3 | feel: 4 | overall: 3
Appearance: The beer poured very cloudy with two fingers' width of cream colored foam. It was a brown copper-like color. Nice lacing. But I would have expected a dunkel to be darker.
Smell: I could smell some banana, a bit of grass and biscuit, and maybe a little fruit with a hint of bubblegum. I expected a much more potent banana smell.
Taste: The beer had some banana notes but very subdued. A slight amount of bitterness. I expected much more in the way of banana for this style beer.
Mouthfeel: Medium mouthfeel, effervescence was light and tingly.
Overall: A nice, refreshing taste but seemed to lack body. It was somewhat disappointing for a dunkel.
662 characters

2.83
/5
rDev
-25.5%
look: 3 | smell: 2.5 | taste: 2.75 | feel: 3 | overall: 3.25
Dunkel Weizen, Unchained 09
Summit
20130824
12oz to Adelbert's snifter
Dunkelweizen
A – Quite opaque, barely translucent, but has some clarity when the light is right. Brown. Head nearly dissipates completely; when I opened it, it seemed the carbonation was a tad low.
S – Cocoa, dark fruit, and medicine. The medicine almost seemed to be alcohol at first. The cocoa smells very much like a dark chocolate bar, not powder. The dark fruit is fig and prune, perhaps a bit of cherry. The medicinal smell has sort of changed into a more plastic smell now. I don't pick up any wheat.
T – A very cocoa-y dunkelweizen, with dark fruit notes in the middle and a medicinal cocoa taste on the back end. Kind of like putting dark cocoa powder into some fig juice and adding a splash of cough syrup; perhaps this could be a substitute drink for some pro athletes. It's not bad, but it's not good. There is also a lightness in the taste, a cold strawberry note that comes out between the middle and end that makes the taste somewhat refreshing. I'd give it a higher taste score for being interesting, but it's missing the flavors I associate with a dunkelweizen. It's more like a sessionable chocolate stout (with an off-flavor).
M – Medium bodied, kind of soft except on the tip of the tongue. Low carbonation but does seem like a sipper. The taste keeps the mouthfeel feeling agile.
O – While this is pretty off-style and aged, I think it has changed in an interesting way and remains drinkable enough, unless you're really into style accuracy. It maintains some refreshingness despite the medicinal off-taste, and the cocoa is very present but not overpowering.
3, 2.5, 2.75, 3, 3.25; 2.85.
1,712 characters
Summit Dunkel Weizen from Summit Brewing Company
3.8
out of
5
based on
122
ratings.