Summit Belgian Style Abbey Ale
| Summit Brewing Company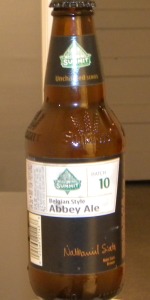 BEER INFO
Brewed by:
Summit Brewing Company
Minnesota
,
United States
summitbrewing.com
Style:
Dubbel
Alcohol by volume (ABV):
8.00%
Availability:
Limited (brewed once)
Notes / Commercial Description:
No notes at this time.
Added by bsp77 on 07-25-2012
This beer is retired; no longer brewed.
Reviews: 27 | Ratings: 71

4.08
/5
rDev
+4.9%
look: 4 | smell: 3.5 | taste: 4.5 | feel: 4 | overall: 4
Coppery with light tan head, some lace clings to the side of the glass as the beer is drained. Smell is mostly a faint sweet malt character. Nothing unpleasant, but not exciting, either. Taste has distinct selective Belgian character- it's candied, bubble gum, faint banana but not peppery and no cloves that I can detect. Pleasant softly carbonated body, medium density, smooth and velvety mouthfeel. Clean finish. Thirst quenching and even refreshing. Very interesting take on the Belgian style. Pretty good as well. Keep 'em coming.
535 characters
4
/5
rDev
+2.8%
look: 4 | smell: 4 | taste: 4 | feel: 4 | overall: 4
Bottle into snifter. Reviewed live.
A - Pours a very darkish orange color into my XL snifter. 1 inch of tan head quickly recedes leaving a ring of bubbles and lacing around the glass.
S - Bready Belgian yeast, fruity hops, faint burned sugar notes. A slight bit of clove is noticed as well. Also a bit of 'earthiness' as well.
T - Follows the nose. The tastes really work well together though. The taste is predominantly bready yeast combined with the slightest bit of floral hops. A pleasant yet slightly spicy aftertaste keeps you coming back for more.
M - Fair carbonation, and at 8% abv the alcohol is very well-hidden. Very smooth and enjoyable on the palate.
O - I am not well-versed in the Dubbel style, but this brew seems to have accomplished what they were going for. The elements that are there are executed very well, and sometimes that's all you need. Another good beer experiment from Summit's Unchained Series. Recommended if you like Belgian beers.
974 characters
3.95
/5
rDev
+1.5%
look: 4 | smell: 4 | taste: 4 | feel: 3.5 | overall: 4
Batch 10 of the Unchained Series
Enjoy By 12/03/12
A= Pours a nice deep hazy amber color with a thick finger of off white tan colored head. Holds great retention and lacing on the side of the glass.
S= A nice Belgian sort of candied sugar sort of malty sweet thing going on here. The yeast is a little bubblegummy but very tame and toned back. Not being a huge fan of Belgian yeast it smells nice.
T= The taste is again a nice bit of Belgian sugar or malt right up front with a quick swing of bubblegummy Belgian sugar before that is taken over by a bit of hop bitterness that I enjoy quite a bit. The finish is a nice biscuity flavor.
M= Well carbonated. A little light for a Belgian I think to style but I like it.
O= This is another quality brew from Summit. A Belgian for a guy who doesn't really care for over the top Belgians. The yeast is somewhat tame and it isn't overly sweet with the weird sweetness I get from Belgians. Worth checking out.
956 characters

4.09
/5
rDev
+5.1%
look: 3.5 | smell: 4.5 | taste: 4 | feel: 4 | overall: 4
A- Pours a ruby brown body with light creamy tan head 1 finger in height. The head shows good retention. Some sparse lacing is present.
S- What a nice nose on this, displaying cocoa, caramel, some nice nutmeg, some clove, a bit of raisin. Very round and balanced.
T- Starts off with some herbal hops with some nice sugars to tie it in. A nice breadiness is apparent which rolls quite nicely into the finish which retains some nice maltiness.
M- Medium carbonation is pleasant. The big body is pleasing on the palette.
O- Overall, a very nice beer. Not exactly perfect in late July but I like forward to really getting my money's worth in Early September with this beer.
675 characters

3.93
/5
rDev
+1%
look: 4 | smell: 3.5 | taste: 4 | feel: 4.5 | overall: 4
Appearance: Really nice honey brown with off-white head. Ruby red hues when held up to the light.
Aroma: Sweet. Some spices. Pear and banana.
Taste: Very close to other Trappist/Abbey ales. Lots of malt balanced with spices and fruity notes. A little bready. Sweetens as it warms leaving you with a caramel essence from the fruit.
Mouthfeel: Pretty good level of carbonation. Very smooth especially as it warms up.
Final Thoughts: Yet another interesting beer from the Unchained Series. I'm not a huge fan of this style but Summit's version is great. If you like Abbey Ales and live in MN, this is one to check out!
620 characters
4.13
/5
rDev
+6.2%
look: 4.5 | smell: 4 | taste: 4 | feel: 4 | overall: 4.5
Pours into a goblet a deep brownish hued gold with a creamy looking cap of foam that consists of an infinite amount of tiny bubbles. Great lace and retention.
Cocoa, clove and very ripe banana. Some brown sugar with caramelized sugar also.
Chocolatey, clove, chocolate covered banana, belgian yeast, bread crust. Warm alcohol, some light earthiness and spice.
Very smooth and extremely soft carbonation that is a bit on the lower side. Dry finish on the tongue.
I am very impressed with this beer. Another winner from the Unchained Series. Wonderfully made all around. Will enjoy more of this one.
602 characters
4.12
/5
rDev
+5.9%
look: 4 | smell: 4.5 | taste: 4 | feel: 4 | overall: 4
Serving glass: Poured from bottle into Snifter.
Appearance: Hazy orangish red with thin tan head and light lacing tendrils.
Smell: Plum, raisins, cherry, banana and light clove. Overripe fruit overload.
Taste: Identical notes as the smell (see above) but slightly more muted.
Feel: Moderate carbonation with a lightly drying finish. Seems almost a touch too thin, but I feel that way about most Dubbels. It is actually less of an issue with this one so I will let it slide.
Overall: Even though this is not my favorite Belgian style, this is actually one of the best ones I have had, and yes I have had the Trappists. Very surprising coming from Summit, who are not known for Belgian style beers. High quality six pack of Dubbels for $9? Yes, please.
755 characters
Summit Belgian Style Abbey Ale from Summit Brewing Company
3.89
out of
5
based on
71
ratings.