Old 152
| Summit Brewing Company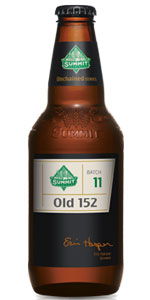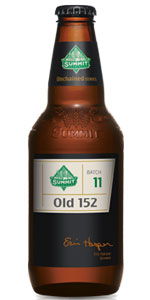 BEER INFO
Brewed by:
Summit Brewing Company
Minnesota
,
United States
summitbrewing.com
Style:
Rye Beer
Alcohol by volume (ABV):
5.80%
Availability:
Limited (brewed once)
Notes / Commercial Description:
No notes at this time.
Added by JamesMN on 10-27-2012
This beer is retired; no longer brewed.
HISTOGRAM
Ratings: 110 | Reviews: 40

3.58
/5
rDev
-5.3%
look: 4 | smell: 3.5 | taste: 3.5 | feel: 4 | overall: 3.5
Reddish amber liquid with a haze of suspended particulates. Khaki head slight lace. Smells of earth, sod, and citrus. Taste is quite sour with a strong floral, spicy character, earthiness and citrus as well. Moderate bitterness. Medium body slightly watery mouthfeel. Dry, mildly bitter lingering finish. Interesting creation.
326 characters
4
/5
rDev
+5.8%
look: 4 | smell: 4 | taste: 4 | feel: 4 | overall: 4
Pours a deep copper color with a short but very sticky head of khaki foam. Lots of minuscule particles floating throughout the body.
Has a strong earthy spice smell that can only come from rye. Nice. Some fruity and citrusy hops underneath. Really a nice nose overall.
Starts out with the moderately spicy rye which quickly goes to a strong hop bite that is earthy and somewhat herbal. Some grapefruit peel at the end and into the finish with perhaps minute touch of some sour grain. Pretty bitter aftertaste also.
Very smooth and finishes extremely dry on the tongue. Close to a medium body.
I would put this in the category of a Rye IPA. In that category, it fits wonderfully. I know this is a "take" on a pre-prohibition recipe because there is not way they drank anything this hoppy back then in their beers. This is another well made brew in the Unchained Series, but probably not in the top five for me.
913 characters
3.97
/5
rDev
+5%
look: 3.5 | smell: 4 | taste: 4 | feel: 4 | overall: 4
Appearance: Reddish brown, dark copper in color. Mostly clear, but with a very small amount of cloudiness. About a finger's width of ecru colored foam. Great lacing.
Smell: Upfront spicy hoppiness and some corn. Sweet floral undertones. Also some malt and a bit of bread.
Taste: Wow, so interesting. Very dry but an excellent dryness. Definitely a spicy hops presence. Lots of body and super balance of different flavors.
Mouthfeel: Medium mouthfeel with a nice amount of carbonation.
Overall: Very drinkable and very satisfying. A relatively low ABV, so you could easily have a couple of these. I strongly support brewers trying different recipes and not sticking with the standard IPA, stout, etc. The Old 152 was a highly successful experiment by a Summit Brewer. Thanks to Summit for doing it!
799 characters
4.08
/5
rDev
+7.9%
look: 4 | smell: 3.5 | taste: 4.5 | feel: 4 | overall: 4
A: Pours a nice nutty brown color with about a quarter inch of pillowy off white head that
T: Malty nutty, nicely balanced beer, not a hop bomb but overall a balanced beer.
s: bready malty earthy hops
M: medium bodied beer with average carbonation.
Overall, I really enjoyed this beer. Another nice brew in the unchained line up
332 characters

3.91
/5
rDev
+3.4%
look: 3.5 | smell: 5 | taste: 3.5 | feel: 4 | overall: 3.5
This beer pours a semi-clear amber color. The head is on inch in height, and recedes rather quickly into a think layer of sparse foam. The aroma is amazingly vibrant. Flower bed, caraway, rye dough, caramel, and toffee, and nougat. I could smell this beer all day long. Up front the taste has all the vibrant complexities of the aroma with the addition of a firm bitterness. It does, however, vanish from the palate within seconds leaving virtually no aftertaste. That really takes away from the beer for me. The mouthfeel is medium bodied with aggressive carbonation, and a smooth texture. Overall, I'm glad I got the opportunity to try my first Kentucky Common, but I can't see myself buying this again. Beers in this oddball vein usually get me really excited, but one just doesn't do it for me.
798 characters

4
/5
rDev
+5.8%
look: 4 | smell: 4 | taste: 4 | feel: 4 | overall: 4
Serving glass: Poured from bottle into Imperial Pint.
Appearance: Rusty orangish-brown with moderate white head and just a touch of lacing.
Smell: Spicy, bready rye and sweet biscuit.
Taste: Somewhat sweet core of biscuit, caramel and bread, offset by spicy rye. The malts also seem to have something else going on - not quite sour, not quite stale, just something. Maybe this is from the sour mash, or maybe I am just talking out of my ass since I know a sour mash was utilized. Slightly bitter finish with spicy, floral notes, and a ton of more rye.
Feel: Medium body, moderate carbonation, mostly dry finish.
Overall: A little better than the sum of its parts. And I really commend Summit and brewer Eric Harper for doing something unique. Too bad this can't have the free floating lacto that apparently infected the Kentucky Common style back in the early 20th century, but still a very nice beer.
906 characters

4.08
/5
rDev
+7.9%
look: 4 | smell: 3.5 | taste: 4.5 | feel: 4 | overall: 4
Listed by the brewer as a Kentucky Common style.
Appearance: Chestnut/amber color with a pillowy off-white head.
Aroma: Lots of malt presence and slightly sweet. Barley and rye malt.
Taste: Malty/nutty flavor with an overt peppery flavor from the rye. This creates a pretty nice balance between the sweet and spicy malt profiles. At 55 IBUs you can taste all of them but it is by no means overly bitter. The hops are earthy and work well with the rye. The rest of the malts create a very solid and robust flavor. Lingering hops and rye malt after the finish.
Mouthfeel: Medium bodied (surprisingly thick for the relatively low 5.8% ABV). Good amount of carbonation and a nice tingling sensation on the palate from the pepper/bitterness. Above average drinkability.
Final Thoughts: I wasn't sure what to expect but this is definitely a beer worth checking out. The rye malt really shines here. A decently balanced brew that delivers on flavor. Would I drink it again? Yes, and soon since it's a one time release!
1,026 characters
Old 152 from Summit Brewing Company
Beer rating:
3.78
out of
5
with
110
ratings