Hills & Dales Icehouse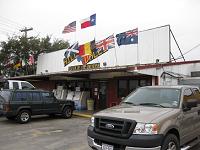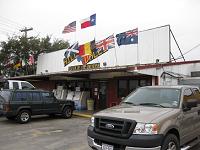 PLACE INFO
Type:
Bar
15403 White Fawn Dr
San Antonio
,
Texas
, 78255-1032
United States
(210) 695-8309 |
map
Notes:
No notes at this time.
Added by TPoling
PLACE STATS
Reviews:

12

Ratings:

pDev:

15.76%
HISTOGRAM
View: Place Reviews
Ratings: 15 | Reviews: 12


4.47
/5
rDev
+21.5%
vibe: 5 | quality: 4 | service: 5 | selection: 4.25
The "center of the universe" has been around town forever. They have been serving craft brew long before anywhere else in San Antonio. I read some negative reviews here, but it seems like people didn't know what to expect, or want a "higher class" or more trendy environment. I prefer a joint like this. IMO it is a superior setting to chill and enjoy some good brew. The selection is above average and they sell bottles to drink there or to go. The prices are really fair. Remember that you are paying bar price. They have a loyalty program that is free. After you try so many beers you get a plaque on the wall with your design. There is occasionally live music. Pool tables and darts and a pretty sweet jukebox. If you want a little place with no dress code and a mixed laid back crowd, this is it.
801 characters

3.99
/5
rDev
+8.4%
vibe: 5 | quality: 4 | service: 3 | selection: 4.5
I love the no judgement atmosphere. Need a drinkin buddy? Just show up and you can find a lawyer, professor, college student, or even a biker to have a great conversation over cold beer with! Never a stranger. Oh and I hear people complain about not having glass mugs to drink good beer out of. If the beer is that good, you should be able to drink it out of a shoe!
366 characters
2.14
/5
rDev
-41.8%
vibe: 1.25 | quality: 1.25 | service: 1 | selection: 4.75
If you like dive bars this place is it. Unprofessional staff, at best. Playing on cell phones the whole time and 2 of them got on top of the table and started dancing. And the guy employee was dancing on the table without his shoes on. Bare feet on the tables you sit and drink from. Really? What else do they do there? I drove over 2 1/2 hours to meet with my friends here because they heard it was a good place. Honestly there are a hundred more bars in San Antonio and I will be looking else where to drink at when I come back down there.
541 characters
3.28
/5
rDev
-10.9%
vibe: 3 | quality: 3 | service: 3 | selection: 4
Well it's been there for as long as I can remember, and I've lived off and on in SA for a long time. My first trip there I discovered that for a young punk of barely 21, there were plenty of oddball and new beers to try. As an old punk of 43, I've come to realize that this place is more of a pseudo-biker hangout with a wider than usual selection of beers for such a place. However, the bottled beers they do have are, and pretty much always have been, overpriced. The prices might be ok in a fine quality establishment, but when picnic tables and plastic cups are the primary "ambiance," and most beers are at least $3.50 or more (and not necessarily cold), it's very so-so.
The selection is good, I will give it that.
Atmosphere wise it's pretty much a dive, but it's enjoyable enough to hang out in if that's your thing. It's somewhat of a SA tradition, for whatever that's worth to you.
However, if you're a true craft beer enthusiast, this place is at best average. The main thing lacking would be proper glassware.
1,025 characters

3.66
/5
rDev
-0.5%
vibe: 3.5 | quality: 4 | service: 4 | selection: 3
To get here, take the Babcok Road exit off of the 1604/Anderson Loop. The side of the building nearest the road had a patio deck filled with picnic tables. Above the wide awning that ran the length of the building were flags and not just six, either. US and TX were prominent, but also Wales, German, UK, Scotland, Canada, Czech Republic, Australia, and Ireland.
Entering, the cigarette counter and ice machine were directly right with the long, "L"-shaped Formica-topped bar running most of the length of the right wall. 50 taps on said wall with Mug Club mugs flanking either side. Wrapping around, the lavs were down a short pathway on the right side of the back wall and next to the pathway were the bank of 14 coolers. The left side of the space, past the coolers, consisted of a game area with two English dartboards, two electronic dart boards, two green-felt pool tables, a satellite jukebox, a short stage for live music and an electronic golf machine. Along the front window were tubs of cold water keeping bottles of BMC and Shiner beers cold and ready, along with a cooler of pop and other non-alcoholic beverages. In front of the coolers was a bank of shelves to hold room temperature six-packs. The selection was about as comprehensive as I have seen anywhere. Definitely worth a look-see. Center was seating in the form of picnic tables. Hall Of Foam Club after each 54 taps consumed.
Icehouse: Limited hours for outside consumption; ½ gallon drafts to go; grandfathered permission passed down in generations following. .
Their #1 request - Yuengling Lager.
1,576 characters

3.01
/5
rDev
-18.2%
vibe: 2 | quality: 3 | service: 3 | selection: 3.5
So, yeah. Biker bar? Well, it's not really a bar - it's like an older, dirty convenience store with most of the aisles pulled out. Down one side you have a bar but no stools. Then center of the room has maybe 8 picnic tables end to end in two rows. There are a fair deal more of those outside. On the end opposite the front entry there are some bar games. It's the high ceilings, white lino, high lighting, open spaces and plastic-covered picnic tables that tell me that it's not a biker bar. Mind you, someone should have told the biker looking people in it that it wasn't a biker bar. Ha. Talk about ambiance. But, see, these "bikers" while looking the part drove up in new pickup trucks (that's all that's parked outside). Their look doesn't make it seem very genuine.
The beer menu for the taps is very basic - brewery, beer and tap number. They give the tap numbers so that you can get your name on the wall. Well, looks like you could get your name on the wall but that must have changed - I didn't see anything newer than 6 years old. Mind you, there are a lot of name plates up - everywhere.
A cold case and twice that much space warm stocked with beer. I saw a lot of dust on bottles but didn't see any summer beers, for example, so things surely move quickly enough. Things surely also move quickly enough because the selection isn't huge. Yes, it's nice and there's a good range of beers from nice and light to nice and heavy - from coast to coast - but basically one aisle of beer isn't a lot. No space is lost on huge displays or wide spaces for BMC.
It's in Texas and you can smoke inside and there was a fairly large contigent of morons doing so when we were there. We grabbed a beer (I forgot to mention - there must be ~30 taps) and then left. Neither beer sampled on tap was even close to the right carbonation level (one way over, one way under) for the style. It doesn't look like anyone would care if we told them - it's a dive.
Mind you, it's a dive that's been going pretty much like it is for a long time. I know people who said they used to go there in school (15+ years ago) and the plates on the wall bear this out with their dates (many from '95). And, hey, if it works for you, well, great. I like places that are a lot more polished. The plastic cups don't do it for me (yes, I knew ahead of time I needed to bring glassware - I did not do so).
The bottle (to go) prices seem a bit steep ($3.50 each for the ones I took) but I suppose that prices have just gone up all over the place. Tap prices were within reason.
2,550 characters

3.41
/5
rDev
-7.3%
vibe: 3 | quality: 3 | service: 3 | selection: 4.5
A - On first appearance, this place looks like a gas station/convenience store when first pulling into the parking lot. The windows are covered with bars, giving it a "rough" appearance. When they say this is a biker bar, they're not kidding. Aside from the rough look, its actually a very laid back place. Picnic tables are in the center of the room, while a cashier counter is at one end, and pool tables at the other end. There are quite a few taps with all the basics, but the real reason for going is the bottle selection. The bottles are kept in upright coolers all along the back wall. I saw several beers that I havent scene at any of the other stores in San Antonio.
Q - Like others have mentioned, there are alot of beers that are kept on shelves, not in the coolers, and most are covered with dust. They seem to keep the rotation up to date, but I would still check the dates before buying. Also bring a glass with you, as they serve all the beers in plastic cups.
S - The only contact with the employees is made when buying the beer. They arent the friendliest group to be around, but they werent rude either. Just kept to themselves mostly.
S - Like I mentioned earlier, they have a great selection of bottles. Several that can only be found here in San Antonio. There are several taps, but nothing that you cant get else where.
V - The beer wasnt too expensive if your just wanting to try a few different beers without buying a sixer. I found that most singles ran between $3.75 - $6.50 depending on the size of the bottle.
Overall, yeah its a bit rundown and off the beaten path, but for variety its hard to beat. I wouldnt become a regular at this bar, but for a change of pace, a visit is well worth it.
1,727 characters
4.08
/5
rDev
+10.9%
vibe: 3.5 | quality: 4 | service: 4 | selection: 4.5
Kind of a run down place with picnic tables to sit at. I got there at 1145 and they rushed me to buy beer. I would have been able to find a lot more to buy if I had the time.
Everyone there was helpful and answered questions about stock. I take a little off for stealing 10 minutes of buying time from me.
The selection was amazing. They had soooo much stuff I have yet to find in texas. bear republic, raisin d-extra(Which i didn't get to buy :() dv reserve 5, and a load of beers from around the country. Very nice.
Having my beer there was fairly cheap, and my beer didnd't cost that much money to take out either. I think it's a 50% discount to take it out. Not bad.
I'd like to go again. I know my girlfriend doesn't want me too, because I will fill up our entire apartment with all the stuff I haven't tried.
Edit: if you want to get a straight sixer of the same beer, it gets to be very expensive.
909 characters

3.86
/5
rDev
+4.9%
vibe: 4 | quality: 4 | service: 3 | selection: 4.5
Not a bad hangout after a long day at work. Has a laidback atmosphere so you don't have to worry about your appearance too much. There's a few pool tables and a couple of dartboards in the back. All along the ceiling and walls are plaques of people who have drank all of their 54 beers on tap. The beer slection is top notch and they alternate out seasonals. If you plan on frequenting, bring your own glass(up to 20 oz.) otherwise paying $4 for a small dixie cup of great beer makes no sense. A great place for someone new to beer tasting to go.
546 characters
3.7
/5
rDev
+0.5%
vibe: 2 | quality: 3 | service: 4 | selection: 5
Hills and Dales, or the "Center of the Universe," as the storefront sign says, is located just off the 1604 Loop, near Babcock.
This place is really a mixed blessing. On one hand, they have an incredible array of taps, and their bottled beer selection is so awesome that I doubt I'll ever need Viagra. The walls and ceiling are plastered with with the placards of "regulars." This works basically like the Flying Saucer: you earn one of these placards with your name etched in it by sampling each of H & D's beers on tap. Some of the little signs are quite entertaining. The beer is fresh, and I have received good service each time I have been there. Out back, there is a great deck where you can enjoy your beer under the oak trees.
On the other hand, the smoke in this place on a typical night is so thick that it could choke a horse. The seating inside is a bunch of cheap benches. Speaking of cheap, bring your own mug. They serve their beer in plastic cups, which to my mind is stupid, chintzy, and wasteful. Also, when you start looking more carfully at the signs nailed to the ceiling, you'll start to notice that this place probably houses some hard drinkers. "Completed all 50 or so tap beers for the 14th time on St. Patrick's Day 2003" "15X on July 4" "16X on August 15" "45X some time later that week" You get the idea.... Also, not all of their bottles are refrigerated. Many that are out on the shelves have a nice layer of dust on them.
This is a biker bar more than anything else, but the crowd is a good mix. Check this place out - they often have live music, which is cool.
I am beginning to suspect that this place does a poor job of rotating its stock. Look elsewhere if you want stuff in bottles.
1,730 characters

3.96
/5
rDev
+7.6%
vibe: 3.5 | quality: 4.5 | service: 3 | selection: 4.5
Hills and Dales is a biker bar, plain and simple. Well, not so simple.
They have lots of taps and great beers on tap. On the inside they have upright coolers filled with beers from all over the world. You can puchase them to consume inside or take them with you. The bar wall is end to end with taps. The real downside is the beer will be served in a plastic cup.
The "room" is basically filled with picnic tables and the ceiling with people who have consumed certain levels of beer. You see the same names over and over.
I was there in the afternoon and only three other people were in the bar. The bartender had about as much personality as one of the picnic tables and was just about as nice.
I'd certainly go back, I did not find a better beer selection anywhere in SA, but I might be tempted to bring a pint glass with me to avoid the plastic cup.
865 characters
3.94
/5
rDev
+7.1%
vibe: 3.5 | quality: 4 | service: 3.5 | selection: 4.5
Hills & Dales fronts a large loop that runs around San Antonio. Once in the country, development has moved in from all sides, but the bar manages to maintain some of its remoteness. The University of Texas at San Antonio is nearby and Interstate 10 is only a couple of miles away.
The atmosphere gets a mixed review because the only thing going for the inside is that it has air conditioning. But the huge deck, where most of the clientele head after getting their beer, is one of the ultimate places to while away an afternoon or watch the sun go down from under the large live oak trees.
The tap and bottle array is impressive and usually fresh. The only downside is that if you don't bring your own mug or have one parked there, you get an expensive beer in a thin plastic cup.
But there is still something to be said about going to a place where blue collar and white collar workers rub shoulders with college students and leather clad Harley riders.
963 characters
Hills & Dales Icehouse in San Antonio, TX
Place rating:
3.68
out of
5
with
15
ratings