Beer'linale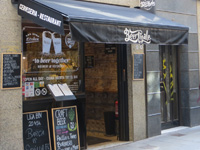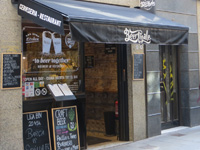 Brewery, Bar, Eatery
Carrer Del Carme, 7
Barcelona
, 08001
Spain
+34 936 39 34 79 |
map
beerlinale.com
Notes: Beers are brewed at / by another brewery.
Reviews by Sparky44:
Sparky44 from Illinois
4.19
/5
rDev
-3%
vibe: 4.25 | quality: 4.25 | service: 4 | selection: 4.25 | food: 4.25
Oct 26, 2019
More User Reviews:

heymikew from California
4.3
/5
rDev
-0.5%
vibe: 4 | quality: 4.5 | service: 4.25 | selection: 4.25 | food: 4.25
Just a block off the mob scene of Las Ramblas, Beer'linale offers a welcome respite from the crowds. Great variety of beer styles on 30 taps (more than most places in the country) including many Spanish brews, and more in bottles. We tried three different very good hazy NEIPAs and had a very tasty lunch from the large and varied menu.
Oct 25, 2018

emincems from Turkey
4.39
/5
rDev
+1.6%
vibe: 4 | quality: 4.5 | service: 4.25 | selection: 4.5 | food: 4.5
Feb 06, 2018
matthiasbrau from New York
4.39
/5
rDev
+1.6%
vibe: 4.25 | quality: 4.5 | service: 4.5 | selection: 4.25 | food: 4.25
Visited on July 17, 2016 (reviewed from notes)
This beer bar/brew pub/restaurant was just steps from the apartment we rented, so the family (wife and two teens) and I decided to give it a whirl for lunch. Located just off Las Ramblas (the main drag in the older section of Barcelona) in the El Raval neighborhood, it's about a 10-minute walk from Plaça de Catalunya.
We were not disappointed foodwise or beerwise. In fact, I liked the beer so much I came back late that night for more (see below). Upon arrival for lunch, we were greeted enthusiastically by the hostess who then showed us to our table. Walking past the bar, I noted the 30-odd taps with listings above, featuring beers from Spain, Italy, Sweden, United Kingdom and the USA. Décor was exposed stone and warm wood, sort of industrial-meets-modern, very inviting. The place was spotless and looked almost brand new. As it was early for lunch (by Barcelona standards), there were only a couple of tables occupied. Our waiter spoke only Spanish, but we had been in Spain for 8 days at this point, so there was no problem ordering. Menu was in English and Spanish. I told him I was only interested in the house beers (Ilda's Town Beer), and he told me they had a hefeweizen, pilsner and dunkel, all brewed off site but exclusive to their restaurant. As I mulled over the choices for a moment, I mentioned the dunkel as a possibility; the waiter immediately ran to the bar for a sample. One sip and I knew it was the right choice. It turned out to be a dunkelweizen and it was delicious; beautifully poured with a gorgeous head, totally opaque, malty aroma, hint of sweetness, full-bodied, true to style, clocking in at 7 percent abv.
The food was terrific. We ate a mix of small and large plates, all shared among us, except for the burger my son ordered which was apparently too tasty to share (it was the "Hamburgesa Especiale Beer'linale" topped with Iberian ham, sundried tomato, onions, sauce, with fries and salad on the side). The rest of us munched on Spanish tortilla, bacalau omelette, artichoke hearts, grilled asparagus, sweet pickles, patatas bravas (potatoes in a spicy sauce), and the ever-present bread and tomatoes. Lunch for the four of us was about $70 (including beer, wine plus soda for the kids); a bit of a splurge, but well-worth it for the tasty food, excellent beer, nice atmosphere and friendly staff. We all agree – next visit to Barcelona, we're eating here again.
Later that night, I stopped back in for a beer, minus the family (yes!). Bar stools were all empty (about 10pm), but by the time I left (11:30pm), they were full.
When I told the bartender how much I'd enjoyed the dunkelweizen, he quickly poured me another sample! Next, I ordered a pint of Ilda's Town Pilsner; it was spot-on, true to style, with a perfect pour to boot. The weissbier I tried next didn't groove me as much, but then again, I am not a fan of hefeweizens. The four German lads to my right ordered the same thing and all seemed quite content with it. For my nightcap, I ordered a goblet of Brasserie Dupont's Biére de Beloeil. It seemed lighter in body than the bottled version. Served a touch too cold, it was lacking in aroma, but as it warmed, the familiar aroma and flavor profile came through and overall I would say it was good or good/plus. Beer prices were excellent compared to NYC/Long Island where I am from; about $3.15 to $6.35, depending on the size ordered. I paid $6.35 for the 50cl Dupont (about 16.9 ounces); in a Manhattan beer bar, that would set me back $14.
Sep 09, 2016
Beer'linale in Barcelona, Spain
Brewery rating:
0
out of
5
with
0
ratings