Grain Belt Premium (old)
| Minnesota Brewing Company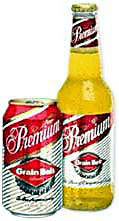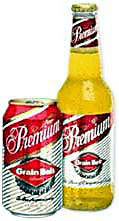 BEER INFO
Brewed by:
Minnesota Brewing Company
Minnesota
,
United States
grainbelt.com
Style:
American Adjunct Lager
Alcohol by volume (ABV):
not listed
Availability:
Year-round
Notes / Commercial Description:
No notes at this time.
Added by brewdlyhooked13 on 03-07-2002
This beer is retired; no longer brewed.
Ratings: 14 | Reviews: 12
Reviews by tavernjef:

2.68
/5
rDev
-2.9%
look: 3 | smell: 2.5 | taste: 2.5 | feel: 3 | overall: 3
Well, this stuff used to be OK some years ago, but maybe my palette is ruined from barleywines and stouts. Just before the original brewery closed it was very watery and corn grainy. Back in the mid 90's it was actually thicker and had some chewyness to it for being so crisp and clean. It wasn't bad. Hopefully the Schell's folks will rework this brew to a better land of appreciation. Recently offered: 3/15/03 Color was golden yellow on the lighter side kinda like a see-through-post-it-note with a golden edge. Aroma of starchy hops and grainy lightness with a wierd lettuce-like back. Taste is watered down hops and grain, no real stick, kinda bland. Some notes of plastic or vinyl. Not to pleasant. It use to have a boldness to it, now its seemed to vanish. Its drinkable, but not really. Just an OK version of a American style lager. "Premium" it is not.
861 characters
More User Reviews:

2.62
/5
rDev
-5.1%
look: 2.5 | smell: 3 | taste: 2.5 | feel: 2.5 | overall: 2.5
This seems to be THE Minnesota beer. Ask any 40 something plus beer drinker about Grain Belt and they get a gleam in their eyes. I had an out of state buddy over, and I decided to treat him to some home grown beer.
Appearance: Little head, slight lacing which is quickly gone.
Smell: grain
Taste: Disappointing for a "premium" beer. Watered down, played out hops. Tastes of grain.
Mouthfeel: Weak, burns as it goes down.
Drinkability: I am told it used to be good when brewed by the original brewer. I won't buy this again.
538 characters

2.93
/5
rDev
+6.2%
look: 3 | smell: 2.5 | taste: 3 | feel: 2.5 | overall: 3.5
Pale, weak head, smell is sweetish. Pretty much a taste of adjuncts but with a surprising hop crispness. Drinkable in quantity and the equal of many macro lagers. A little gassy.
I picked up a six pack last night and the salesperson told me there has been a mini "run" on this beer -- due to Minnesota Brewing's suspension of beer operations. Immediately, I could hear Joni Mitchell singing "you don't know what you've got 'til its gone"...Minnesotans could have easily supported this beer ahead of Coors Light. Another victim of macros and the people stupid enough to follow their hype.
595 characters

2.33
/5
rDev
-15.6%
look: 2.5 | smell: 2 | taste: 2 | feel: 3 | overall: 3
Good to see an old staple, however….. Found it in a great old tavern with great people in a funky neighborhood in Chicago (they told me it was a block away from the "Real World" house although you'd never know it). I'd love to love this one, but after several great Pabst Blue Ribbons in long neck bottles, and a couple of Schlitz, this could not compare (too much adjunct!). Sorry, but its last in its class, but buy it before you buy Old Mil.
460 characters
2.2
/5
rDev
-20.3%
look: 2 | smell: 2 | taste: 2 | feel: 2 | overall: 3
This is a bland, lackluster beer. The first whiff of the bottle suggested a sour, grainy, almost vomit-like aroma. Luckily, it gave way to a rather plain, somewhat drinkable american lager smell and taste. Next... This has been a bad beer review day. First Gluek and now this lame beer. Good thing I bought a sixer of Pilsner Urquell.
337 characters

2.95
/5
rDev
+6.9%
look: 3 | smell: 3 | taste: 3 | feel: 2.5 | overall: 3
Grain Belt was a treat when it was brewed by Grain Belt Brewing. Maybe the best thing that has happened to this beer is the recent acquistion of the label by Schell Brewing in New Ulm, Minnesota. Hopefully this beer will reacquire the "Premium" flavor of by gone years. Right now it sure does disappoint.
307 characters

2.35
/5
rDev
-14.9%
look: 2.5 | smell: 2.5 | taste: 2 | feel: 2 | overall: 3
It's bud light with a few more hops. Maybe not even. It's awfully popular in MN and all my friends up there swore I'd like it. I guess it's ok in a smokey joint once you're already hoped up.
190 characters
2.88
/5
rDev
+4.3%
look: 3.5 | smell: 3 | taste: 2.5 | feel: 3.5 | overall: 3
Decided to review this for several reasons. First, it's a staple of the area and better local than macro if it's possible. Second, this beer has a history with me in that it was the beer of favor of the host of parties that occurred after Dead concerts back in the late 70's and early 80's. Just that memory is worth an occassional foray to "Primo."
Nonetheless, looks and pours like a standard beer for style. Light and fairly clean malt/adjunct aroma. Flavor is blend of malts, adjunts (corn) and a little hops. Adjuncts fairly strong. Finishes with some quenching qualities with an adjunct aftertaste. Mouthfeel is medium, not excessive with carbonation and has a nice softness.
This isn't a great beer, it may not even be a good beer, but for the reasons noted I'll partake occassionally.
804 characters
3.18
/5
rDev
+15.2%
look: 3 | smell: 2.5 | taste: 3.5 | feel: 3 | overall: 3.5
I also wanted to review this beer because of the fact that the brand is in limbo right now. I think for many people in MN this beer has some stories or events associated with it. It's sad to see a local beer disappear. This has been my average regular beer of choice for the vast majority of my drinking age. I choose this over one of the "big 3" any time. It's nothing amazing. I think it was probably better when it won gold at the Great American Beer Festival in 97 or 96. Rumors have been swirling about another local picking up the brand. I think that would be a good thing, the label has a ton of history in the Twin Cities.
This brand has been bought by Schell's in New Ulm MN. I will write another review when I have one that I know was brewed by Schells.
775 characters
2.92
/5
rDev
+5.8%
look: 2.5 | smell: 3 | taste: 3 | feel: 2.5 | overall: 3
This is one of those beers that people think they are getting something great but it is only a step up from the basic macros. Nevertheless, its not the worst beer ive ever had. Its a bit sweet tasting, little hops to speak of, mostly a malty/corny taste. I think that the company that made this went under, but as far as i can tell its the same tasting as it has always been, average.
384 characters

2.88
/5
rDev
+4.3%
look: 3 | smell: 2.5 | taste: 3 | feel: 3 | overall: 3
comes in a clear bottle and has a clear golden color. aroma is of adjunts and a very slight hop undertone. tastes ok.....the adjuncts provide too much of the flavor and there is only slightly more hop bitterness than your typical mass produced american lagers. none the less it's pretty smooth and quenching and has some body. try one if it's free, otherwise nothing to seek out because you are not missing out on anything special.
435 characters

2.53
/5
rDev
-8.3%
look: 3 | smell: 2.5 | taste: 2.5 | feel: 2.5 | overall: 2.5
Clear pale golden-yellow color, light foamy white head, grainy musty aroma. Grainy,corny and clean tasting, some metalic taste in the finish. Light body and light watery mouthfeel, but that goes with the style, not bad if you like American light lagers.
253 characters
Grain Belt Premium (old) from Minnesota Brewing Company
Beer rating:
0%
out of
100
with
14
ratings