Faro Boon
| Brouwerij Boon
BA SCORE
80
good
14
Reviews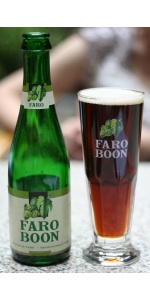 BEER INFO
Brewed by:
Brouwerij Boon
Belgium
boon.be
Style:
Faro
Alcohol by volume (ABV):
4.00%
Availability:
Year-round
Notes / Commercial Description:
No notes at this time.
Added by Jason on 01-28-2010
Reviews: 14 | Ratings: 37

3.71
/5
rDev
+10.4%
look: 3.75 | smell: 4 | taste: 3.5 | feel: 3.75 | overall: 3.75
Poured to an oversized wine glass.
A: The body is coppery, having orange and darker hues. The head, when poured, was one finger thick; after a while, it's minimal, existing just in the sides of the glass. No lacing.
S: The aroma is very floral, sweet and malty.
T: The taste is very sweet, way to sweet than expected. It's not bad, it just has too much sweetness.
M: The body is medium, bitterness is very low, carbonation is invisible but it's very good.
O: My first Faro and it has a bit overwhelming sweetness but it's cool.
528 characters
3.37
/5
rDev
+0.3%
look: 3 | smell: 2.75 | taste: 3.5 | feel: 3.75 | overall: 3.75
Very clear bronze body and very little head to speak of. Lots of visible bubbles. Smells and tastes an awful lot like apple juice/mass produced cider, sweet and fruity with just the lightest touch of acidity and funk. Not really what I want in a faro; it's just not beery enough. More like a wonky alcopop. That said, it's not unpleasant and quite easy to drink, in a Pimm's cup kind of way. Possible food pairings: goat cheese and caramelised onions, pulled pork, roast duck, chicken and waffles, hummus.
505 characters

3.46
/5
rDev
+3%
look: 3.25 | smell: 3.5 | taste: 3.5 | feel: 3.25 | overall: 3.5
Small bottle received in trade with Phyl21ca
Appearance - Rusty brown colour with an smalle size fizzy/frothy beige head. There is an average amount of carbonation showing and there is some fair lacing. The head lasted for 3-4 minutes before it was gone.
Smell - Malts, apples, raisins, vinegar
Taste & Mouth - There is an above average amount of carbonation and I can taste malts, vinegar and raisins. There is also some bruised apple type flavour and come citric acid.
Overall - An interesting beer, kind of like a green candy apple. Okay to try once, but not something I'd seek out again.
595 characters

3.29
/5
rDev
-2.1%
look: 3.5 | smell: 3.25 | taste: 3.25 | feel: 3.5 | overall: 3.25
From Platinum. BB 2014.
Appearance - Hazy amber - one finger head turns to film.
Smell - apple juice, lemon, hint of vinegar.
Taste - sweet, apples, minimal back palate sourness.
Mouthfeel - light zesty.
Overall - First of style, and a little too sweet for this palate. Unsure if it would get more complex as 2014 approaches. Leaves me overall unsure. Nice overall flavours for 4% tho...
392 characters

3.25
/5
rDev
-3.3%
look: 3.25 | smell: 3.75 | taste: 3 | feel: 3.5 | overall: 3
Amber-brownish colour, Light collar of white head, minimal lace. Smell is funky and yeasty, sour apple and lemon, candy like sweetness similar to Sweet Tarts or candy apple, decent acidity. Taste is sweet and quite sugary, light tart apple flavour, funky and acidic with light balsamic, lemon and more sweet sugars. Medium carbonation, medium body. I get that this should be sweet but its a bit much even a 250ml bottle was too much for me, perhaps this is someones cup of tea but it is certainly not mine.
506 characters
3.05
/5
rDev
-9.2%
look: 3 | smell: 3 | taste: 3 | feel: 3.5 | overall: 3
From: Belgian Beer Shop dot com
Date: best before 6/11/2010
Glass: Drie Fonteinen gueuze glass
This was more enjoyable than Chapeau/De Troch's version, but less so than Lindeman's and Girardin's. If I was to pick what was to be an "average" for the style, from my tasting of five different faros, I'd say Boon's version would be it. Not unappetizing, certainly not bad, but not particularly interesting or ideal for re-visiting. If this was less sweet, had more complex characters to it and let the tartness accentuate the depth of the sweetness, this would be a very different beer for me.
Pours a 1cm tall head of fairl clean, white foam that has average retention duration, falling to a thin ring of foam around the perimeter of the glass and some thicker bubbles in the center. Lacing is minimal, a few spots scattered here and there inside the glass. The beer's body is a very dark brown-amber color, perhaps the darkest faro I've seen (an indicator of how much amber candi sugar was used). Light brings out a golden brown-orange hue, easily casting through the transparent body. Carbonation is visible, but minimal and sluggish.
Aroma is of obvious amber Belgian candi sugar and a bit of light caramel or toffee. There is a slighty acetic and tart aspect, more apple cider vinegar than tart citrus or funk.
There is some oxidation in the flavor, but with two years after the expiration date that's to be expected: this can be worked around. Overall flavors are quite sweet, with Belgian candi sugar and blackberries being the most prominent. Tartness seems like an afterthought: this was clearly produced for those wanting a very sweet beer. Front of palate is Belgian candi sugar sweetness with a touch of light, candy-like tartness, blending into a mid-palate of sweet amber Belgian candi sugar, blackberry fruit esters, and very mild to negligible tartness. Back of palate finds slightly increased tartness along with continued amber Belgian candi sugar and blackberry fruit sweetness, and just a hint of musty basement or composting hay-like funk. Lingering aftertaste of sweet amber Belgian candi sugar, blackberry jam, very faint tartness.
Beer is medium to medium-light in body with carbonation of low intensity, resulting in a smooth beer that marginally foams up as it crosses the palate. Still enjoyable, however, as the minimal tartness keeps it flowing easily. Finish is expectedly dry, from sugar and acids.
2,431 characters
3.33
/5
rDev
-0.9%
look: 3.5 | smell: 3 | taste: 3.5 | feel: 3 | overall: 3.5
Slightly funky nose, brett?. Lots of pilsner like foamy head on light yellow to white. Slightly less than medium mouthfeel. Candi sugar, European dry hops, a touch of lemon.Carbonation still there(good to 2014). Drinkable, but too sweet.Bonus from Phyl21.
255 characters
4.32
/5
rDev
+28.6%
look: 4 | smell: 4.5 | taste: 4.5 | feel: 4 | overall: 4
Heh. Oops. Best before date says 18 months ago.
Wow. It's been quite some time since I've gotten that lambic nose. The flavor profile is oh so nice. The last time I had a faro was some time ago, so my recollection of the style is hard to go on from here, but this seems so good. Interesting balance. I wonder if this is one of, if not the, least understood beer styles out there.
380 characters

2.75
/5
rDev
-18.2%
look: 3 | smell: 3 | taste: 2.5 | feel: 2.5 | overall: 3
OK, I'm learning, perhaps finally, that I'm just not into Faros. Beer served in a wine glass. It's clear and brown / gray with a thin head. No lacing, low carbonation.
Beer smells sweet.
It tastes like apple juice a little bit. Thin and sweet with a fruitiness, not good, I drank the whole thing, but I won't ever have it again.
330 characters
3.35
/5
rDev
-0.3%
look: 3.5 | smell: 3.5 | taste: 3.5 | feel: 2 | overall: 3.5
My first faro, so I'll do my best to rate to style, but I can't make any promises.
Honey like clear body with a finger or so of off whit head. Retention is meh. No lacing.
Smells of plumb and a light breadiness. Quite sweet.
Tastes very honey like, a bit herbal, and a touch earth with only the slightest touch of tartness.
Very well carbonated, oppressively sweet.
369 characters
3.5
/5
rDev
+4.2%
look: 3.5 | smell: 3.5 | taste: 3.5 | feel: 3.5 | overall: 3.5
Review from BeerAdvocate Magazine Issue #37 (Feb 2010):
Of the old blend with an equal portion of the new, this Lambic is sweetened with some candy sugar as well. Quickly fading head still leaves a trail on the glass; dark leather brown color shuns the light for the most part. Aroma dances from over-ripened lemons to musty spearmint to a light, honey-like sweetness. Wet with a light to medium body, crispness is up. Tart from start to finish is pleasant as it puckers and compliments the other complexi- ties. Hints of cake batter, candi-sugar sweetness and cellar funk are layered underneath the tartness. Candi-sugar flavor lingers in the aftertaste.
Breakfast, brunch, lunch, aperitif or dessert beer ... the Faro is quite versatile. Not an easy beer to put down if you have a sweet tooth.
797 characters
3.53
/5
rDev
+5.1%
look: 3.5 | smell: 3 | taste: 3.5 | feel: 4 | overall: 4
375 ml bottle from Beer Mania in Brussels. Simple label of green hops. Described as "Veritable Faro - Traditionele Faro"
Deep auburn/amber body with almost no head and pinkish hues when held to the light.
Strong cassiss aromas and flavors. Sweet and almost syrupy but with a sharp carbonation bite and a surprisingly delightful hoppy finish. Mildly to moderately acidic in the Duchess/balsamic vinegar way.
Quite good.
423 characters
3
/5
rDev
-10.7%
look: 3 | smell: 3 | taste: 3 | feel: 3 | overall: 3
Bottle: Poured a cloudy medium brown color lambic with a medium foamy head with good retention and some lacing. Aroma of candi sugar with a lightly tart dubbel base. Taste is a weird mix between some Belgian malt with some easily noticeable candi sugar and a light tart and oak finish. Body is somewhat thin with good carbonation. OK but not something I would seek again.
371 characters

3.7
/5
rDev
+10.1%
look: 3.5 | smell: 3.5 | taste: 4 | feel: 3.5 | overall: 3.5
Beer bottle (25cl), tasted in 2011. A faro is double blend of mature lambic (50%) and a young lambic.
Appearance : deep red color, with tan foamy head.
Smell : sweet ansd tart aromas.
Taste and Mouthfeel : fruity flavours, with acidic notes.
Drinkability : a good refreshing beer in the style Faro
297 characters
Faro Boon from Brouwerij Boon
3.36
out of
5
based on
37
ratings.