Leffe Bière De Printemps (Springbeer)
| Abbaye de Leffe S.A.
BA SCORE
79
okay
11
Reviews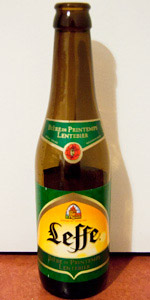 BEER INFO
Brewed by:
Abbaye de Leffe S.A.
Belgium
abbaye-de-leffe.be
Style:
Maibock / Helles Bock
Alcohol by volume (ABV):
6.60%
Availability:
Spring
Notes / Commercial Description:
No notes at this time.
Added by benfons on 03-28-2011
Reviews: 11 | Ratings: 23

3.6
/5
rDev
+11.1%
look: 3.5 | smell: 3.5 | taste: 4 | feel: 3.5 | overall: 3
Bottle acquired at a Ghent cornerstore for a laughably low price (I believe it was .70 Euro). Poured into a Malheur goblet. Reviewed from notes.
A: One finger head, good thickness but poor cream. Copper-amber colour. Retention is slightly above average, suffering methinks from the relatively high ABV.
Sm: Light barley. Caramel. A very pleasant scent, albeit a light one.
T: Hoppy body. Brilliantly balanced, but lacking three full acts. A clean nutty finish is pleasant and welcome, especially alongside the tinge of caramel present on the climax. Cream surfaces throughout. Nicely built for the style.
Mf: Buttery. Smooth. Nicely wet. Complements the body.
Dr: A great beer in terms of drinkability, and a very affordable one, at least in Belgium. The whole seasonal aspect seems unmotivated - this could be enjoyed anytime, and while I can think of "winter beers" and "summer beers", the concept of a "spring beer" brings nothing to mind. Probably just a marketing ploy.
★
984 characters
3.46
/5
rDev
+6.8%
look: 3.25 | smell: 3.5 | taste: 3.5 | feel: 3.25 | overall: 3.5
From 2013; Leffe's spring seasonal, amber in color with foamy head. Aroma is malt, butterscotch and toffee. Taste is same, overall palate is sweet with a little tanginess.
★
173 characters
3.5
/5
rDev
+8%
look: 4 | smell: 4 | taste: 3 | feel: 4 | overall: 3.5
We pour a brew of rusty copper. It holds a two finger head of whitish bubbles that exhibits excellent retention. Spotty, chunky lacing is left around the glass as it slowly disappears. There is a chill haze throughout the glass, but no sediment is noted. Carbonation appears moderate. The nose immediately fills with those classic Leffe scents. We get that bright Belgian, metallic yeast, and those contrasting sweet (overripe) banana and bubblegum esters. The sweetness wins out, holding reign over the somewhat caramel, somewhat roasty malts. With warmth comes more malts and less sugars, with black pepper spice and light cinnamon. Our first impression is that again, this is very characteristic for the brewery, but this is by far their most bitter, malt-forward brew. As we sip, the flavoring opens up with bitter, nearly charred malts. They are not silky smooth like a stout, but more gritty and dirty, with more residual dextrins. Caramel and stone really start things off, with a hearty backing of sweet syrup and heavy creamer. The peak shows a twinge of sugary sweetness, and a light strawberry fruitiness. The alcohol quickly becomes apparent here, pulling us to a finish that is significantly more blunted than the beginning of the flavor would suggest. The robustness falls off abruptly, being replaced by more sugary sweetness, paler malts, medicinal phenols, and more hollow booziness. The aftertaste breathes of light clove, mineral, mud, caramel, white sugar, and black pepper spiciness. The body is medium, and the carbonation is light to medium. There is nice heaviness to the sip, with correspondingly pleasant slurp, pop, and smack. There is little coating, and the mouth is left rather dried and puckered. The abv is appropriate, and the beer drinks easily.
Overall, what we enjoyed most about this brew was the classic Leffe nose. All the notes are soft, but they blend so well together, making for a warming, spicy, and inviting snout. The flavoring was equally as nice to start, but with the follow through on the sip many of the individual flavors quickly dropped off, for a rather subdued finish. The feel was nice, and otherwise the beer was decent, but it was impossible to tell that they were going for a maibock with this one.
★
2,258 characters
3.25
/5
rDev
+0.3%
look: 3.5 | smell: 3.5 | taste: 3 | feel: 3 | overall: 3.5
A copper colored beer with a settling head.
Smell is strong fruity with the distinct Leffe yeast character which has a clove and slightly corky smell to it. I can´t say I am a big fan of this smell, for me it is a bit over the top.
Taste is along the lines of the smell, a fruity beer with hints of clove. The Leffe beers always have a slightly astringent, powdery taste. The bitterness is well balanced. The malts add a nice base of light caramel malts.
★
458 characters

3.2
/5
rDev
-1.2%
look: 3.5 | smell: 3.5 | taste: 3 | feel: 3.5 | overall: 3
This beer is actually the same beer as the leffe rossa, only now renamed to "spring beer".
Look: poured a dark amber color with a small head
Smell: Grain, caramel, malts, spicy clove, citrus and some nuts
Taste: Malts, citrus, spicy, slightly bitter aftertaste.
Mouthfeel: Medium-high carbonation, bit watery
Overall: No taste layers in this beer. Bit too watery and flat.
★
377 characters
3.13
/5
rDev
-3.4%
look: 4 | smell: 3.5 | taste: 3 | feel: 2.5 | overall: 3
A: Poured into a Duvel glass, reddish amber/rose, four finger sea foam cream colored head, transparent, very healthy and even rising carbonation.
S: Sweet but dark melon, wax, vanilla, bread
T: vanilla bread, sweet malt, but neutral. tinge of alcohol on the end. unexciting but decent.
M: mouth drying, slight astringency, medium body.
O: Unexciting but perfectly decent and drinkable.
★
385 characters
1.81
/5
rDev
-44.1%
look: 3 | smell: 2 | taste: 1.5 | feel: 1.5 | overall: 2
Red highlights. Nose not exactly pleasant smoky and spicy flavors blend without them manage to be any less appetizing. The mouth is the same ilk, not good at all spice and flavor of the sausage close date. Remains a finish with a bitter and artificial fat to complete the picture of a typical beer marketing, Leffe way in which continues to advance past the group was taken over by InBev.
★
388 characters

3.62
/5
rDev
+11.7%
look: 3.5 | smell: 4 | taste: 3.5 | feel: 3.5 | overall: 3.5
Bottle of 300 ml. Colour is light brown, transparent, with a brownish two finger head of a good retention.
Aroma of fruits, some caramel, a bit smokey, alcohol.
Medium thickness on the body and average carbonation.
Taste is also fruity and of caramel. The high ABV is not traceable at all.
Overall another great beer for Leffe.
★
327 characters
3.13
/5
rDev
-3.4%
look: 4 | smell: 3.5 | taste: 3 | feel: 2.5 | overall: 3
You really need to think how many kinds of Leffe you need, particularly that most aren't that good. It's a new seasonal beer, although somebody told it's there roussa under a new name.
A: Dark amber, almost brown colour, clear, relatively small head.
S: caramel, malts, a hint of nutmeg and other spices, but overall quite sweet.
T: Malts with a slightly bitter after-taste, very little else there.
M/D: Slightly alcoholic, pretty dry, and it would be more pleasant if the carbonation was different.
Overall not a very good beer, not bad either, kind of what you expect from Leffe (although the 9 isn't bad)
★
626 characters

3.18
/5
rDev
-1.9%
look: 4 | smell: 3.5 | taste: 3 | feel: 3 | overall: 3
Poured into a chalice, nice ruby red with a 2 finger head, good retention and lacing. Good looks for a beer.
Smells like bread, yeast, vanilla and a little smokiness.
The taste is much the same with a dry and bitter finish. Not a very strong taste though, it's all a little watery.
It looks nice but sadly that's also the best part of the beer, it just lacks complexity and feels a little watered down. I picked this up mostly because I hadn't had it yet and I doubt I'll pick it up again.
★
490 characters
3.58
/5
rDev
+10.5%
look: 4 | smell: 3.5 | taste: 3.5 | feel: 4 | overall: 3.5
Bottle from Belgian Beer Shop.com. colour: clear amber. Moderate white head that's pretty stable. The aroma is very malty with lots of sweetness. This smells like a Speciale Belge. So is the taste: malty, sweet with a touch of bitterness, fruity notes and caramel. This is a good beer with a thirst quenching character.
★
319 characters
Leffe Bière De Printemps (Springbeer) from Abbaye de Leffe S.A.
3.24
out of
5
based on
23
ratings.