Aroma Borealis Herbal Cream Ale
| Yukon Brewing Company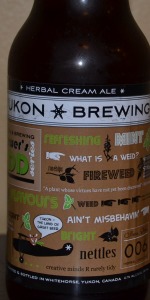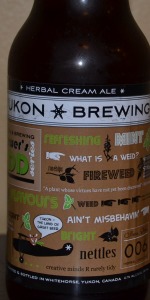 BEER INFO
Brewed by:
Yukon Brewing Company
Yukon
,
Canada
yukonbeer.com
Style:
Cream Ale
Alcohol by volume (ABV):
4.70%
Availability:
Rotating
Notes / Commercial Description:
No notes at this time.
Added by Orrshow on 09-23-2006
HISTOGRAM
Ratings: 14 | Reviews: 11
Reviews by goalie35:

More User Reviews:
3.64
/5
rDev
+7.1%
look: 3.5 | smell: 3.75 | taste: 3.5 | feel: 3.75 | overall: 3.75
341ml bottle, a reincarnation of a somewhat retired old-school offering for this brewery, brought back to us in the form of the 6th installment in the A.D.D. series, and made with mint, rosehips, and nettles, as far as I can discern from the overly busy label, as well as the containing tube. I do kind of miss the swing-top 1L bottles this used to come in.
This beer pours a clear, medium golden straw colour, with one skinny finger of bubbly, tightly foamy dirty white head, which leaves a few specks and streaks of islet lace around the glass as it steadily recedes.
It smells of musty wild grass, soft lemon peel, subtle earthy mint, honeysuckle, a bit of canola flower, indistinct herbs, and bready cereal grains. The taste is more malty up front - the bready, crackery pale grains waking up by this point, the mint and kind of neutered lemongrass following in a duly subdued manner, with some musty floral and herbal tincture notes riding things out.
The carbonation is rather understated, almost imperceptible at times, the body an adequately stolid medium weight, especially for the style, and equally smooth. It finishes off-dry, the lemongrass, not quite played out mint breath freshener (a slightly metallic spiciness emerges over time), and grainy pale malt meshing well enough.
An agreeable cream ale, in that it tries something different with its little herbal experiment, and doesn't mess it up. The mint lends a sharp spiciness that you can't really detect until late in the game, as the other adjuncts do well to provide an earthy floral essence that goes a long way in enhancing the pretty standard malt profile for the style.
1,648 characters

3.4
/5
rDev 0%
look: 3 | smell: 3 | taste: 3.5 | feel: 4 | overall: 3.5
Appearance – This beer pours a cloudy yellow/gold with an average amount of foamy head. The head dissipates quickly leaving no lacing.
Smell – I detect wet leaves, lemons, corn, a bit of sweetness, and minor amount of skunkiness. It's overall not bad but the aromas are faint.
Taste – Off the bat I tasted a little sweet honey dew and a bit of skunk. This was followed by some lemon, grass, tea, and corn. I think I might have tasted apricot as well but it was hard to tell. There is a slightly bitter after tasted in my mouth from the hops but nothing substantial.
Mouthfeel – The mouthfeel was creamy…but a thin creamy. Carbonation was a big tingly but overall I liked the feel of this one despite the fact that it doesn't have characteristics I typically look for.
Drinkability – Decent. It was a relatively good tasting beer but I think there is still something missing. That said I did enjoy tasting it.
Thanks to elricorico for sharing a bottle of this with me.
992 characters
3.43
/5
rDev
+0.9%
look: 3.5 | smell: 3 | taste: 3.5 | feel: 3 | overall: 4
Instead of corn and/or rice as adjuncts, this cream ale uses indigenous herbs supplied by a local shop called Aroma Borealis. It's the second joint-venture beer by Yukon Brewing — the first being Midnight Sun Espresso Stout, which uses beans from a local roasterie.
It's an attractive-looking beer, with a creamy, two-finger head that tops a golden body. The aroma, disappointingly, is muted considering the exotic adjuncts: mostly grassy hops and with a bit of vague spiciness.
The taste is good and malty, cut with a grainy middle. It finishes with a nice tart puckering at the end from the herbs. It goes down smooth and creamy, but a little watery for the style.
Kudos to Yukon for another adventurous beer, even if it's one not entirely to my liking.
765 characters
3.13
/5
rDev
-7.9%
look: 3.5 | smell: 3 | taste: 3 | feel: 3 | overall: 3.5
Review from notes written when I split a bottle with orrshow. The beer is a light orange colour and a touch hazy. A very white head was generated, and faded to a thin cap.
The smell is leafy and plant like. I feel that there may be a hint of coriander in the smell, but it may be something similar that I can't place. As it warms the aroma becomes more and more grainy.
The first impressing is that the beer has a european pale lager flavour, with a little bit of skunkiness. Getting in a bit further the beer carries a bit of herbal tea like taste right in the middle and has a grainy/grassy finish. Ends up tasting alright, but not much to get excited about.
There is a little bit of body and a lot of carbonation here. Altogether this beer goes down fine, as there isn't anything to slow you down, but it does not lead to wanting another. Just a notch above an average lager.
887 characters
3.84
/5
rDev
+12.9%
look: 3 | smell: 4 | taste: 4 | feel: 3 | overall: 4
OK...I wanted to rate the brewery itself, but I'm not sure how to do that? So, just a word that this brewery is definitely worth visiting if you're in Whitehorse! You can taste any of their beers and talk with the folks about all of them. I walked 2.5 miles to get there (and 2.5 back), and found it worth the walk.
About the Aroma Borealis. It poured a bit cloudy; it was tan with a white head. The aroma was all about the herbs. I am pretty sure that I detected corriander, but the brewers were not too keen on giving away their recipe. The flavor followed the aroma -- primarily an interesting mix of herbs -- and added a hint of malt with some breadiness. Mouthfeel was medium light, which was fine for this beer. After a 2.5 mile walk, I'd rate the drinkability as good or better! I'm giving this one points for originality. This, their Midnight Sun and their Lead Dog were all very good!
894 characters

3.37
/5
rDev
-0.9%
look: 3 | smell: 3.5 | taste: 3.5 | feel: 3.5 | overall: 3
Another joint venture with Yukon Brewing and another local business--this time with Aroma Borealis. A close friend of mine said that they carried products from Aroma Borealis at the shop she works at, and that they were of high quality, they had a good rep for what they did.
Comes in the same type of 1L brown flip top bottle as the Midnight Sun Espresso Stout. Pours out a somehwhat chill-hazed young apricot hue, the bubbly white head fizzles out quickly.
On the nose I'm picking up bready malt, dandelion, grass, some corn, even a bit of fern. Herbal and plant-like, also with some sort of subdued citrus rind. A bit spicy, but there's also a sweetness emanating up from the depths, of which I can't pin down the source. Clover? Rosehips?
The cream ale itself seems to provide a rather neutral backdrop for the palette of herbal goodness that this ale is supposed to be imbued with. For the most part the herbs themselves are rather mild and subdued, difficult to pick out one from the rest. Starts off sweet, like clover honey and mandarin, then the grass and spices kick in during the middle, and follow through for a mildly spicy hoppy finish, which lingers on well into the aftertaste.
The mouthfeel is smooth and light, close to medium bodied.
A curious concoction from the Yukon Brewery, I give them credit for their adventurous spirit and collaborating with other local high quality establishments. Personally after half a bottle of this I've had my fill, after a while the herbs do become a bit much and start to disagree with my system. Everything in moderation I suppose...
1,603 characters

3.5
/5
rDev
+2.9%
look: 3.5 | smell: 3.5 | taste: 3.5 | feel: 3.5 | overall: 3.5
I litre flip top bottle, a summer companion to Midnight Sun Espresso Stout. From the label "Yukon's boreal forest is teeming with aromatic wild plants. Aroma Borealis Herb Shop and Yukon Brewing are also teaming up to bring you a refreshing herbal beer that will transport your taste buds to the wild flavour of the Yukon. Aroma Borealis Herbal Cream Ale uses plants that grow wild in our pristine northern environment."
Pours a chill-hazed golden oranginsh color, with a short white head. Thick foam, but quickly disappears. Subtle smell, nothing overly strong, but along with malt there is some herbal aromas, kind of grassy and a bit sweet.
The beer is well done, again nothing overpowering, but enough herbal flavors to make it unique. I couldn't specifically taste any one particular flavor, but it is a good blend of malt, sweet, spice, and hops. It is hebal and plant-like. The mouthfeel is medium bodied and smooth.
Again, from the label "This is a true cream ale - brewed as a lager, but fermented as an ale. It is common to use corn or rice as an adjunct, but our version is all malt - with a special Yukon herbal blend modifying these barley flavours. The unique combination of herbs makes this beer, we believe, the only one of its type. After you try some, you'll wonder why somebody didn't do this before."
Tastey, I like this one. Really nothing to compare to. I hope Yukon continues experimenting.
1,419 characters

3.42
/5
rDev
+0.6%
look: 3.75 | smell: 3.5 | taste: 3.25 | feel: 3.5 | overall: 3.5
Sixth installment of the Brewer's A.D.D. series.
Appearance - Pours a pale straw with a thin line of bubbly head. Lots of bubbles visible.
Smell - Grass, honey, lemon, light mint and other herbs (hard to pick out what they are).
Taste - Wet grass and straw along with lemon. Combination of herbs, but again, it's hard to decipher what's what.
Mouthfeel - Light to medium bodied with moderate carbonation.
Overall - Light and refreshing brew, however I feel like the herbs are a bit muddled and too subdued (hard to detect the different herbs/ingredients).
561 characters

3.6
/5
rDev
+5.9%
look: 3.25 | smell: 3.75 | taste: 3.5 | feel: 3.5 | overall: 3.75
341ml bottle poured into tulip 7/4/13
A bright yellow liquid with a very slight haze, lots of little bubbles but just a fizzy finger of foam that leaves no lace
S strange herbal nose, I get a little mint I see written on the bottle but I wouldn't have a clue what some of the other ingredients smell like, I get some ginger, honey and floral notes with a little hay and wet lawn
T reminds me of Ginger Ale just a little, a little more going on on the nose but still decent flavors
M thin but not watery, just enough carbonation to give it some life and a faint but long herbal finish
O easy enough to drink and some interesting things going on in there some of it quite hard to place, worth a shot but I wouldn't go searching
I do like the presentation of this one with its little tube and scatterbrained label, I don't know if I'd buy a second though with all the goodies on the shelf here in Alberta that I've yet to try
931 characters

3.75
/5
rDev
+10.3%
look: 4 | smell: 4 | taste: 3.5 | feel: 3.5 | overall: 4
Finally available in Alberta along with the excellent Lead Dog ale, this Aroma Borealis comes in the brown 1-litre flip-top bottle, just as their Midnight Sun does. Green and blue label showing some herbs in a mortar and pestle. The side tells about the Aroma Borealis Herb Shop in the Yukon and the wild local Yukon herbs used to make the beer. The other sides tells of it being a "true cream ale," using all malt ingredients.
The beer pours a very hazy, murky apple juice colour. Brilliant white head, and plenty of it, with layers of fine bubbles and excellent lacing. Could almost pass for a hefe. Yeah, the more I look the better the head really is...so full and with magnificent sheets of lace. The aroma is full of mint and pine predominantly. It reminds me a little of other forays in the beer world into herbs and plants as ingredients (Fraioch from Scotland). Little hits of light malt and no detectable hopping. Fairly one dimensional, but very fresh and invigorating aroma. It is very creamy, almost buttery, with hints of butterscotch and almonds. The taste is...something totally different. The first taste is honeyish, with plenty of mint and pine again. A touch of spiciness. The body reminds me a German Kolsch. Very light on the tongue, but with good flavour, as I suppose a good cream ale should be: combining the attributes of a lager and an ale. The aftertaste is light maltiness, again with no hops detectable whatsoever. The taste is extremely light, with little flavour besides the above. Very drinkable because it is so unoffensive. An interesting session, and I think they produced the beer they wanted to, and it fits the style perfectly, and there is nothing off-putting whatsoever about it; it's just that it lacks...depth. Compliments for the appearance and aroma though!
1,805 characters

2.7
/5
rDev
-20.6%
look: 2.5 | smell: 2.5 | taste: 3 | feel: 2.5 | overall: 2.5
tried the big 1 litre bottle with the old fashioned ceramic stopper. Pale amber color with smallish head and some lacing. Cloudy and this time no manufacturing date to be seen. Has anyone else noticed this? Faint spicy smell, this beer had a funky yet watery taste. Thinking clove/coriander here for the herbs.. No real hop or malt to speak of until at the end when you get some very faint malts. A little too watery and over-carbonated for my tastes....will stick to this brewer's expresso stout instead.
505 characters
Aroma Borealis Herbal Cream Ale from Yukon Brewing Company
Beer rating:
3.4
out of
5
with
14
ratings