Discovery Fireweed Honey Ale
| Yukon Brewing Company
BA SCORE
82
good
14
Reviews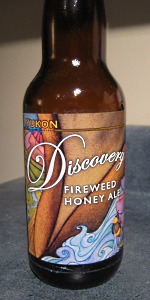 BEER INFO
Brewed by:
Yukon Brewing Company
Yukon
,
Canada
yukonbeer.com
Style:
Extra Special / Strong Bitter (ESB)
Alcohol by volume (ABV):
5.50%
Availability:
Rotating
Notes / Commercial Description:
No notes at this time.
Added by elricorico on 04-30-2007
Reviews: 14 | Ratings: 19
3.05
/5
rDev
-13.8%
look: 3 | smell: 3 | taste: 3 | feel: 2.5 | overall: 3.5
Hitchiker from Presario, thank you. Some colour, bit of fizzy head. Drinkable though above average carbonation. Some fruit and sweet aroma. An APA base there,there's a reasonable beer trying to come out, and that's what I was after, without the honey additive. Medium mouthfeel.
278 characters
3.68
/5
rDev
+4%
look: 4 | smell: 3.5 | taste: 3.5 | feel: 4 | overall: 4
This beer pours a medium copper hue, with a single finger of soapy white head, which leaves thin curtained lace around the glass as it quickly recedes. It smells of caramel and biscuit malt, as well as some sweet herbal hops. The taste is somewhat bitter herbal hops, spiced honey, and mild caramel malt. The carbonation is a bit below average, the body light and crisp, and it finishes off-dry, some sweet honey lingering, along with that herbal essence that I suppose must be the fireweed, whose flavour I was unacquainted with, before now.
A decent pale ale, the extra honey and herbal notes blend well for an enjoyable result.
631 characters
1.63
/5
rDev
-54%
look: 2 | smell: 1.5 | taste: 1.5 | feel: 1.5 | overall: 2
Bottle courtesy of Irondjin: Poured a deep golden and dark honey color ale with a small bubbly head with minimal retention. Aroma of sweet malt with some unrefined grain is more or less pleasant. Taste is also dominated by some sweet malt with this unpleasant unrefined grain taste which was not appreciated. Body was fuller then average with some low carbonation.
364 characters

3.55
/5
rDev
+0.3%
look: 3.5 | smell: 3.5 | taste: 3.5 | feel: 4 | overall: 3.5
341ml bottle poured into pint glass 6/2/11
A clear golden amber with plenty of carbonation but only a finger of loose foam that leaves a single partial ring of lace
S a little tea bag with honey and citric hops
T not far from the smell but I get a little more lemon and there's sweetness but its manageable
M rather slick at first then the bubbles fluff it up a bit and give it some life
O drinkable brew but not as nice as some of the offerings from Yukon but I had no issues
not a bad addition to the thirst aid kit but I'd prefer the Lead Dog or Stout in its place, but I understand those beers may be a little frightening for the entry level consumer their trying to target with the mixer
698 characters
3.8
/5
rDev
+7.3%
look: 3.5 | smell: 3.5 | taste: 4 | feel: 3.5 | overall: 4
Another delicious selection from our Canada Day beer swap!
A - Pours a clear golden brown with a thing layer of head which slowly dissipates with no real lacing.
S - The sweet honey is quite noticeable, with some faint coffee malts and bit of a corn / bready finish.
T - Bready malts come through off the top, the finish is bitter with a fairly dominant honey after-taste. A bit of brown sugar and citrus hops are also noticeable.
M - The one is fairly carbonated, but is nicely balanced. It fills up nicely on the tongue, but does not have a dry finish, which is nice.
D - Pretty tasty indeed. The flavours are wonderful, with a nice balance between sweet and bitter. Would definitely purchase a 6-er of these, and is a flavourful summertime bevy!
753 characters
3.55
/5
rDev
+0.3%
look: 3 | smell: 3 | taste: 4 | feel: 3.5 | overall: 3.5
from notes over the christmas holidays...
A - Clear copper, thin head ended with some random blobs
S - Grainy with subtle honey, leafy and metallic aromas
T - Unique raw honey flavour with grainy and light caramel malt with some leafiness, not quite an ESB in the classic sense but still tasty
M - Light and sweet with enough bitterness to justify the ESB side of the equation
O - Nice to see honey added to something other than brown ale or lager, and it is done with a more raw natural flair here, could easily be a session beer
530 characters

3.68
/5
rDev
+4%
look: 4 | smell: 3.5 | taste: 3.5 | feel: 4 | overall: 4
Pours out with a loose spongy off-white head. The body is a deep clear amber/old copper hue.
Sweet caramel malt blends with herbal hops on the nose, a bit of spice from the honey.
The flavour seems fuller than it is thanks to the smooth beyond medium-bodied mouthfeel. Light toffee malt that develops a spicy sweetness in the middle, and finishes with a dandelion-like character. Carbonation becomes apparent on the finish.
Still a decent pale ale, and pretty solid once all the parts comes together. If anything, Yukon doesn't do anything half-assed.
560 characters
3.95
/5
rDev
+11.6%
look: 4 | smell: 4 | taste: 4 | feel: 3.5 | overall: 4
Appearance- Pours a clear copper colour with a very thin white head.
Smell- Honey, caramel, hint of vanilla, and grains.
Taste- It starts off with the honey sweetness and finishes with bitter grains. The flavours are well balanced and mild.
Mouthfeel- Light to medium bodied with light carbonation. A little thin but has a nice smooth quality.
Overall- An enjoyable ESB by Yukon. I enjoy their use of local ingredients such as fireweed honey. The sweet honey flavour is well balanced with the bitter qualities of this beer. Would make an excellent summer refresher.
570 characters
3.56
/5
rDev
+0.6%
look: 4 | smell: 3 | taste: 3.5 | feel: 4 | overall: 4
Quite clear copper colour, with a foamy white head that is more than two fingers deep. The head is slow to recede and leaves plenty of lacing.
Some honey sweetness and floral hop aromas are notable. The beer is a little too cold at first, but the aromas don't seem to become much more pronounced as it warms.
On the sweeter side of pale ales, with an almost bittersweet finish. Honey is notable but not overdone. Hops give something of a floral impression. Dry finish.
A pretty good mouthfeel here. It has a fair amount of body, and is smooth on the tongue. Comfortable for both quaffing and savouring.
Not bad at all, I'd say it could be something of a session beer. I don't see it making anyone's top ten list, but I also don't see alot of people disliking it.
774 characters
4.09
/5
rDev
+15.5%
look: 2.5 | smell: 3.5 | taste: 4.5 | feel: 3 | overall: 5
A- Pours with a thin white head that quickly disappears into a very thin film over the brew. The color is a not 100% clear copper and there seems to be medium carbonation. The lacing is non existent unfortunately so it's not the best looking beer.
S- I agree with some of the other reviewers in that this beer has a caramel aroma. I also smell a floral aroma as well as a dryness that is a combination of earthiness and subtle hops.
T- This is where the beer really stands out! There is a nice balance of sweet toffee flavor like malts (crystal malt?), a drier honey flavor than I'm used to, and the finish is perfectly hopped, producing a clean, bitter finish that lingers on the palate.
M- This is a light bodied beer, with solid carbonation that provides the clean crispness that makes this beer enjoyable. The honey on the palate is much more herbal like and is provides a more astringent mouthfeel than the creaminess that I'm used to having in a honey beer.
D- This is a different honey beer than any other I've tried. I really like this overall and wouldn't have any problems drinking this brew all night...especially as a patio beer during the summer! I think this is a more mature version of the honey beer style and think it is a beer that is classy!
1,264 characters

3.97
/5
rDev
+12.1%
look: 3.5 | smell: 4 | taste: 4 | feel: 4 | overall: 4
Funky 6-pack packaging. The beer pours a lovely hue of golden, with head enough to satisfy. Looks great. The aroma is filled with fireweed and a lovely mix of subtle hopping with caramel malt. A step above any commercially available "honey lagers". This ain't no Sleemans. Plenty of sweet malting, paired with interesting aromas of subtle syrup, grassy herbs, and a good dose of fiery hopping. Taste really shines through. This is excellent caramel malting, bursting with red-ale sweetness and sugariness paired with just enough fireweed and hops to make for above-par balance. This is above par in every way. Exceptional mouthfeel and drinkability, though a little sweet, is excellent. Again, Yukon does not disappoint. This is some more liquid gold from the Yukon. More? Yes please.
784 characters
3.63
/5
rDev
+2.5%
look: 4 | smell: 3.5 | taste: 3.5 | feel: 3.5 | overall: 4
This beer is a re-release of Yukon's first-ever brand — and a tip of the hat to them for making such a nice beer right off the bat.
It poured with a clear copper body full of bubbles and topped by a creamy white head that left sticky lace on my pint glass. The aroma was a pleasing mixture of biscuity malt, floral hops and clover.
Likewise, the taste was nicely balanced. I'm not a fan of many honey-added beers, but it was restrained here. The taste started malty with sweet honey rolling over the tongue, but a bitter finish pushed it aside and kept it from being too sickly-sweet. Add a creamy feel and medium body, and you've got a highly drinkable beer.
666 characters
3.03
/5
rDev
-14.4%
look: 3.5 | smell: 3 | taste: 3 | feel: 3 | overall: 3
Bottle says: "Honey ESB"
A - Pours a clear copper-amber with finger of white head. Decent retention; subsides to lacing. Probably the high point of the beer.
S - Smell is ok. Subdued hop aroma which is citrus and herbal. Malt is slightly sweet and caramel. Hint of corn.
T - Taste follows with slightly hoppy and sweet malt. Hint of corn again.
M - Fairly thin, especially when trying to pass as and ESB.
D - Average.
422 characters
4.17
/5
rDev
+17.8%
look: 3.5 | smell: 4 | taste: 4.5 | feel: 4 | overall: 4
Appearance - Dark amber color, some lacing.
Smell - Sweet honey smell with a hint of woodiness.
Mouthfeel - Smooth texture
Taste - Slight sweetness at the front of the mouth, fading into a pleasant mild hoppy bitter finish.
Drinkability - Tasty and flavorful yet refreshing at the same time.
303 characters
Discovery Fireweed Honey Ale from Yukon Brewing Company
3.54
out of
5
based on
19
ratings.