Yukon Spiced Winter Ale
| Yukon Brewing Company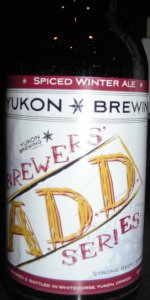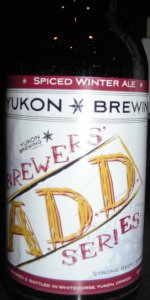 BEER INFO
Brewed by:
Yukon Brewing Company
Yukon
,
Canada
yukonbeer.com
Style:
Winter Warmer
Alcohol by volume (ABV):
6.00%
Availability:
Limited (brewed once)
Notes / Commercial Description:
No notes at this time.
Added by leaddog on 12-26-2011
This beer is retired; no longer brewed.
HISTOGRAM
Ratings: 7 | Reviews: 6
Reviews by ChrisCage:
4.01
/5
rDev
+7.5%
look: 3 | smell: 4.5 | taste: 4 | feel: 3.5 | overall: 4
A- Pours a generally clear brown, with red hues lingering about. The head is nice looking, starting out about a finger in thickness and is puffy/dense....it retains quite well over time too! There appears to be quite a bit of fine looking carbonation sticking to the glass on the inside and it rises rapidly to the top of the brew. Lacing isn't super impressive, as faint dollops of foam stick initially, and slink back into the head without much trouble. Overall, nothing to get excited over, but not offensive either.
S- There is a whole lot of spice happening here! Initially, it smells like a sweet hand crafted root beer, of course with an alcoholic kick, but then settles to allow a whole range of spice to permeate into the nasal cavity....everything from pumpkin, licorice, nutmeg, cinnamon, brown sugar, and on, is found here...and all with an underlying malt sweetness. The theme here though has everything to do with the spice!
T- Ahhh, this has a much more mellow flavor than the aroma lets on! The root beer aspect is present, with a distinct spicy sweetness that has the robustness of the malt to add to it. After a few sips, the palate gets used to everything going on and a drier Earthy character emerges, leaving me with hints of ginger and other assorted robust root essence. This is quite tasty I have to say!
M- The carbonation, while plentiful, is smooth and fine, allowing the flavor to burst evenly over the palate. The body leans towards medium, but it is fairly light in general. This is quite enjoyable in the idea that I feel as though I'm enjoying a freshly baked holiday dessert or something!
O- Overall, I feel that this is a well spiced, well balanced beer. It's flavorful with many different spices to be tasted, yet is clean after the swallow. The alcohol, while noticeable on the aroma, is hidden well on the palate, yet at the same time warms the soul! I recommend anybody to give this a try and I'll definitely look for this one again before it goes MIA for the summer months!
2,016 characters
More User Reviews:
3.7
/5
rDev
-0.8%
look: 3.5 | smell: 3.5 | taste: 4 | feel: 3.5 | overall: 3.5
341ml bottle, batch number 2 in Yukon's winter 2011 A.D.D. series. Again, they've kept with the humorous and informative cardboard tube presentation.
This beer pours a clear, dark bronzed amber colour, with two puffy fingers of densely frothy beige head, which sinks away at a very leisurely pace, leaving some random streaks of wavecrest lace around the glass.
It smells of zingy cinnamon, astringent, salty black licorice, wintergreen mint, some earthy nuttiness, and bready, biscuity malt. The taste is more restrained on the spice front - nice soft cinnamon and cardamon, some edgy, metallic anise, more flinty mint (ok, I just like saying that) - over a sedate, pale grainy, somewhat sourdough-like bready malt, all with a twist of bitter citrus rind.
The carbonation is quite mild, the body a fairly average medium weight, a bit on the thin side, and generally smooth. It finishes surprisingly clean - the malt and most of the spice all seemingly dropping back, leaving an ethereal void, punctured here and there by a bit of citrus and earthy warmth.
A decent winter warmer, with an ingredient list that skews from the norm, and a very shy malt sweetness, rendering it all a bit of a showcase for the spice. I'd prefer it to be a fair deal heavier, but I can appreciate the lighter drinkability of this one all the same.
1,332 characters
3.85
/5
rDev
+3.2%
look: 3.5 | smell: 3.5 | taste: 4 | feel: 4 | overall: 4
A - clear rootbeer brown, thumb of head dissipated to a thin covering with some lacing
S - strong note of fresh mint, nutty malt with caramelized sugars
T - nutty and licorice malt quickly gives way to candy cane mint, a hint of earthy hops with the mint remaining spicy and cool throughout
M - medium body that starts slightly sticky but is quickly overtaken by the spicy cool feel of mint that tickles the throat, very unique
O - definitely a unique winter warmer with that candy mint flavour, looking forward to Yukon continuing to take chances with this series
564 characters

3.48
/5
rDev
-6.7%
look: 4 | smell: 3.5 | taste: 3.5 | feel: 3 | overall: 3.5
From a 341 ml brown bottle. Pours out a clear nut brown with a tall, tight spongy off-white head that slowly settles.
Some toasty and caramel malt on the nose, with some faint dry leafy hops, yet the major character seems to be cardamom and ginger.
Toasty, nutty, caramel malt is up front and more prominent in the flavour, with an earthy sweet licorice taste popping up in the middle which hints at the presence of some anise as well. That sweet spiced character tends to dry out a bit towards the finish, offering an impression of anise and cardamom. There's dry woody notes that linger in the aftertaste along with the sweet spice from the finish.
Medium-bodied mouthfeel with a silky texture and mild carbonation.
An enjoyable Winter Warmer that really pushes some anise over the other typical spices used for the style. It's rare to have an adjunct that overshadows the sweetness of the malt itself (except for honey that is) however that seems to be the case with this one. I enjoy licorice so it works for me, and there may be a far more diverse spice bill that was used in this Winter Warmer, but the anise dominates it all on my palate. As a result it tends to get a bit one-dimensional after a while.
1,214 characters
4.15
/5
rDev
+11.3%
look: 4.5 | smell: 4.5 | taste: 4 | feel: 4 | overall: 4
This is the second bottle to Yukon's Brewers ADD Series.
Appearance- Dark copper red with a very thin white head. Nice clarity and bubbles are present.
Smell- Cinnamon and nutmeg with orange peel and licorice aromas. It also has a woody character to it.
Taste- The spices are the predominant flavour with a hint of the orange peel. It is not as sweet as the smell gives off which makes this pleasant.
Mouthfeel- Nice carbonation and tingles of the bubbles. Quite smooth and refreshing for this medium bodied winter ale.
Overall- A nice entry from Yukon Brewing in this category. It contrasts from other winter ales by being less sweet and avoiding the flavours of vanilla and toffee. Very refreshing!
708 characters

3.92
/5
rDev
+5.1%
look: 3.5 | smell: 4 | taste: 4 | feel: 3.5 | overall: 4
341ml bottle poured into tulip 4/1/12
A clear reddish copper enough bubbles to produce a two finger head that falls quickly leaving no lace
S gingerbread comes to mind, there's some licorice, cinnamon, lemon zest, smells pretty good
T a little spruce and peppery spice to go with what I could smell, more ginger then the nose
M not as thick as I expected but not watery either, almost a little foamy with a spicy finish
O pretty good stuff at a fair price, pretty well rounded and zero booze anywhere
I'd drink this one again but I might wait for a colder day seeing how its hot here in Calgary today double digits
624 characters
Yukon Spiced Winter Ale from Yukon Brewing Company
Beer rating:
3.73
out of
5
with
7
ratings