Jaipur Brewing Company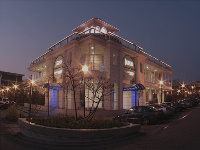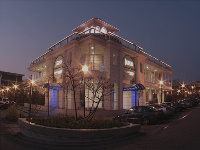 Brewery, Bar, Eatery, Beer-to-go
10922 Elm St
Omaha
,
Nebraska
, 68144-4822
United States
(402) 392-7331 |
map
jaipurbrewhouse.com
Notes: Per Omaha City Ordinance, as of October 1st 2006, this establishment is non-smoking throughout.
Reviews by beerbrains:
beerbrains from Nebraska
3.68
/5
rDev
-1.1%
vibe: 4 | quality: 4 | service: 3.5 | selection: 3 | food: 4.5
Visited this place the other night for the first time, even though I've lived here for a nearly a decade. I've wanted to visit for a long time; I guess I just never had the right group together at the right time.
The restaurant is in an upscale strip mall. You enter and are thrust into the dining room. If you have a large group if it is cold outside (it was) and everyone is pushing to get inside it can be uncomfortable. The bar is to the back of the restaurant and is well stocked with a nice selection of spirits. I somehow forgot to look at the wine selection (I guess I was focused on the beer). I did notice the table next to ours had a bottle of Big Horn Cab.
The service was very helpful and answered everyone's questions. The atmosphere is nice and you are able to forget you are in a strip mall.
The brown ale and the IPA were good, very drinkable, but not exceptional. Others at the table said the wheat and the porter were good. We were informed that the beer is carbonated by adding priming sugar to the kegs at the time they are filled. Which is out of the norm for brewpubs. Even home brewers who keg don't do this much anymore.
The food was unbelievable. Everyone in my party enjoyed their meal. Oddly enough I didn't see any brewing equipment (most pubs like to show off their investment).
Feb 28, 2008
More User Reviews:
Djon1rpt from Pennsylvania
3.7
/5
rDev
-0.5%
vibe: 3.75 | quality: 3.5 | service: 4.25 | selection: 3.25 | food: 4
Feb 05, 2019

SurlyDuff from Oregon
4.1
/5
rDev
+10.2%
vibe: 4.5 | quality: 4 | service: 4 | selection: 4 | food: 4.5
An unpromising stripmall contains this Indian restaurant. We decided to sit outside an enjoy the humid oppressive Omaha summer while we ate and drank. Actually the weather was kinda pleasant that night, for once, and their patio is shaded and well-maintained. There was nearly a fullhouse, so clearly the place has a decent reputation.
We got appetizers and IPA's. Their beer was okay, nothing fancy, just a midwest IPA without much going on. The food was phenomenal though, and didn't stop with the appetizer.
As the waves of spicy food came our way, the beers were a perfect compliment, and paired nicely.
Long story short, come here for good indian food, have a beer with your food and enjoy it. It's not going to win any awards, it's as decent as Rockbottom or those Ram restaurants. They also had a few other styles, but it was an IPA sort of night.
Sep 01, 2011
Yetiman420 from Ohio
4.13
/5
rDev
+11%
vibe: 3.5 | quality: 4 | service: 4.5 | selection: 4 | food: 4.5
Stop number 206 on my quest to visit every quality brewery/brewpub in the world. Lots of work to be done.
After taking care of some business in Omaha, I made my way to the semi-upscale clustered strip mall where Jaipur is located. At 4:00, I was an hour early so I killed some time at a housewares shop and wine & cheese bar. The owner of the wine and cheese bar told me that Jaipur's claim to fame was a jalapeño beer which was too spicy for him but that he could drink the IPA by the bucket. Consider me officially intrigued. At the time of this writing, urbanspoon (my go-to restaurant guide) gives Jaipur an 82% like it with 229 votes. I consider that pretty good and given my craving for Indian food, I might go regardless of the beer.
5:00 rolls around and I, along with 4 other groups, are ready to eat. I made my way to the small bar in the back where I was welcomed by the young bartender and only employee of non-Indian descent.
I went with the IPA as my first beer and was floored by the disappointment that they were out. The bartender says it's only happened a couple of times. It was about that time that I was introduced to GB who was the chef/owner/assistant brewmaster. He gave me the scoop on the place. It was Nebraska's first brewpub opened in 1992. When asked how does an Indian restaurant become a brewpub, he said he purchased the place like this. They brew 60 gallon batches at a time and the brewer is getting ready to retire so GB has taken an active roll in the brewing process.
I went with the a 10 oz pour of the jalapeno beer and found it so enjoyable that I doubled down and had another one with my Chicken tika saag (which was excellent). GB says they use 1 oz of jalapeno's for each gallon of beer - sometimes more, sometimes less depending on the spiciness of the jalapeno's. They add half during the boil and half post fermentation. The base beer is a pale wheat beer which I found to be a very good beer . To make a good flavored beer, you need a good base beer. GB said they are in the process of bottling and distributing the jalapeno and IPA. Starting small so it may take a while (he had not even considered label approval at the time I spoke with him).
They also had a seasonal porter which I had a 10 oz pour of for dessert. It had a very mild roasty character and a bit thin on mouthfeel. Not a bad beer though. GB comp'd me the porter since they were out of the IPA.
Jaipur is one of the most unique brewpubs I've had the good fortune of visiting. It's places like this that make my brewpub quest so enjoyable. I'd certainly come back for the food and a glass or two of the 10 oz beers (they also serve full pints and growlers).
Mar 22, 2011

woodychandler from Pennsylvania
3.78
/5
rDev
+1.6%
vibe: 4.5 | quality: 3.5 | service: 4.5 | selection: 3 | food: 4
Transcribed from notes dated T, 04 Aug 2009.
Located at 109th Avenue and Elm Street in the Rockbrook Village. BDitty187 was quick to suggest eating food here but not to get my hopes too high with regard to their beer. Fair enough.
My C/S host drove and we pulled up in front of a long windowfront with the entry on the west end followed by an outdoor patio area. Entering, the short vestibule put us in a sea of standard restaurant tables and chairs. The west wall was a series of three (not quite a triptych) of intricately carved shutters. The east wall had a striking mural of Indians (used correctly) fending off an attacking tiger. Through a doorway almost straight aft of the entry was the bar area, with a very short, inverted "J"-shaped blonde wood bar, although the brewery was well in the back and not available to casual observers. I inquired but they told me that they were too busy to show me around. Oh well.
Service was amicable without being cloying or hovering.
Food: I had lamb in a white curry/coconut sauce which had just enough heat for this admitted gringo. I am a big fan of lamb and the coconut really came through.
Beer: Four house-made brews - Wheat, IPA, Raspberry Wheat and Jalapeno. On the latter, I was already taking a chance with the mild curry sauce and I was hesitant to press my luck. They were happy to give me a small sample, however, and as expected, the finish was a killer and a full glass would have been to much for the likes of me. I also understood BDitty187's remark - a light perfuminess pervaded their beers. Fair enough, but coupled with the cuisine, they were not unpleasant.
Jun 25, 2010
NeroFiddled from Pennsylvania
3.98
/5
rDev
+7%
vibe: 3.5 | quality: 4.5 | service: 4.5 | selection: 3 | food: 4
The Jaipur can be a little hard to find, even though it is in a kind of strip mall set-up.
The store front is nice, but it's much nicer once you step inside - it seems almost like somewhere else (not quite, but it's kind of there). The decor is good, and the paintings on the wall are well done. So what do we have left...?
The food! The food is very well done, and reasonably priced. I would go back at anytime!
Surprisingly, they have good beers as well!!! I was really impressed that the Jalapeno Ale wasn't overdone. It had a bite, but it was still in-line (unlike Crazy Ed's Cave Creek). The IPA was nicely done as well, and the Hefeweizen and raspberry wheat rounded things out.
In conclusion, it's a great Indian restaurant that happens to serve their own beers - odd, but good. Worth trying!!!
Oct 13, 2009
Boto from Connecticut
3.85
/5
rDev
+3.5%
vibe: 4 | quality: 4 | service: 4.5 | selection: 2.5 | food: 5
This is definitely a very interesting combination: a brewpub that serves Indian food. I can't say that I have ever heard of a brewpub like this one before. In all fairness, the food seems to be their first priority, and it shows. Our group ordered 4 entrées and shared them. They were all superb. We sampled a shrimp dish, a lamb dish, a chicken dish, and a potato based entrée. All the entrées came with soup, which was quite good. All the soups and dishes had the right amount of spice. They would have cranked them up higher if you wanted them to. The beers were OK, but certainly not worth seeking out on their own. They do match up well with their foods, however.
Apr 24, 2008
neonbrown82 from Nebraska
3.63
/5
rDev
-2.4%
vibe: 4 | quality: 3.5 | service: 4.5 | selection: 3 | food: 3
I absolutely love Indian cuisine, so I have been wanting to try this place for quite some time. I finally got to try it recently, but I ended up being a bit disappointed. Not only in the food, but in the beer as well.
The place looks fairly nice. Has some typical Indian murals lining the walls, and has kind of an upscale atmosphere to it. From what I recall, there is no brewing equipment visible from the dining area.
The food had real potential. Some of the appetizers were very good, but the soup and the entree were garam masala bombs (if you aren't familiar with using Indian spices, garam masala is kind of a nutmeg, clove, and cinnamon flavored blend of spices). The beer had real potential too, but my IPA was very highly under attenuated. The Raspberry Wheat, on the other hand, I thought was one of the best fruity wheat beers I've tried, though that doesn't say much for it.
The brewery aspect to this place seems like kind of an afterthought to me. Only 3 beers available at the time of my visit, no visible equipment, under-attenuated beer, more focus on their wine list, etc. The beer list may be small, but their menu is extensive, as is their wine list (some good ones I might add, if you're into that "other" beverage).
The service was very attentive. I had a hot young blonde waitress accompanied by an older Indian guy who seemed to hang around just to elaborate on some of the entrees, pronunciation, and just to help with anything else that your average hot, white, bimbo chick would probably stumble around. In all seriousness, they were very attentive and were able to make some good recommendations for my sister in law and father, neither of whom have had Indian food before. They were also able to describe the beers adequately, but there are only 3, which I could easily try one of each through the duration of the meal and discover the flavors for myself. The beers were decently priced, but everything else is a bit pricey.
I would recommend trying it if you're in to Indian food, but it just can't compare to Indian Oven or Taj in that aspect, nor does it compete with Upstream in the brewing aspect. Also... be careful. I am fairly acclimatized to ethnic food (I cook Indian food at home on a weekly basis almost), giving me near immunity to the explosive ethnic shits, but I wasn't even finished with my meal before my stomach was rolling. Unfortunately I was more than an hour's drive from home, and the restrooms looked like many other patrons had blown a gasket as well, so I ended up driving home and praying I didn't shart in the car (I made it, FYI). I realize this isn't the most pleasant thing to read about on beerfly, but I thought you might want a fair heads up before it happens to you. ;-P
Jan 13, 2008

bditty187 from Nebraska
3.33
/5
rDev
-10.5%
vibe: 4 | quality: 3 | service: 4 | selection: 2.5 | food: 4
The Jaipur is a brewpub that specializes and serves Northern India food... with very few exceptions (a handful of "fusion" entrees, no American cuisine). The location is in an older, upscale strip mall. Inside the decor is Indian, nice, kind of classy... soft music plays in the background... a touch dark inside (good for ambiance, bad for reviewing beer). The seating is very limited and reservations are needed (or strongly wanted my management). I visited with five other people at 6:45 on a Wednesday (we had reservations). The place was 1/4 full. We were seating promptly. Our waiter was very nice, helpful, and attentive.
The prices run from around 12-18 dollars per dish. The food was exceptional (granted I cannot comment on authenticity). Most meals are served with either soup or salad.
They have four year-round beers and seasonal offerings. The IPA was decent... the raspberry beer was okay, the jalapeño ale was good (considering the style) and the wheat beer was lackluster. I did not try the seasonal. There is a small bar in the back of the restaurant if you just want to come in and try the beer. Prices for the beer were outstanding.
Parking is plentiful. I'd go back for the food (on a special occasion, price is a factor)... their beer would be a small bonus.
Aug 08, 2003
Jaipur Brewing Company in Omaha, NE
Brewery rating:
2.99
out of
5
with
24
ratings