Rainier Light
| Rainier Brewing Co.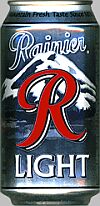 BEER INFO
Brewed by:
Rainier Brewing Co.
Texas
,
United States
rainierbeer.com
Style:
Light Lager
Alcohol by volume (ABV):
3.88%
Availability:
Year-round
Notes / Commercial Description:
No notes at this time.
Added by brewdlyhooked13 on 03-06-2004
This beer is retired; no longer brewed.
Reviews: 3 | Ratings: 6
2.48
/5
rDev
+1.6%
look: 3 | smell: 2.5 | taste: 2.5 | feel: 2 | overall: 2.5
355ml can, 4% ABV, courtesy of Stroh Canada, which I assume has some connection to the Pabst umbrella brewing corporation.
This beer pours a very pale clear yellow colour, with two fingers of thin puffy, foamy bone-white head, which leaves some sparse webbed lace around the glass as it quickly abates. It smells of rice/corn grain, mineral water, and mild skunky hops. The taste is light stale adjunct grain, water, and ghostly earthy, weedy hops. The carbonation is average, the body light, thin, and smooth, I suppose. It finishes a wee bit off-dry, but mostly with that dead flower essence.
Nothing overly offensive, and cheap as, well, water. Wait - maybe cheaper, if you want a higher quality water source than this is as a beer...
739 characters
2.54
/5
rDev
+4.1%
look: 1.5 | smell: 2.5 | taste: 2.5 | feel: 2.5 | overall: 3
Ahh the ever elusive Rainier Light. Not many places around here carry RL regularly. I really don't have many negative remarks regarding this beer, overall it's not bad (when keeping in mind what category it is in: cheap american light beers).
The color is expected, very pale yellow. There was a head, for a bout 0.2 seconds and then it vanished and left not even a trace of lacing. Smell is alright for a beer of this ilk, nothing offensive, perhaps a slight corn smell. The taste is actually not that bad, just as good or better than other light beers. It definitely has more flavor than the others, not sure exactly if other BA folks would find that a good thing or a bad thing, I guess it depends on if you like the flavor or not. I noticed a slight metallic hint in the aftertaste, but other than that nothing offensive.
This is the type of beer that you could drink all afternoon at a bbq or something, decently refreshing (if you're into light beers).
Here's the stats, fyi:
110 Cal
8.3g Carb
0.7g Protein
0.0g fat
100% "Mountain Fresh Taste"
1,063 characters
2.68
/5
rDev
+9.8%
look: 2.5 | smell: 2 | taste: 3 | feel: 2.5 | overall: 3
This must be a new product, I never remember seeing Rainier Light in the stores. Pours a light goldish yellow with a bubbly thin head that vanishes. Lacing is pour but has hints on glass. Taste is light with little hops, mild sweetness. Feels a little flat but is crisp and tingly in the mouth. Drinkable in the summer, tasted like a cheaper Rainier. If you need to have light beer this is just as good as any other, cheaper to.
428 characters
Rainier Light from Rainier Brewing Co.
2.44
out of
5
based on
6
ratings.