Bière De Garde
| Choc Beer Co. / Pete's Place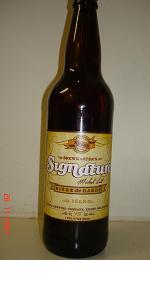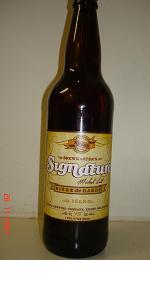 BEER INFO
Brewed by:
Choc Beer Co. / Pete's Place
Oklahoma
,
United States
chocbeer.com
Style:
French Bière de Garde
Alcohol by volume (ABV):
7.00%
Availability:
Rotating
Notes / Commercial Description:
25 IBU
Added by jmbranum on 11-11-2007
HISTOGRAM
Ratings: 65 | Reviews: 44
4
/5
rDev
+4.4%
look: 4 | smell: 4 | taste: 4 | feel: 4 | overall: 4
GLASS: Kronenbourg 1664 Weizen Glass
TEMP: Chilled to approx 45 degrees
22 Oz. Bomber
Nice almost perfect clear amber color. Not too light or too dark. 1/2" head that becomes a thin foamy layer leaving minimal lacing.
Smells of sweet malts and yeasty bananas. Some spicy floral thrown in for good measure. A light hint of apples and pears.
Taste is very good. The apples come to the front on this one. Maltiness follows close behind bringing pears, caramel, and spices with it.
Nice tight little bubbles help create a very nice feel. Like lightly bubbled velvet.
Very good drinking to be done with this bottle. Light enough to enjoy many, and often. The alcohol can creep up on you, though, so watch yourself!
714 characters

4.35
/5
rDev
+13.6%
look: 4 | smell: 4 | taste: 4.5 | feel: 4.5 | overall: 4.5
22 oz bomber courtesy of Supertrader Wolfman17. Thanks Bro!!! Pours a perfect amber honey with tight a creamy head. It thins to a light foam covering. Initially almost clear but the second pour brings a touch of yeast and a light cloudiness. Gentle and microscopic carbonation working to decorate the top and leave spots of lace.
Smell is inviting. A deep malt sweetness with light banana and clove. Subtle yeast esters with light fruits, ( apple and pear ) and a hint of grape and wine like alcohol. A touch of hops.
Taste is world class. Like the nose, a deep malty palate and smooth yeasty fruitiness. Finish is semi dry with a perfect hop closing. A light crackers with butter lingering in the back. No trace of the alcohol, even as it warms. Superb.
Mouthfeel is super creamy. Tight carbonation is a delight to my senses and tongue. Liquid velvet.
Drinkability is above reproach. A quintessential session beer. The abv is medium-high and hidden, so watch out 'cause you will want to have a few bottles of this excellent brew.
1,035 characters
3.9
/5
rDev
+1.8%
look: 3.5 | smell: 3.5 | taste: 4 | feel: 3.5 | overall: 4.5
Thanks to wolfman17 for the beer.
Amber in color with a quick burst of 1/2 inch head that recedes and holds a tight lace on top. Wet lace drips down the sides of the glass.
Burnt caramel in the aroma with some pepper spice.
Toasted caramel malts in the flavor with fruity Belgian yeast characteristics. Nice peppery finish. Kind of taste like what I'd imagine an American Amber Ale brewed with Belgian yeast would taste. I'm not real familier with the style but it is a tasty beer with some nice complexity.
Mouthfeel is medium with some pop from the the Belgian yeast and peppery flavors. The high carbonation on the pour does not show up in the mouthfeel.
Easy to drink. It's complex yet not very filling. Kind of bridges the gap from session beer to sipper.
Good beer that I recommend.
788 characters
3.31
/5
rDev
-13.6%
look: 4 | smell: 3 | taste: 3.5 | feel: 3.5 | overall: 3
From timbro81 as well.
22oz. brown bomber
A: poured into a snifter. It pours a beautiful amber color which leans more towards the red side. Good head retention and a decent amount of lacing.
S: A mix of sweet and sour. some sauerkraut, as well as some sweet breakfast malts. A hint of fruit and spices.
T: slight cabbage flavor. Very sweet malts. Very interesting biere de garde. Caramel and kind of fruity. A little too sweet for the style.
M: Very smooth and palate pleasing. Good carbonation level.
D: its drinkable, but not a good representation of style. Almost takes like a belgian blond.
600 characters
3.91
/5
rDev
+2.1%
look: 4.5 | smell: 3.5 | taste: 4 | feel: 4 | overall: 4
22 oz bomber
pours bright orange. Initial glass is very clear; second glass is cloudier despite leaving most the yeast in the bottom of the bottle. Most of the head is fizzy and fades to a thin off-white cap quickly, however this small cap was very creamy and would remain until the bottom of the glass, leaving spotty lace in its wake. Really good-looking beer, and with a little better head retention I'd seriously contemplate a perfect "5" in appearance.
Nose is pretty good, not outstanding. At initial pop of the cap - well before pouring - I'm struck with a noticeable spicy apple aroma, almost like cider. After the pour I'm left with a light coriander, yeasty aroma above fruity sweetness - a little more citrus than the apple noted earlier. Just a bit of what I'd call floral.
Just a bit too sweet; could use a little more of the lemony tartness I detect in the finish. Caramel malt is everpresent as is sweet orchard fruit. Not that spicy - I suppose this is better than overspiced, but it could use a bit more spicy kick. Restrained sweetness in the finish.
Light body and smooth, carbonation a little lower than ideal but very easy drinking.
Can't say that I've had a lot of beer from Oklahoma, but perhaps I've been overlooking the state. This is not bad, not bad at all. I'll be picking this up again.
1,319 characters
3.65
/5
rDev
-4.7%
look: 3.5 | smell: 3.5 | taste: 3.5 | feel: 4 | overall: 4
Acquired via trade from timbro81, so a big Thank You goes out to him. Poured from a 22oz bottle into a tulip glass.
A: The beer is a deep amber color with a large off-white head that fades quickly and leaves a thin lace on the glass.
S: The aroma is of apples, caramelized malts, spices, some Belgian yeast and a touch of hops.
T: The taste has a lot going on and is malty and a little sour up front, with flavors of Belgian yeast, apples, caramel and some spice. There's a mild hops presence that provides some balance. The after-taste is spicy and slightly sweet.
M: Smooth and very crisp, medium body, medium carbonation, clean finish.
D: Tasty, goes down easily, not too filling, decent kick, good representation of style, even though it may not be one of my favorites, this is a good, complex beer to relax with.
822 characters
3.83
/5
rDev 0%
look: 4 | smell: 3.5 | taste: 4 | feel: 3.5 | overall: 4
Appearance: Pours a hazy, orangey body with a small white head.
Smell: Aroma of caramel malts, a handful of grains, a handful of field flowers, with a bright golden delicious apple fruitiness and a pinch of yeasty spice.
Taste: Light caramel maltiness with a bit of graininess. More of the fruity apple character from the nose. Light floral hoppiness with just a touch of bitterness. Peppery, tartish finish and then it's over.
Mouthfeel: Medium-thin body. Medium carbonation.
Drinkability: Not bad! It's a treat to finally try something from the great state of Oklahoma.
575 characters
4
/5
rDev
+4.4%
look: 4 | smell: 4 | taste: 4 | feel: 4 | overall: 4
Pours cloudy dark orange with a slight creamy white head and little carbonation.
Aroma is extremely sweet and fruity character with plenty of caramel maltiness. Mild underlying earthy spices.
Taste is initially sweet. Grainy toasted malt and strong pear, apple and plum flavor. Earthy with a slight nutty quality. Finish has a mild bitterness, turns slightly sour with a yeasty quality, and a spicy bite.
Mouthfeel is medium bodied.
This is a pleasant, and well rounded brew. Sweet and fruity, with a mild character. Certainly worth a try.
544 characters

3.88
/5
rDev
+1.3%
look: 4 | smell: 3.5 | taste: 4 | feel: 4 | overall: 4
Poured a nice slightly cloudy orange, with a light thin head.
Smell is light with a bit of yeast, sugar, and apricots.
Very sweet and fruity up front with some hints of molasses, toffee, apricot, and orange finishing with a musty and yeasty tartness.
Mouthfeel has a nice bit of bubbly zest with a clean dry finish.
Overall pretty good, if it were available in my area I would pick it up from time to time.
410 characters

4.15
/5
rDev
+8.4%
look: 4 | smell: 4 | taste: 4 | feel: 4.5 | overall: 4.5
A fantastic addition to the Choc lineup. I wish I could try more examples of the style. Pours a spectacularly clear light amber topped with a 3/4 inch fluffy white head that settles to a ring in a minute or so. The nose is all malts, nice light sweetness to it, maybe some sour green apples too. Mouthfeel is very silky. Well balanced, malt forward with an ever so slight tease of what I presume to be hops at the tail end. Maybe it is the power of suggestion but I do pickup a some of the muskiness that is expected with this stlye beer. I consider myself a "hop head" yet I am drawn to this beer.
598 characters

4.42
/5
rDev
+15.4%
look: 4 | smell: 4.5 | taste: 4.5 | feel: 4 | overall: 4.5
22oz bottle from thanks to trade with Timbro81.
First taste of this beer and a new style for me.
A: Hazy copper amber, didn't pour entire bottle so no sediment in glass. THe more I drink the more the aroma grows on me, I am bumping from 4 to a 4.5
S: malty, bready, fruity apricot wine like, yeast
T: malty sweet, finishing dry and slight bitterness
M: light, good carbonation, refreshing! A little alcohol warmth becoming noticeable as I continue down the glass.
D: Very good, can see how refreshing this would be after working in the garden in the hot early days of summer. For me its the middle of winter, but it still hits the spot.
This is a pretty good rating for my first beer of a style, but I will be looking for more of these in the future. Hopefully the compare.
780 characters

4.57
/5
rDev
+19.3%
look: 4 | smell: 4.5 | taste: 5 | feel: 4.5 | overall: 4
This one is a keeper...
Pours a very nice golden orange/brown only slightly cloudy from a settled pour. Malty goodness abounds with many complexities and flavors. Cloves, bananas, some tangy lemon. Bread, yeast and honey in the nose. Hops present, but only in balance. Overall on the sweet side, but in a good, not overly filling, way.
Very good mouthfeel, carbonation is just right...very smooth. Letting it warm up is a good idea also as the flavors expand.
ABV (info direct from the Brewmaster, Michael Lalli) is 7%.
This beer is, overall, very awesome. I highly recommend it if you can get your hands on it. It is very drinkable for session, or with a nice grilled steak.
A very real drawback for most reading this is that Choc/Pete's Place hasn't yet achieved a large distribution area.
I have put back several to see how they cellar...
841 characters

4.35
/5
rDev
+13.6%
look: 4 | smell: 4 | taste: 4.5 | feel: 4.5 | overall: 4.5
Going to try and be unbiased with this one, as it seems it has some high ratings, but only done by locals so far. Really hoping this to be a good one, as Oklahoma is a bit barren in the craft brew department. Let's see what we got. Pours a dark golden brown with a tan one-finger head that dissipates in a fairly quick fashion. Swirl it around in the tulip a bit and then smells of bready, somewhat spicy malts and some apples. Tastes malty and a bit bready and fruity as well. Full-bodied and quite drinkable as it goes down smooth with a hint of alcohol heat at the end. Am very curious to see the alcohol content. My guess is 6-8%.
No bias here. This is a very good beer, and the Kreb's bunch should be very proud of this one. I'm in the mood for a little road-trip and a bit of Italian food to pair this one with now!
822 characters

4.39
/5
rDev
+14.6%
look: 4 | smell: 5 | taste: 4 | feel: 4.5 | overall: 4.5
Pours a golden orange with a small, off-white head. Slightly cloudy due to the bottle conditioning and perhaps some proteins? Seems to have the signature hefeweizen aroma. Taste is malty and sweet, with a bit of bananas and cloves as well as a slight lemony flavor. Perhaps they have a little wheat malt in here? The hop bitterness is there and rounds things out, but is somewhat faint. Rich mouthfeel, full bodied. Good carbonation. This is a very good beer, it would be very easy to drink the entire 22oz bottle by myself. Not too overpowering, would make a good session beer.
578 characters
4.8
/5
rDev
+25.3%
look: 4.5 | smell: 4.5 | taste: 5 | feel: 4.5 | overall: 5
The big 22 oz. bottle says this is #1 of the new "Brewmaster's Signature Series," and if this is a sign of things to come, I am very thrilled.
Probably the best beer currently brewed in Oklahoma. This is the first beer I've had of the style, but according to what the BA style guide says this beer is spot on. Lots of glorious malt, nice roasted sweetness with some very slight but refreshing fruity tang. Reminds me of fresh baked brown bread. In fact, it almost reminds me just a touch of Aventinus (a very different style) but much less intense. The aroma is heavy on the malty notes. Extremely drinkable (I wish I bought more than one bottle of this one) and the mouthfeel is just right.
Beautiful in the glass. Nice amber colored with generous white head. Maybe just a tiny bit of haze.
I like this beer a lot. I suspect I'll appreciate this beer even more on the second try and will pick up a lot more complexity than this first try. It truly is a world-class beer. Way to go Kreb's Brewing! You do Oklahoma proud!
1,029 characters
Bière De Garde from Choc Beer Co. / Pete's Place
Beer rating:
3.83
out of
5
with
65
ratings