Louie's Ultimate Pale Ale
| Choc Beer Co. / Pete's Place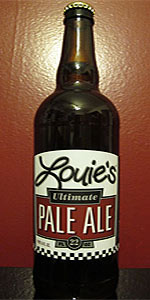 BEER INFO
Brewed by:
Choc Beer Co. / Pete's Place
Oklahoma
,
United States
chocbeer.com
Style:
American Pale Ale (APA)
Alcohol by volume (ABV):
6.40%
Availability:
Limited (brewed once)
Notes / Commercial Description:
No notes at this time.
Added by bump8628 on 09-01-2010
This beer is retired; no longer brewed.
Ratings: 6 | Reviews: 5
None found.
More User Reviews:
3.74
/5
rDev
+15.4%
look: 3 | smell: 4 | taste: 3.5 | feel: 4 | overall: 4
Picked this up 3 days ago at Mid-Town in Tulsa
Pours apricot with a finger of tan head. Sediment stirs up a little bit, average head retention & lacing
S: Bready & biscuitty malt & some orchard fruit, plus floral hops. Biscuit's malt & fruittyness sticks around
T: Pears, biscuitty malt, lemony & flowery hops & slight grassy notes as well. Woody hops, biscuitty malt, dryness, some astringency, & more floral hops as this warms. Finishes fruitty & grassy with floral hops, plus a kiss of grapefruit
MF: Medium bodied, adequate carbonation, good balance
Drinks easy, not a earth shaking but pleasing enough & way hoppier/better I expected, given some of Krebs non-Belgian iteration's & great bang for the buck
715 characters


3.45
/5
rDev
+6.5%
look: 3.5 | smell: 3.5 | taste: 3.5 | feel: 3 | overall: 3.5
I was told that this is quite literally
Basement Batch in 22 oz bottles for Louie's Bar & Grill
A ~ Hazy orange. Looks like Basement Batch.
S ~ Cut-Wheat, Orange Marmalade, mineral water, vitamin-B
T ~ Bermuda Grass, hefty dried Mango, and a funky fermented Orange flavor all muddled together. There's a bit of lemonpeel and toast as well. Not a lot of fresh flavors. Lotta herbs.
M ~ Kinda spicy, dry, and herby.
D ~ Literally Basement Batch in big ol' Bottles. Good pizza beer, but I wouldn't actually go to Louie's to get this. Good value.
549 characters

3.05
/5
rDev
-5.9%
look: 3.5 | smell: 3.5 | taste: 2.5 | feel: 3 | overall: 3.5
A bubbly one-finger, off-white head sits restlessly atop an apricot brew. After a slow fade some miniscule fingers of lace stick around. Aroma is a bit hoppier than expected. Some citrus and caramel malts rise to the nose. Initially a little grainy on the tongue, followed by some almost unnoticeable apricot fruitiness. Very little hop character on the palate. Dry and drinkable but overall a bit uninteresting.
412 characters
3.08
/5
rDev
-4.9%
look: 3.5 | smell: 3 | taste: 3 | feel: 3.5 | overall: 3
22 oz bomber poured into a Sam Adams glass. Pours a medium amber with reasonable head and lacing. Aroma is a dull sweet malt with very subdued hops and a little vanilla. Taste big on malts, hop focus is more on bittering than flavoring. Strong carbonation with a wet sour finish. Nothing special about this beer, not bad but not great either.
342 characters

3.8
/5
rDev
+17.3%
look: 4 | smell: 4 | taste: 3.5 | feel: 4 | overall: 4
This one showed up a little unexpectedly at a local beer shop, so I'll garner what information I can from the label. Hmm, a beer brewed by Choc commissioned by Louie's Grill and Bar, at least that's what it appears to be. I'm hoping the beer proves better than any of the food I've had from Louie's (quickly thrown together bar food). The label indicates imported malts and citric American hops so I'll go with an American Pale Ale as opposed to an English one. I'm not sure whether this is something that will be showing up on the shelves consistently or if this is a one-timer. ABV, unknown. Anyway, on to the beer.
Pours into a pint glass a nice looking gold with an inch of frothy white head that recedes to a fine layer and lays down bits of lace. The clarity is nearly perfect which gave me the initial impression that this was filtered, but after looking down into what was left in the bomber after the first pour I notice a pretty thick lee. Impressive bottle conditioning.
The aroma is initially marked by a dry, biscuit malt character. I'm wondering where the American hops are. As it warms, hops become more noticeable giving off a perfume of fruit and spice, more English than American in my opinion.
The hop flavor develops more on the palate. Mildly fruity, with a solid earthiness and spice and a nice bitter bite that let's me know that this is truly a Pale Ale and not something in the Blonde/Golden Ale category. While the aroma was balanced more toward the malt, the hops have the edge in the taste. However, the malt is definitely there, lending a nice warm biscuit character with some soft caramel. Once the yeast makes it into glass it adds another level of doughy complexity to the last half of the beer. Finishes semi-dry with a refreshing, lingering bitterness. Carbonation is mild, which combined with the bottle conditioning makes this a pretty nice beer to quaff out of an Imperial pint glass.
I never know what to expect from beers that have been made for a specific restaurant or retail outlet. In my experience they are usually bland and rarely worth drinking, but Louie's Ultimate Pale Ale isn't half bad. It may not fit the bill of a modern American Pale Ale, but I'm running through this 22oz bottle pretty quickly. Best of all, it's $2.60 for a bomber. I think I'll pick up one or two more for the weekend.
I tried this one again about three weeks later and the aroma really jumped out at me much more. Some citric American hops are definitely singing out. This beer really surprised me once again.
2,538 characters
Louie's Ultimate Pale Ale from Choc Beer Co. / Pete's Place
3.24
out of
5
based on
6
ratings.