Belgian-Style Trippel
| Choc Beer Co. / Pete's Place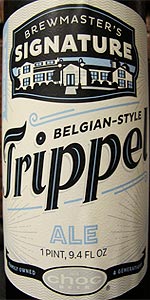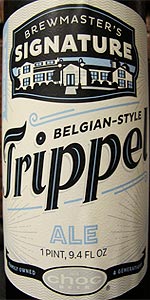 BEER INFO
Brewed by:
Choc Beer Co. / Pete's Place
Oklahoma
,
United States
chocbeer.com
Style:
Tripel
Alcohol by volume (ABV):
8.00%
Availability:
Rotating
Notes / Commercial Description:
No notes at this time.
Added by StaveHooks on 07-17-2012
HISTOGRAM
Ratings: 10 | Reviews: 8
4.09
/5
rDev
+12.1%
look: 3.5 | smell: 4.5 | taste: 4 | feel: 4 | overall: 4
750ml served in a Tripel Karmeliet tulip.
Brewed in 2012
A - Pours a turbid murky brown with 3 fingers of white head. Darker than the typical Tripel. Very good retention with plenty of sticky lacing.
S - Fruity yeast esters fill the glass, candied pears, apples, melon, hints of peppery citrus, nutmeg, caramelized taffy, coriander, wheat malt, grassy and floral hops, sugar alcohols.
T - Sweet candied pears upfront, burnt taffy, sweet Belgian candi, it has pretty good spice kick, toasted rye bread, earthy but sharp bite, alcohol is very present but works as usual with the style. Caramel starts seeping through as it warms. The finish begins with a slow building dryness leading into grassy floral hops, alcohol, and spice.
M - Moderate creamy carbonation, heavy side of medium, spicy and warming alcohol.
Darker than most Tripels but a beautiful white head was adamant about leaving it's marks around the sides of the glass. Aroma was spot on Tripel. Taste was sweet, spicy, warming, and dry, with an admirable alcohol heat. Good layering going on. An impressive American Tripel. One of the best I've had brewed in the states. Not sure why they spelled it Trippel but I'm sure there is a funny inside story behind it. Definitely worth another visit. I like where this brewery is going.
1,296 characters

3.94
/5
rDev
+7.9%
look: 3 | smell: 4 | taste: 4 | feel: 4 | overall: 4
P:  While twisting off the cage the cork shot off and the nectar slowly started to gush out the top.  A bountiful mountain of rocky slightly tan tinted white head dances on top of a dark orange body with amber tint.  Retention is good and leaves behind nice clingy lacing. Highly active effervescence. 
S:  Heavy nose of powdery yeast, apples, apricots, lemon zest, orange oil, prunes, raisins, spicy alcohol notes, pumpernickel bread, clove, wood and timid must. 
T/M:  A three headed beast of strong alcohol, sweet fruits and powdery yeast.  Spicy and musty in a creamy softly carbonated body. Banana bread, clove, soy sauce and subtle licorice notes.  Finish is dry lingering spices, apple peels and Belgian yeast. 
O:  Gotta love what Choc is doing with their new signature series. A trifecta of great flavors that combine in a well blended mash. A definite must try. Cheers! 
896 characters

3.77
/5
rDev
+3.3%
look: 3.75 | smell: 3.5 | taste: 4 | feel: 3.5 | overall: 3.75
A loud pop of the cork and out comes a reddish orange brew with a sightly tan head.
The nose isn't extravagant, but some malt, orange and cotton candy make for a pleasant and welcoming aroma.
Grainy and sweet with taffy, lemon, more orange and white grapes. Phenolic toward the end. Not as flavorful as it could be.
Medium bodied, arid and with little alcohol heat to speak of. Could deal with a bit more body on this one as I'm a guy who like a few curves to keep things interesting.
I will admit Choc has a reputation for inconsistency, and I believe this has hurt their credibility and sales in many ways. However, there's a lot worse out there when it comes to Oklahoma breweries, and the Belgian Style Trippel is a solid beer. Frankly I'm surprised there aren't more reviews. I suppose this just isn't the "happening" thing right now.
845 characters
3.75
/5
rDev
+2.7%
look: 4.5 | smell: 4.5 | taste: 3.5 | feel: 3 | overall: 3.5
This one popped within 10 seconds of the cage being loosened, beware!
Pours a hazed apricot with 3+ fingers of pearl colored hesd.
S: Golden delicious apples, cream of wheat, pears & pineapple
T: Follows the nose up front, some white grape & pineapple up front too. Dryness, a touch of booze, pears & appleskins as this warms. Finishes with pineapple, pears, appleskins, wet cereal & a touch of grapefruit
MF: Medium bodied, slight carbonation, okay balance
Drinks alright, was hoping for more. Worth a try, just open outside with some safety goggles on!
560 characters
3.69
/5
rDev
+1.1%
look: 3.75 | smell: 3.5 | taste: 3.75 | feel: 3.75 | overall: 3.75
My first time with something from this brewery.
Label states it was brewed in 2012. I assume it's 1.5 years old now as this beer was added in 7/12.
Nice fruity esters on this. Mildly sweet. Kind of an accent of hot alcohol on the very end, but it's meshing well with the rest of things. Overall the character bonds together and keeps it seeming somewhat unfiltered. A nice ale.
379 characters

3.47
/5
rDev
-4.9%
look: 3.75 | smell: 3.5 | taste: 3.25 | feel: 4 | overall: 3.5
pored 750ml bottle into Duvel tulip
A - Hazy muddy looking pine wood color. Not really an orange or yellow. Nice foamy off white 3 finger head. Thin cap remains the entire session and some lacing is present.
S - Floral, yeasty, sweet and ripe fruit, graham cracker, rotten apples, spice. Not my favorite smelling Trippel.
T - Starts off with a big yeasty sweetness. Some banana and over ripe fruit, apple, graham cracker, minimal spice. This is a let down as the flavors don't really come together.
M - Right where it should be for a Trippel, big carbonation, and a nice medium body.
O - This was just a random beer in a trade for fun. Hopefully their other beers are a bit better.
689 characters

3.45
/5
rDev
-5.5%
look: 3.5 | smell: 3.5 | taste: 3.5 | feel: 3 | overall: 3.5
Never been a real big Choc fan but I have to be honest, they hit dead on with the signature series. Trippels tend to be too sweet for me, but this has a nice balance. Aroma is sweetness with a fruit back ground. Taste is a complex union of sweet and hop bitterenss blended damn great. cheers!
292 characters

2.84
/5
rDev
-22.2%
look: 2.5 | smell: 3.5 | taste: 2.5 | feel: 3.5 | overall: 2.5
***Warning: after only two twists of the wire cage the cork on this one went flying***
No wonder, the carbonation is excessive even for this style. Pour gently. Oddly, it has a dark amber color that really threw me. Far darker than any other tripel I've ever had. The head is big and dense, no doubt aided by the massive load of carbonation.
Aroma has a distinct pear juice character and not much else. The palate shows off a lot of yeast character - pear, vanilla, melon, and plum - kind of all over the place. A scorched caramel flavor seems to clash with the bold yeast notes.
I'm not one to strictly judge on style, but this one is so far off it's really hard to imagine that the brewers had this in mind when they were visualizing a tripel. Beyond the fact that it really isn't a tripel, it also just isn't very good - kind of weird and off-putting to be honest. There are so many other beers that are worthy of the $9.99 I overpaid for this bottle.
958 characters
Belgian-Style Trippel from Choc Beer Co. / Pete's Place
Beer rating:
3.65
out of
5
with
10
ratings