Wild Brew 2013
| Choc Beer Co. / Pete's Place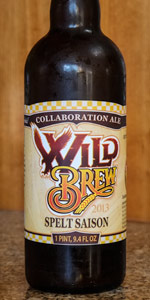 BEER INFO
Brewed by:
Choc Beer Co. / Pete's Place
Oklahoma
,
United States
chocbeer.com
Style:
Saison / Farmhouse Ale
Alcohol by volume (ABV):
8.00%
Availability:
Limited (brewed once)
Notes / Commercial Description:
No notes at this time.
Added by russpowell on 06-02-2013
This beer is retired; no longer brewed.
Reviews: 9 | Ratings: 61

4.24
/5
rDev
+10.4%
look: 4 | smell: 4.25 | taste: 4.25 | feel: 4.25 | overall: 4.25
Thanks Pat.
The beer is hazy and straw yellow with a thick white head. The nose brings floral hops, grain, hay, grass. Dank hops and citrus with some nice floral character. Both the nose and flavor are quite nice. Delicious with an elegant balance of fresh hops and farmhouse funk. My kinda beer.
297 characters
4.18
/5
rDev
+8.9%
look: 4.5 | smell: 4 | taste: 4.25 | feel: 4 | overall: 4.25
750 ml bottle. Served in a tulip, the beer pours a hazy straw gold color with a couple inch frothy off-white head that stayed around for a long time. There's also a good amount of lacing. The brew smells like grainy/bready malt, lemon peel, hay, apples and grassy hops. Taste is similar to the aroma, but with the addition of some peppery spice, pears and earthiness. Mouthfeel/body is medium, it's well carbonated, creamy and easy to drink. I liked this brew a lot, I wouldn't mind picking up another bottle the next time I come across it. $13.99 a bottle.
557 characters

4.17
/5
rDev
+8.6%
look: 4 | smell: 4.5 | taste: 4 | feel: 4 | overall: 4.25
Pour is heavily hazed golden amber with a fluffy bubbly off white head. Nose is fantastic, loads of citrus, assumedly Brett, nice peppery balance and a softer Saison yeast to it. Taste is also darn good. Tons of citrus up front with a fair bit more Saison farmhouse funk to it. Gentle pepper to balance. Moderately dry finish, well carbonated and lighter body. Finish is a hint light, maybe due to strong carbonation, still awesome.
432 characters
4
/5
rDev
+4.2%
look: 4 | smell: 4 | taste: 4 | feel: 4 | overall: 4
Thanks to Thomas and Jenny for this one!
Spelt Saison edition
Hazy light orange, copious foam, lasting surface coverage, random spotty lacing.
Aroma is funky Brett in spades, floral, turned earth, wet hay, sweaty cheese rind. Tastes much the same, bone dry and Bretty. Funky and tangy, medium bodied, lightly phenolic in the aftertaste. Overall it's pretty good, reminds me of Saison-Brett somewhat.
401 characters

3.87
/5
rDev
+0.8%
look: 3.75 | smell: 3.5 | taste: 4 | feel: 4 | overall: 4
Hazy gold with a healthy collar of creamy white foam. The spelt gives a rustic cereal character that is the backbone for the beer - almost a tanginess reminiscent of sourdough. Spicy hop flavor pokes through the graininess. Faint fruitiness adds interest and lightens up the rough grainy flavors. Apple, pear, and apricot stand out. All around a nice beer and a great way to get a feel for spelt. Pretty well done.
414 characters

3.85
/5
rDev
+0.3%
look: 4 | smell: 4 | taste: 3.75 | feel: 4 | overall: 3.75
Tangerine and lemon in aroma, with some wheat and funky phenolic plastic. Orange surfaces late. Smells like five alive with bandaids.
Flavor reveals mango and papaya, with muted tangerine and plastic. Somewhat subtle from age,
227 characters
3.81
/5
rDev
-0.8%
look: 2.5 | smell: 4 | taste: 4 | feel: 3.5 | overall: 3.75
Spelt Saison colloboration between Prairie Artisan Ales & Choc
Opens with subtle pop, pours a slightly hazed amber with 2 fingers of pearl colored head. Some lacing & head retention, stays hazy
S: Yeasty, porridge & white pepper, peaches late to the party
T: Porridge, mangoes, white pepper & some lemon zest up front & grapefruit, plus pears. Green apple peels as this warms, some more porridge, a touch of golden delicious apples, more dryness & grapefruit & even some peach. Finishes with some over-ripe pear, grapefruit, a bit of peppery hops, plus a touch of passion fruit
MF Medium body with slight carbonation. Carbonation picks up as this warms
I'm not a huge fan of Spelt in beers usually. This really works for me, this beer doesn't have crazy funkyness, but is just put together well & super drinkable
828 characters
3.74
/5
rDev
-2.6%
look: 4 | smell: 3.75 | taste: 3.75 | feel: 3.5 | overall: 3.75
Resurrecting the medieval grain from the grave, spelt becomes the focus for Choc and Prairie's latest collaboration brew. With its soft bready sweetness and starchiness and the slight husken taste that's somewhat rye-like, the grain gives this Belgian-style Saison a descernible bready lift.
Easily mistaken for German Hefeweizen, its glowing straw-gold color is significantly cloudy to impede anything beyond a mid-level luminescence. Building a creamy and long-lasting froth, the beer's head character tops the ale like meringue. As the session ensues, the ale laces the glass with well-defined rings laid upon the glass.
The common fruit and spice medley of Saisons play out beautifully on the nose and does so with medium intensity with alternating apples, coriander, lemons, white pepper, pear and clove- all this on a bed of fresh baking bread and dough. Its light confectionery sweetness gives a plumpness to the yeast esters and offers balance to the spicy wine-like notes. Light cork-like must and damp hay come to life as the beer warms to continue its complex set of aromas.
Its taste plays out similarly as its bready sweetness lays on the tongue with more flavor impact than is usual for the style. Its procession across the middle palate offers the fruit-forward taste of citrus, tropical and orchard varieties. Along with lemons and apples, soft banana, pineapple, papaya and orange notes give a zesty acidity to balance the malt sweetness. So do the spice notes that emerge in the beer's finish. Coupled with grassy hops, its brightness of freshly grated white pepper, coriander, clove and earthy cumin round out in a slight champagne finish.
Medium bodied, this beer's uniqueness lies in its heavier-than-usual malty weight due to bread and grain structures. This added sweetness and bulk layers on the palate and is creamied up by its assured carbonation. But as the ale finishes, it does so with slight alcohol warmth and a slow but consistent fade toward semi-dryness and playful acidity.
Where spelt may have been a common staple in farmhouse brewing during medieval Belgium brewing, its "boutique" limited nature relegates it to a specialty grain for brewers. It would be neat to see spelt used in conjunction with rye and used in turbid mashes for a fuller and more complex effect.
2,309 characters
3.08
/5
rDev
-19.8%
look: 4 | smell: 3.5 | taste: 3 | feel: 3 | overall: 2.5
750 mL bottle poured into a snifter.
Appearance - The cork shoots off dramatically. Pours with huge white head. Pocked with islands of foam.
Smell - A tinge of bright lemony acidity. Grainy. Pale malt doughiness.
Taste - Really grainy. Sweet doughy malts again. A little bit earthy in the back. Bitter.
Mouthfeel - Medium bodied. Medium carbonation. Too sweet and bitter at the same time.
Overall - I don't dig the extreme graininess.
439 characters
Wild Brew 2013 from Choc Beer Co. / Pete's Place
3.84
out of
5
based on
61
ratings.