Fässla Bambergator
| Brauerei Fässla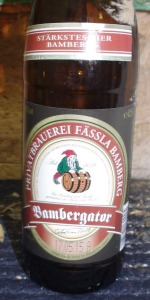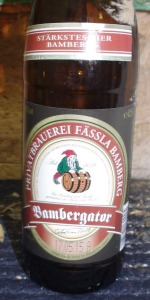 BEER INFO
Brewed by:
Brauerei Fässla
Germany
faessla.de
Style:
Doppelbock
Alcohol by volume (ABV):
8.50%
Availability:
Fall
Notes / Commercial Description:
No notes at this time.
Added by UncleJimbo on 02-08-2004
HISTOGRAM
Ratings: 17 | Reviews: 12
3.97
/5
rDev
+4.7%
look: 3.5 | smell: 4 | taste: 4 | feel: 4 | overall: 4
A solid and unique doppelbock that I'm glad to have picked up.
Not too sweet or slick, despite the 8.5%ab listed on the bottle.
Strong zesty herbal hoppiness with a solid bitterness, notes of caramel, grains, and a hint of alcohol. Doesn't have the typical dopebock notes of ripe fruits and cloying sweetness; which makes it unique and a nice change of pace.
The finish is long with a distinct rye note that seems to last forever. Overall; solid and simple, with distinct character. Definitely worth picking up.
514 characters
3.2
/5
rDev
-15.6%
look: 3 | smell: 3 | taste: 3 | feel: 3 | overall: 4
Brown half litre bottle, best before 2nd Jun 09. Poured into half litre 'Berliner Kindl' glass and drank in Jan 09. My bottle claimed 8.5% ABV by the way.
This review was done while eating brown bread and a Smoked German Salami salad.
Because of this breweries history (I have visited twice) I assumed this would be a real smokey special with loads of hidden strenght. That was not the case, there was more smokiness in my salami then in the beer!
The beer poured a clear dark amber with very little head, even after a vigorous pour.
No aroma worth mentioning when the beer is first poured and cold. As it warms a Peaty (like some Whiskies) aroma does appear, a warming open fire sort of thing. It is however, too little, too late.
The alcohol is evident in the mouthfeel and taste. A little smokiness arrives in the aftertaste and a slight warming of the throat followed each mouthful (it isn't a sipping beer).
I feel this is a half and half compromise between a Rauch and Doppelbock, with the Doppelbock coming out on top, but only just.
Having said that, I enjoyed the beer, I just wish I could have scored it higher in some of the other review areas.
1,163 characters
3.77
/5
rDev
-0.5%
look: 4 | smell: 4.5 | taste: 3.5 | feel: 3.5 | overall: 3.5
A clear, dark brown red beer with a thin head.
Smell is malty with dark notes of dates and raisins. No real dark malt notes, only some candisugar.
Taste is very malty with sweet munich malt notes. There is also the dates and raisins, garnished with a syrupy sweet candisugar maltiness. This beer is all about malt and hops are on the sideline to support. There is a rather strange smoky taste to this beer that is also a bit like burned rubber. This is luckily a rather subdued taste, but is starting to get to me at the end of the bottle.
541 characters
4
/5
rDev
+5.5%
look: 3.5 | smell: 3.5 | taste: 4 | feel: 4.5 | overall: 4.5
0.5l brown bottle. Pours a rich amber colored beer, cascading for a moment, then settling to a 1-finger think white foam crown.
Gentle aroma of grain, with mineral notes, dried hay, and light spicy esters.
Firm and even malty body with toasted malts, a smooth sugary sweetness, and a touch of bread crusts. Some fruity grape esters. Alcohol is quite pronounced and aggressive, a bit boozy too, like cheap vodka, and its spiciness melds well with herbal and spicy noble hops characters. Hops seem a bit resiny, sticky, and linger about for a while. Hints of floral mixed in with the sweetness. Grain tannins in the semi-drying finish.
A very different Doppelbock for these tastebuds. Lots of hop character and alcohol presence. Todd likes.
Thanks, Jimbo.
765 characters
4.14
/5
rDev
+9.2%
look: 3.5 | smell: 4.5 | taste: 4 | feel: 4.5 | overall: 4
A big thanks to UncleJimbo for the sample.
Presentation: .5 L brown bottle with a freshness date stamped on the front label.
Appearance: Creamy tiny bubbled lace with a semi-clear copper hue.
Smell: Mildly earthy with a perfume-like grassy grain and light yeast aroma.
Taste & Mouth Feel: Smooth and slick with a medium body, toasted biscuits and nutty yeast come to mind. Slight resiny hop with an aftershock of alcoholic esters … mild at that. Fresh malt flavor throughout.
Drinkability & Notes: An odd blend of hops and malt IMO, balanced but eclectic in complexity. Great stuff, very fresh and flavorful.
625 characters
4.05
/5
rDev
+6.9%
look: 4 | smell: 4 | taste: 4 | feel: 4.5 | overall: 4
Fässla is a great little brewery/brewpub in Bamberg....they have some tasty offerings, like their dark Zwergla... I have never been in Bamberg at the right time, though, to happen upon the introduction of any of the Bock Biers offered by the Bamberg breweries (known as BockBier Anstich, around the first week of Oktober). So I am very thankful to UncleJimbo for bringing me a bottle of this dark gold.
This bock pours a medium copper color...well actually more of a crystal clear, medium bronze...lighter than copper... It is a lighter hue than many D-Bocks that I've seen/sampled. Head is a creamy tan shade, with a very fine bead... top layer sticks well, too. Nose is a decent caramel/sweet malty aroma. Is there is a hint of smokiness there? Hmmm... Bamberg is reknowned for their smoked malt biers.... I wonder... Bambergs strongest (stärkste) Bier, at 8% abv, has a medium-plus body, and a real nice smoothness on the tongue. Alewife wandered by around this point and stole a sip, and almost stole my glass of Bier!! She is a well-known D-Bock lover, so this Bier must have something going for it! It has a lovely maltiness upfront, with caramel sweetness taking a leading role. Mmmm... As the bier goes across the palate, it turns dry, with another hint of smokiness, though very subtle, imho. Nice stuff!! The alcohol is hidden quite well. Very tasty, and thnx again to UncleJimbo!! Zum Wohl!!!
overall: 4.05
appearance: 4 | smell: 4 | taste: 4 | mouthfeel: 4.5 | drinkability: 4
692
1,497 characters

3.87
/5
rDev
+2.1%
look: 3.5 | smell: 4 | taste: 4 | feel: 4 | overall: 3.5
0.5 Liter, brown, re-usable bottle, capped. BBE date stamped on the label (04.05.04). Purchased at the brewery in Bamberg, Germany.
This beer poured a clear, amber color with creamy, bubbly, light tan foam that clung to the glass a bit. The smell was a characteristic sweet bock aroma with notes of grain, biscuit, floral hops, and a hint of vegetable. The taste was a tangy malty flavor up front but finishes sweeter. There was a good shot of hop bitterness that lingers in the mouth. The alcohol was detectable. The mouthfeel was smooth and malty with medium body and good, sharp carbonation. This bock was somewhat warming. The lingering flavor was malty and very hoppy. This was a pretty good doppelbock and fairly drinkable for an 8.0% abv bier.
753 characters
Fässla Bambergator from Brauerei Fässla
Beer rating:
3.79
out of
5
with
17
ratings