Leikeim Landbier
| Brauerei Leikeim
BA SCORE
81
good
13
Reviews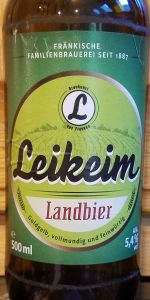 BEER INFO
Brewed by:
Brauerei Leikeim
Germany
leikeim.de
Style:
Dortmunder / Export Lager
Alcohol by volume (ABV):
5.40%
Availability:
Year-round
Notes / Commercial Description:
No notes at this time.
Added by allboutbierge on 11-14-2003
Reviews: 13 | Ratings: 21
2.94
/5
rDev
-14.8%
look: 4 | smell: 2.5 | taste: 3 | feel: 3 | overall: 3
This is a good example of what an export beer should look like. A nice crystal clear golden body, with ample amounts of bright white head. Lots of carbonation to eye as well.
The aroma is very faint, though. I can barely detect anything. Perhaps a little metallic fragrance.
The taste is pretty decent and typical. There is a good malty overtone, but well balanced with the hops. This I'd have to say, is a metallic taste.
Overall this is a good session beer, but nothing to rave about.
490 characters
3.02
/5
rDev
-12.5%
look: 5 | smell: 3 | taste: 2.75 | feel: 3.5 | overall: 2.75
L:
-pours a clear golden with a big,foamy,white head
-medium to high carbonation visible
S:
-grainy,tea,apple,bready,doughy,honey,earthy
T:
-very spicy noble hop presence,grassy,grainy,tangerines,doughy,wet paper
-medium to high bitterniss for the style
F:
-medium carbonation
-light to medium body
O:
There's better Export Beers
329 characters
3.15
/5
rDev
-8.7%
look: 3.5 | smell: 3.5 | taste: 3 | feel: 3 | overall: 3
500ml Bügelflasche. Mindestens haltbar bis: 16.11.11.
It pours a clear gold with a foamy white head. It dissipates with some pretty nice lacing.
The smell is doughy and malty but also fruity and hoppy, it is a nice balance and a nice fresh scent.
The flavor isn't as good. It is slightly tart with some pretty mediocre malt flavors. The hops don't work either.
368 characters
3.24
/5
rDev
-6.1%
look: 4 | smell: 2.5 | taste: 3.5 | feel: 3 | overall: 3.5
Appearance
Clear and straw yellow, much like a pils, with a tall and frothy white head that hangs around for a while
Smell
Minerals and a little yeast...nothing too appealing
Taste & Mouthfeel
Pretty similar to a pils, but has a bit more hops and less astringent yeast; good bitterness throughout; light and crisp
Overall
Pretty tasty and easy to drink for a lighter beer
374 characters
3.47
/5
rDev
+0.6%
look: 4 | smell: 3.25 | taste: 3.5 | feel: 3.5 | overall: 3.5
BBD: 16.05.13
Straw gold color, persistent coverage on the surface, intricate lacing all around the glass. Long lasting retention, bright clarity, and occasional visible carbonation.
Aroma is sweet and bready, a little skunky at first but it blows off quickly. Grassy noble hops and simple bready grains.
Flavor is much the same, bready malts are center stage, some light floral hops lend minimal bitterness. Light sweetness and pretty smooth, some cereal grains and florals in the dry aftertaste. Overall it's ok, not as rustic as expected for a Landbier, but certainly something there in the simplicity and nuance that's worthwhile.
638 characters
3.52
/5
rDev
+2%
look: 3.75 | smell: 3.5 | taste: 3.5 | feel: 3.5 | overall: 3.5
A: The beer is clear yellow in color and has a moderate amount of carbonation. It poured with a finger and a half high dense white head that died down but never completely faded away and left lots of lacy rings of bubbles down the sides of the glass.
S: Light to moderate aromas of bready malts, grassy hops and apples are present in the nose.
T: The taste has flavors of bready malts along with bits of grain and notes of fruits—apples stand out in particular. A slight amount of bitterness is present.
M: It feels light- to medium-bodied and a little clean on the palate with a moderate amount of carbonation. Only hints of dryness are perceptible in the finish.
O: This beer is easy to drink but lacks the dryness compared to other beers in the style. The fruitiness is also unusual for a lager.
800 characters

3.53
/5
rDev
+2.3%
look: 4 | smell: 3.5 | taste: 3.5 | feel: 3.5 | overall: 3.5
Never seen this in the US before. They didn't even bother to translate the text on the bottle. Interesting.
Rich pale gold. Tons of foam that doesn't dissipate.
Lager yeast and an even mix of sweet pale malt and hops on the nose. A weird sour note, too.
Sweet on the front end, husky in the middle, and slightly bitter noble hops on the back end. A hair of astringency, too.
Pretty good, not really special though. Maybe a case of a bottled version being a lesser example, too. It's dated within 6 months of bottling, so it isn't too old, though.
Worth a try but the bottled version isn't really worth hunting for.
614 characters
3.55
/5
rDev
+2.9%
look: 3.5 | smell: 3.5 | taste: 3.5 | feel: 4 | overall: 3.5
From: Beertopia, Omaha, NE
Date: "Best before 03/10/13"
Glass: Standard US pint glass
Leikeim has a solid, if not slightly light-tasting, Dortmunder lager with their Landbier, as it focuses on grainy and biscuit-like malt usage with grassy and bittering European hops. The aromas and flavors are quite nice, though perhaps a bit too subdued and subtle to make this really "wow" the drinker. Fresh on tap or in bottle, this is probably fantastic. In summary, this was an above average Dortmunder lager, but the $3.69 per bottle tag makes it less attractive for repeated purchase.
Aroma is a bit biscuit-like, with some barley grain and mild vinous esters as well. Hops are noticeable, though mild, a bit like freshly torn or cut wild grasses.
Front of palate is grainy and biscuit-like, transitioning to a smoother malt sweetness with white grape-like fruit esters and a noticeable touch of European hops for bittering and cut, sweet grass flavor. Back of palate finds the European hop bitterness overwhelming the mild grain and biscuit flavors (though they're still present), leading to an aftertaste that is smooth, sweet and grain-like (similar to grape nuts cereal) with lingering bitterness from the hop usage.
Beer is medium to medium-light in body, with carbonation levels of medium intensity. The result is a slightly fizzy mouthfeel at first, which quickly settles to become foamy and smooth. Closes fairly dry (though not totally), with significant stickiness across the palate.
1,491 characters
3.63
/5
rDev
+5.2%
look: 4 | smell: 3.5 | taste: 3.5 | feel: 3.5 | overall: 4
Picked up a .5L swingtop at Euro Market. Certainly has that Dortmunder character with creamy, clean barley malt. This one's a little more crisp and dry bready grains. The beer is balanced through the finish and a tough light in body for the style, but you can just call it a more drinkable take on the export lager. It's winter now, but I imagine this would make a fine lawnmower beer.
385 characters
3.8
/5
rDev
+10.1%
look: 3.5 | smell: 3.5 | taste: 4 | feel: 3.5 | overall: 4
Pours golden with 1/2 finger head, downsliding patchy lacing. Aroma is sweetish bready malt, some herbal hops.
Taste is sweetish malt with pleasant herbal bitterness towards the finish, in the aftertaste spice can be felt. Mouthfeel is medium, average carbonation.
Very nice one, quite drinkable with pleasant dominating bitterness.
335 characters
3.83
/5
rDev
+11%
look: 4 | smell: 3.5 | taste: 4 | feel: 3.5 | overall: 4
Well the bottle says 'Landbier' but the closest I could describe it to under options was a Dortmunder. I think its right but Im not exactly positive.
The head pour by the bottle is incredibly dense and large. It leaves an impressive lace that really gets the taste buds flaired up. The color is a light transparent gold and the drinker can see the massive quantities of small bubbles dancing around. Shes a looker alright. Taste is intriguing at first but then just damn good. All flavors are light but a tangy bitterness really stands out. Creamy qualtities are noticeable in flavor and mouthfeel.
601 characters
3.99
/5
rDev
+15.7%
look: 3 | smell: 4 | taste: 4 | feel: 4.5 | overall: 4
This was a beer I acquired when I was unofficially dubbed a tester of a six pack shop. I am so-so on German beers over all. I did enjoy the lightness of the beer all around. It was a refreshing change. It was rather malty and smooth. It somewhat resembled the taste of Straub. It finished a bit on the earthy side, yet not overwhelmingly so.
341 characters
4.08
/5
rDev
+18.3%
look: 4.5 | smell: 4 | taste: 4 | feel: 3.5 | overall: 4.5
I found this in my favorite Moscow beer kiosk (which I'd put in Beerfly except that they have no actual address - it's just a box on a street). Brown half liter bottle with a stubby neck, a swing top, and a gold and green label featuring a coat of arms above the name. Purity law applies, of course. Best before 4/6/06, I opened it on 3/11/06.
Pours a clear, quite deep gold under a firm 1.5 finger off-white head that fades to film and collar pretty quickly but leaves excellent lacing on the glass. The nose is full of floral hops - almost like sniffing a bouquet of flowers. The mouth is quite light and fairly prickly. Nice flavors here, although the malt is a bit subdued. The hops are strong, but far more flowery than bitter. The taste is not exactly sweet, but closer to spicey, with just a touch of espresso dryness, which redoubles its presence after the swallow. A very pleasant experience - I could be happy drinking this for quite a while.
955 characters
Leikeim Landbier from Brauerei Leikeim
3.45
out of
5
based on
21
ratings.