Leikeim Wintertraum
| Brauerei Leikeim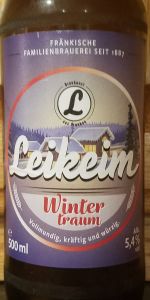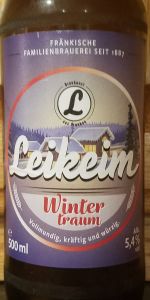 BEER INFO
Brewed by:
Brauerei Leikeim
Germany
leikeim.de
Style:
Dortmunder / Export Lager
Alcohol by volume (ABV):
5.40%
Availability:
Winter
Notes / Commercial Description:
No notes at this time.
Added by tempest on 01-08-2012
HISTOGRAM
Ratings: 10 | Reviews: 6
None found.
More User Reviews:

2.22
/5
rDev
-27.2%
look: 3 | smell: 1 | taste: 2.5 | feel: 3 | overall: 2.5
I'll be honest...I bought this beer just for the swing top bottle. I am a home brewer and get swing top bottles when I can. Think the bottle cost me $3.00
When I read the other two reviews for this beer I started wondering if they were drinking the same beer as I am drinking. To be fair I am not a huge fan of European Ales.
Here we go...
16 oz sniffter
A: Very light...golden,,,white head that stays awhile with a nice carbonation.
S:very very light nose...just smelled like beer. I tried to pick out a familiar smell but not much going on with the smell..just very light malt smell.
T: Not that its a bad beer but its just a really plain beer. I could drink alot of them actually which I suppose is a compliment. I guess it is a very basic crisp light beer.
M: Very light
Overall: Half way through the beer now. This beer will not wow you. To me it is a basic European Ale. Doesn't have that skunky taste which is good to me. Just a solid light beer.
957 characters
3.88
/5
rDev
+27.2%
look: 4 | smell: 3.5 | taste: 4 | feel: 4 | overall: 4
Picked up a swing-top bottle for $3.50. The label says it's a Dortmunder, and it's a decent representation of the style. The aroma has a fruity, bready malt character and the flavor follows up on it, but adds a spicy floral hops finish. The beer is otherwise clean, crisp and drinkable. This is a fine German lager.
315 characters

3.6
/5
rDev
+18%
look: 3.75 | smell: 3 | taste: 3.75 | feel: 4 | overall: 3.75
A: The beer is crystal clear yellow in color and has a moderate amount of visible carbonation. It poured with a finger high white head that gradually died down, leaving a short head covering the surface and lots of lacing down the sides of the glass.
S: Light aromas of grassy hops are present in the nose along with notes of bready malts.
T: The taste is similar to the smell except that the flavors of bready malts are slightly more noticeable. There is a light amount of bitterness, but this is quite prominent given the light-bodied nature of this beer; the bitterness lingers through the finish.
M: It feels light- to medium-bodied, clean and somewhat dry on the palate with a moderate amount of carbonation.
O: This beer is easy to drink and is a solid representation of the style. It seems a little like a Munich Helles Lager except that it is a lot drier and lighter in body.
883 characters


3.83
/5
rDev
+25.6%
look: 4.5 | smell: 4 | taste: 3.5 | feel: 4 | overall: 4
The winter seasonal from Leikeim. Another export, which is fine with me.
Rich, gold, tons of foam and lacing.
The nose is pretty hoppy for a Bavarian lager. Noble hops and white bread.
Slightly sweet on the front of the palate, noble hops on the back. A nice pale malt character lingers slightly.
Tastes pretty fresh and goes down easy.
Good stuff and one worth trying for sure. Bavarian beers tend to be in bad shape when they get over here, but this one held up.
While their Landbier is essentially an export helles, this one has more of a balance between the malt and hops and it seems to have more body, too.
614 characters

1.35
/5
rDev
-55.7%
look: 3 | smell: 1 | taste: 1.25 | feel: 1.25 | overall: 1.5
Very disapppointimg. Looks like lager, tastes like lager, just a bit more body. Very rough bitterness with no fruity hops at all. Smells like the pub next morning. Reminds me on the Dortmunder Export beers my father used to drink. Why is it called Wintertraum (Winter Dream)? Should be called Allday Nightmare.
310 characters
3.1
/5
rDev
+1.6%
look: 3 | smell: 3 | taste: 3 | feel: 4 | overall: 3
From: Beertopia, Omaha, NE
Date: Best before 3/10/2013
Glass: Standard US pint glass
Leikeim's Wintertraum is a fairly average lager, not unappealing, but not memorable, and $4 seems inappropriate in price. There's also little indication of why this would be a "winter dream" lager, as nothing seems to separate this from a typical Dortmunder, and this is actually lighter in flavor and color than Leikeim's normal Dortmunder.
Pours a 1.5cm head, clean white in color, composed of small to medium-sized bubbles. Head's retention is average, falling to a thin ring around the glass and leaving modest lacing. The body is a pale yellow-gold, transparent, with light bringing out pale yellow hues. Carbonation is visible, though not particularly pronounced.
Aroma yields impressions of fresh peanuts, light yeast, and faint, lemon zest-like hops. Not bold or complex, particularly for a winter beer, comes across as fairly standard.
The flavor of the beer is better and more expressive than a typical macro lager, but not by much. Mid-palate of grain, faint bread and yeast, mild European hop spiciness and lemon-like flavor. Back of palate picks up grain, yeast, and mild European hop bitterness. Aftertaste is of grain, bread and yeast with mild, herb-like, European hop components.
Beer is medium-light to medium in body with carbonation of medium intensity. This creates a fizzy, then slightly foamy mouthfeel that is smooth, really not unpleasant or overpowering. Finish is semi-dry, with no residual stickiness across the palate.
1,537 characters
Leikeim Wintertraum from Brauerei Leikeim
Beer rating:
3.05
out of
5
with
10
ratings