Salt Spring Golden Ale
| Salt Spring Island Ales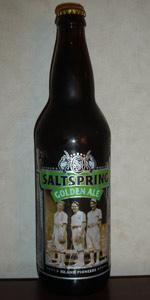 BEER INFO
Brewed by:
Salt Spring Island Ales
British Columbia
,
Canada
saltspringislandales.com
Style:
American Blonde Ale
Alcohol by volume (ABV):
5.00%
Availability:
Year-round
Notes / Commercial Description:
Made with the very finest Canadian two row barley and hops from Salt Spring Island and the Pacific Northwest, this ale boasts a nutty flavour, citrus notes and beautiful golden colour. This brew was awarded a gold medal (best cream ale) at the 2004 Canadian Brewing Awards.
Added by BeerAdvocate on 09-03-2003
Reviews: 7 | Ratings: 16
3.88
/5
rDev
-2%
look: 3.75 | smell: 3.75 | taste: 4 | feel: 4 | overall: 3.75
Appearance - Pours a clear gold with two fingers of bubbly white head.
Smell - toasted biscuity malts, hint of spicy hops, hint of lemon.
Taste - Starts off with the toasted biscuity malts. It then goes into the spicy hops followed by a tartness from the lemon.
Mouthfeel - Medium bodied with moderate. Finishes crisp and dry with a lingering tartness.
Overall - An enjoyable and sessionable ale. I like the tartness in the finish. This is a crisp and refreshing brew.
472 characters
4.18
/5
rDev
+5.6%
look: 4.5 | smell: 4 | taste: 4 | feel: 3.5 | overall: 5
Well, after being very disappointed by their porter, I'm hoping for much greater things with this beer.
This "Golden Ale" does, indeed, pour a bright gold colour with a healthy, frothy white head that lingers for a short while but leaves lots of pretty lacing on my glass.
The nose on this one displays some very nice bready, grainy notes matched by a subtle but evident spicy, citrusy hop notes and a good amount of honey and caramel as well. Quite intriguing.
On the palate, this brew displays lots of grass and a good amount of bread up front without a whole lot of sweet caramel malts coming through giving this brew a nice and dry flavour overall. There is a good amount of minerality to this beer with the hops coming through mid-sip and on to the finish for a very crisp, dry finish. It's a refreshing flavour profile and is quite enjoyable.
This beer's mouthfeel is light, very crisp and finishes clean and bone dry. Simple, effective and refreshing.
Drinkability is another one of this brew's strong suits. I could happily drink this stuff all night. It;s light, easy-drinking and easy on the alcohol. This could become a great go-to session ale this summer.
1,172 characters

4.1
/5
rDev
+3.5%
look: 4 | smell: 4 | taste: 4 | feel: 4 | overall: 4.5
After a series of disappointments tasting local beers in British Columbia I was very pleased to find Gulf Island Brewery's Salt Spring Golden Ale. Let me say it at the start of this review: it's a great beer. What I like particularly about it is that it is not only a good American Blonde. It has a distinct personality too. My respects to the brewmaster. It poured in a golden yellow colour with a kind of reddish shimmer to it. The scent was complex with notes of yeast, lemon, honey and grassy hops. The initial taste had a light sweetness. Then the strong bread notes rushed. There was a bitter bite at the end. Just like I want it! Since it has not been pasteurized the hops taste so much fresher. A well-balanced and very drinkable beer.
743 characters

3.65
/5
rDev
-7.8%
look: 4 | smell: 4 | taste: 3.5 | feel: 3.5 | overall: 3.5
A: Clear golden-straw; a touch of fluffy white head, very little retention, some lace.
S: Plenty of hop aroma (floral, lemon zest, a touch of earthy spicyness & hints of soapyness); grainy (slight astrigency).
T: Some tart, grainyness that's a little astringent (I'm not sure if it's supposed to be there, perhaps it's not in prime condition?). Plenty of hop flavour (mostly lemon citrus with a little rind/zest & floral flavours in the background). Moderate bitterness provides a crisp finish.
M: Moderate body & carbonation; a little acidic.
D: Easily approachable for a macro drinker, but I can't get over the slightly tart grainyness.
650 characters
4.18
/5
rDev
+5.6%
look: 4.5 | smell: 4 | taste: 4 | feel: 4.5 | overall: 4.5
I like the new label better than the old labels, which were somewhat cartoonish. Aptly named, this is a nice golden colour with a decent, two finger head. Sweet malty smell, with faint buttery, nutty aromas and a bit of hops.
This tastes very pleasant. A good balance of malts and hops, with the malts a little more dominant. A bit of a sour, citrusy note to it.
Like Old Yale's Chilliwack Blonde, this is a nice, smooth drinking beer than borders on being a session beer.
480 characters
4.42
/5
rDev
+11.6%
look: 4 | smell: 4.5 | taste: 4.5 | feel: 4 | overall: 4.5
Look: 650ml bottle with an almost campy "authentic micro" look. Pours a golden/brass with reasonable head.
Nose: Awesome nose; extremely fresh golden buttery feel, subtle notes of almonds with a noticeable hop presence. Very nice.
Taste: Assertive but delicate golden malt flavour with a perfect balance of hops which add a pleasant amount of bitterness to the palette. The hoppy bitterness transforms into a buttery citrus as it moves towards the aftertaste.
Finish: Great balanced finish, leaving the nice delicate malt and faint citrus of the initial taste with no lingering bitterness.
Comments: Overall this is one of the nicest beers I've had the good fortune of tasting in a while. The freshness and interaction of the flavours gives off a "cask conditioned" feel that I've never had before in a bottled ale. Quite an awesome brew that puts many others in perspective.
(Afterword: Although my second tasting of this beer several months later was quite different (sour with no head retention), I am confident that the second bottle that was the exception and the first was the rule.)
1,114 characters

3.83
/5
rDev
-3.3%
look: 4 | smell: 3.5 | taste: 4 | feel: 3.5 | overall: 4
This is a very nice attempt at what is considered a gateway beer. There is decent hops and good acid in this beer to make this a step above many other blonde ales. The finish is sweetish but I could drink this beer all evening which I suppose is the point of this beer.
269 characters
Salt Spring Golden Ale from Salt Spring Island Ales
3.96
out of
5
based on
16
ratings.