NatureLand Organic Amber Ale
| Pacific Western Brewing Company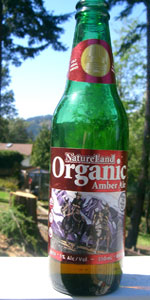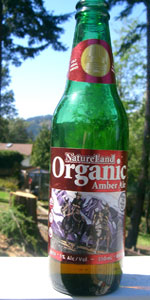 BEER INFO
Brewed by:
Pacific Western Brewing Company
British Columbia
,
Canada
pwbrewing.com
Style:
Altbier
Alcohol by volume (ABV):
5.00%
Availability:
Year-round
Notes / Commercial Description:
Distinct smooth malt beer with full color and a clean finish. This Gold Medal winning NatureLand Amber Ale is a unique beer that is certified organic by the OCIA – Organic Crop Improvement Association. Brewed with 100% organic two row malt, 100% organic Hallertau Hops and pure spring water from the pristine Caribou Spring. All ingredients are certified organic including the water which is sourced through a certified organic process.
Added by canucklehead on 02-03-2006
HISTOGRAM
Ratings: 11 | Reviews: 8
Reviews by GrimmReaper:
2.93
/5
rDev
-3.9%
look: 3.5 | smell: 3 | taste: 3 | feel: 3 | overall: 2.5
A buddy of mine dropped a six pack off at my place of this Organic beer,came in a nice wooden crate.On the pour,it had me going,nice reddish orange color with a decent creamy tan head with lots of bubbles and left nice sticky lacing on the glass.Aroma has a buttery smell with hints of spices and some fruity smell in there too,lite malts in the background.Taste was kinda sharp and bitterness hits you quick,very mild caramelish buttery flavor with the spices blending in but the finish leaves you dry and dead.like something missing,left me smacking my lips and tongue looking for more flavoring,but nothing there.I guess it's worth a try just for the sake of trying an Organic brew,but to buy this....I'll Pass.
714 characters
More User Reviews:
3.18
/5
rDev
+4.3%
look: 3.5 | smell: 3 | taste: 3 | feel: 3.5 | overall: 3.5
I didn't even realize this was made by PW until after I was done...
This beer pours a slightly hazy orange-tinged amber hue, with two fingers of puffy off-white head, which leaves some decent swaths of thin lace around the glass as it recedes. It smells of bready, doughy malt, and floral, weedy hops. The taste is caramel and biscuit malt, a earthy mineral edge, and weedy, somewhat skunky hops. The carbonation is moderate, the body lightweight, and fairly smooth, and it finishes sweet and doughy.
An adequately malty amber ale, but with enough subtle off-flavours to warrant passing on it the next time.
609 characters
2.96
/5
rDev
-3%
look: 3 | smell: 2 | taste: 3.5 | feel: 3 | overall: 3
I ended up getting last pick of the beers my boss brought back from the GCBF last month, and this is what I got. Next time I'll be sure to get right on top of him when he returns from a trip.
Poured from the green 330ml bottle into a pint glass. Body is an orange-amber hue, topped by a thin, creamy white head that doesn't last very long. Aroma of light caramel malt and some mild bittering hops is offset by a lightstruck, sulfuric character imparted by too much time in a blasted green bottle. Palate is actually pretty OK - sweet caramel malt up front, tempered by mildly bitter hops that keep building towards a surprisingly bitter finish. Lightstruck character is much less prevalent in the mouth. Body is a little creamy, but unremarkable. Not a favorite amber ale, although I bet it's pretty decent if you can get it fresh.
832 characters

2.91
/5
rDev
-4.6%
look: 4 | smell: 3 | taste: 2.5 | feel: 3.5 | overall: 3
341ml bottle poured into pint glass may30 2010
A clear light copper with a couple of bubbles slowly floating up to a thumbs width of head that has decent retention and leaves a few patches and partial rings of lace
S some toffee with some mild hops and and a little citrus
T a bit of a sour metallic flavor to go along with plenty of caramel but it has a slightly off taste I just can't place
M a little syrupy feel with good carbonation
D taste holds this one back just a little, not a bad beer but I don't see myself drinking this any time soon
ya don't go looking for this beer but if it's in front of you try it
621 characters
3.33
/5
rDev
+9.2%
look: 3 | smell: 2.5 | taste: 3.5 | feel: 3.5 | overall: 4
This organic amber pours, as advertised, a dark amber colour with a small, off-white head that reduces to a thin film and leaves not much in terms of lacing.
This brew smells faintly of honey and caramel malted grain with a touch of bitter hop aroma.
Taste is bready up front with a decent amount of hops behind it all with notes of caramel, honey and minerals throughout as well. A bit of caramelized sugar on the finish.
Mouthfeel is medium bodied, crisp and has a clean, bitter finish. Not bad at all.
Overall, this is a pretty decent amber ale from an otherwise poor brewer. Nice flavours, simple and clean. A real easy beer to drink. I could have a few of these no problem.
682 characters

3.41
/5
rDev
+11.8%
look: 4 | smell: 3 | taste: 3.5 | feel: 3.5 | overall: 3.5
New beer for PWB to go alongside their repackaged Organic Lager. This pours and tastes like a craft beer with a huge head and nice reddish dark tan colour body. The first taste is malty with an indication that quality ingredients are used . PNW is on the right track with this beer but alas the flavours needed to be pumped up . They got the flavour profile right but turned down the volume too much. Still by far their best beer.
430 characters
2.78
/5
rDev
-8.9%
look: 3.5 | smell: 3 | taste: 2.5 | feel: 2.5 | overall: 3
First, it should be noted that organic does not imply "good."
This looks okay. It presents a good amber colour but the head is too fluffy and too thick and disappears too quickly. The smell is wierd. Malt, with an iron oxide tinge. A bit of hops and a stale bread smell. Not offensive, but it doesn't excite me.
The flavour is even worse. There is a sourness that is in the forefront, with a flat malt taste and a cold steel taste. Its drinkable, but there is something overall disappointing about this beer. For an "organic" beer this tastes and feels overly processed.
If this brewery wants to produce quality organic brews, they should look a little further south to Sorrento and Crannog brewery.
708 characters
2.8
/5
rDev
-8.2%
look: 3 | smell: 3 | taste: 2.5 | feel: 3 | overall: 3
A - Clear brown with a big head.
S - Clean, crisp and slightly toasted aroma.
T - Buttery and lightly toasty, with a mild hop bite.
M - Medium carbonation on a medium body.
D - Just OK. Can't point at anything off, but not very exciting. I don't know that organicness really adds much to a beer anyway...
316 characters

NatureLand Organic Amber Ale from Pacific Western Brewing Company
Beer rating:
3.05
out of
5
with
11
ratings