Pacific Schwarzbock
| Pacific Western Brewing Company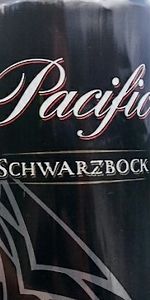 BEER INFO
Brewed by:
Pacific Western Brewing Company
British Columbia
,
Canada
pwbrewing.com
Style:
Bock
Alcohol by volume (ABV):
8.00%
Availability:
Year-round
Notes / Commercial Description:
The name "Schwarzbock" derives from the German word for black ("schwarz") and strong beer ("bock"). Pacific Schwarzbock is true to German-style bocks, with an alcohol content of 8%, yet remarkably drinkable with no alcohol taste but a nice warm body that beer connoisseurs are looking for.
Added by Derek on 10-19-2011
Reviews: 6 | Ratings: 11
3.67
/5
rDev
-0.8%
look: 3.75 | smell: 3.5 | taste: 3.5 | feel: 4 | overall: 4
473ml can, and cheap as borscht, with a weird release timing here in Alberta - a bock beer in August? I'm guessing that this isn't meant for the beer geek crowd target demographic.
This beer pours a clear, dark red-brick brown colour, with three fingers of puffy, densely foamy, and mildly creamy beige head, which leaves some broad instances of spiderweb lace in places around the glass as it genially subsides.
It smells of lightly toasted, bready and grainy pale malt, rye crackers, coffee dosed with sour milk, a twinge of nutty cocoa, and plain leafy, weedy hops. The taste is more grainy, sort of doughy pale and caramel malt, hints of spicy rye, bittersweet chocolate, wan cafe-au-lait, a sort of prominent oily nuttiness, watery brown sugar, and subtle earthy, leafy hop bitters.
The carbonation is quite light on its feet, in a low-key frothy manner, the body an adequate medium weight, and mostly smooth, just a wee ashiness poking its nose around a bit, to no avail. It finishes well off-dry, the MMA (mixed malt array) doing well to persist amongst the last rites of coffee, cocoa, and hop. As for the supposed 16-proof booze, an APB has now been issued for its whereabouts.
Not a bad rendition of this springtime Teutonic staple - nothing overly complex, sure, but agreeable and easy enough to drink in its own right. I gotta say, I always love it when heretofore underwhelming breweries suddenly surprise me with something actually good - but at only 2 bucks a can, I feel a bit guilty enjoying this as much as I am.
★
1,538 characters

3.29
/5
rDev
-11.1%
look: 2.5 | smell: 3.5 | taste: 3.5 | feel: 3 | overall: 3
A: Black, no bubbles, no head.
S: Light roast, rye bread, slight floral & grassy aroma with hints of pepper.
T: Light coffee-like roast, pumpernickel rye bread, nutty, light pepper, good bitterness, alcohol is subtle.
M: Moderate body has a light residual sweetness with an off-dry finish. Unfortunately there isn't much carbonation at all.
D/O: I really like the concept... a schwarzbier with a good bitterness and hopping, brewed to a doppelbock strength with the malt to back it up. Unfortunately it wasn't executed nearly as well as I'd hope for a specialty release.
★
582 characters

3.85
/5
rDev
+4.1%
look: 3.5 | smell: 3.5 | taste: 4 | feel: 4 | overall: 4
Kudos to PWB for putting out a strong seasonal in a tall can . I hope phillips and lighthouse go this route.
Black as spades with a strong burnt malt nose. this has a good thick mouthfeel but smooth finish. Much better than i expected from PWB and in the same class as hermannator for style. The sweetness is restrained and I look forward to other seasonal from these guys hopefully in cans
★
391 characters
4.13
/5
rDev
+11.6%
look: 4.5 | smell: 4 | taste: 4 | feel: 4 | overall: 4.5
I was surprised to see this beer when I stopped by the liquor store today. It pours a an inky black, almost opaque, with a dense, brown head that doesn't last long. The aroma is slightly chocolatey, with a bit of nutty malt and an hint of something almost sour, vaguely like vinegar. Sweet, moderately dark malt pops upfront, with a hint of roastiness. The malt flavor is bready and a bit nutty, with lots of dark fruit and caramel sweetness. The rich maltiness lingers nicely with a restrained hop bitterness in the finish. Just a hint of warming alcohol is the only nod to the 8% abv.
This beer is a diamond in the rough, in my opinion, and a real value as well. It reminds me of what I remember of Guinness Foreign Export, but maybe a bit less hoppy. Overall I am really impressed!
★
786 characters

3.64
/5
rDev
-1.6%
look: 3.5 | smell: 3.75 | taste: 3.5 | feel: 3.75 | overall: 3.75
473ml can poured into Sam Adams pint glass.
Pours a deep ruby amber with three fingers of puffy beige foam that leaves roiling stormy sea lace as it recedes. Lots of floaties.
Smells of rich malt, sugary raisins and mild green hops.
Tastes of sweet nutty malt, candied dark fruit, faint chocolate drink mix and more mild hops,
Feels smooth and creamy. Medium bodied with mildly frothy carbonation. Finishes not quite sweet. Alcohol is completely undetectable.
Verdct: Recommended. Very solid beer considering the price.
★
524 characters
3.77
/5
rDev
+1.9%
look: 3 | smell: 3.5 | taste: 4 | feel: 2.5 | overall: 4.5
I went to the liquor store, and browsed for the cheapest beer. This was there, even cheaper then the malt liquor, for $2.50 for 473ml of 8%. I expected swill. I did not get swill.
A - Deep deep brown, looking black in the glass. No head or bubbles.
S - Very faint smell, almost smell coffee.
T - Tastes slightly of coffee, nuts, and chocolate, and is slightly bitter. Syrupy, a bit sweet, maybe a mollases taste? It's a bit of a weak flavor, but one completely of absent of aftertaste, which is shocking for an 8% beer.
M - Thick, little carbonation. A bit wimpy, but a bit differant as well.
O - why is my overall so high? The reason I'm drinking this beer is because I looked for the cheapest beer in my local liquor store, and they had cold 473ml (16oz) cans at 8% strength for $2.50. The value is outstanding, this is an alright craft beer for a bargain price. Even if I thought it was fairly priced, I would not regret my purchase.
★
941 characters
Pacific Schwarzbock from Pacific Western Brewing Company
3.7
out of
5
based on
11
ratings.