Holy Grail
| Grand Lake Brewing Company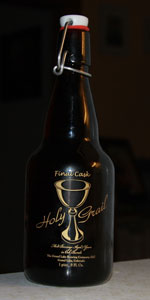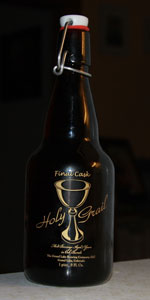 BEER INFO
Brewed by:
Grand Lake Brewing Company
Colorado
,
United States
grandlakebrewing.com
Style:
American Strong Ale
Alcohol by volume (ABV):
20.00%
Availability:
Limited (brewed once)
Notes / Commercial Description:
No notes at this time.
Added by biking4beer on 01-02-2008
This beer is retired; no longer brewed.
HISTOGRAM
Ratings: 11 | Reviews: 6
Reviews by SuperWhite92:

4.53
/5
rDev
+9.2%
look: 4.5 | smell: 4 | taste: 5 | feel: 4 | overall: 4.5
From a flip top bottle bought at the brewery (duh)- winter 2008/2009 release. Woman working said this particular batch was 5 years old pre-bottling. Zero carbonation as intended. Very remiscent of brandy or cognac in appearance- can't decide which. Smell is highly boozy, but it's a "fine booze" aroma as apposed to a rubbing alcohol booze. Drinks astonishingly well- rich, balanced, smooth. Very sweet. Alcohol is rather well hidden, but not completely.
I'm really really impressed with this beer. I'm not sure it's worth the price tag, but wow am I glad to say I've drank it at least once.
591 characters
More User Reviews:
4.09
/5
rDev
-1.4%
look: 4 | smell: 4.25 | taste: 4 | feel: 4.25 | overall: 4
Big thanks goes out to beermeX2 for sharing this one with me when I dropped in to see him at his beer store on my way home! Thanks Steve! Served from bottle into a sampler wine glass (this was a good call). Poured a deep ruby red-orange with no head at all. Maintained nice booze legs, but no lacing at all. The aroma was comprised of sweet malt, bread, sweet alcohol, caramel, dark fruit, and sugar. The flavor was of sweet malt, sweet alcohol, dark fruit, caramel, sugar, subtle chocolate, and brown sugar. It had a medium feel on the palate with light carbonation. Overall this was a pretty good brew. Based on the ABV on this one I was kind of worried about what I might find on it as I have had some beers around this ABV that were so harsh on the booze that it was almost undrinkable to a degree. However, this one was actually quite nice and very well balanced. The alcohol was definitely there, don't get me wrong, but it was integrated quite nicely into the sweetness of the beer that was going on. This made it flow almost seamlessly making it rather easy to drink. Kind of reminded of a toned down Utopias in a way. Really glad I got the opportunity to give this one a try. Definitely worth your time doing so as well.
1,229 characters

4.09
/5
rDev
-1.4%
look: 3.5 | smell: 4.5 | taste: 4 | feel: 4 | overall: 4
Purchased at the brewery in a 500 ml re-corkable bottle.
Pours a dark amber slighlty copperish color. No head because this beer isn't carbonated.
Smells or caramel, vanilla, prune, toffee, rum, and a subtle alcohol aroma.
Dark fruits are the overwhelming taste. Slight caramel. Really sweet, but in a good way. Not cloying. Very slight alcohol which is a good compliment to the flavor.
This beer has a very syrupy body. Not a surprise there. Again, there is no carbonation. It works for this brew.
You would not guess that the ABV would be so high on this drink. You may not guess that it's a beer at all. Very tasty and good on it's promise that it's an apertif brew. It may not be wise, but I think I could finish off a full bottle in a sitting.
According to one of the brewers, This beer was aged 3 years in tanks and then one year in oak rum barrels obtained from a producer in Tennessee. It's all malt with no other ferementable sugars added in. It's only available occassionally, and I don't think it's available at any specific time of year.
The bottles are $25 a pop, but I would definitely reccomend it if you like the really high ABV brews.
1,174 characters

4.16
/5
rDev
+0.2%
look: 4 | smell: 4.25 | taste: 4.25 | feel: 4 | overall: 4
4.04
/5
rDev
-2.7%
look: 3.5 | smell: 4.5 | taste: 4 | feel: 3.5 | overall: 4
Thanks to schmittymack for sharing this one at his 50th birthday party earlier this month. Poured a thick, viscous dark brown color, completely still and uncarbonated. Aromas of brown sugar, molasses and oak. Full bodied, with flavors of oak, vanilla, caramel and brown sugar. An experience, to be sure, but not an everyday beer.
329 characters
3.64
/5
rDev
-12.3%
look: 3 | smell: 4 | taste: 3.5 | feel: 4 | overall: 3.5
96th Review
Bottle to half pint glass
From notes (still catching up)
Enjoyed as my final farewell beer when leaving Denver before moving to Dublin. Thanks RuckusDu for this wonderful treat!
A: Apple juice amber. Flat - absolutely no head on vigorous pour.
S: Sweet candied fruit and apple cider. Hint of cinnamon, all spice, vanilla, and rum. Very inviting, but doesn't warm the soul as I expected with the high ABV.
T: Very sweet all throughout - tart apple with hints of toffee and caramel. Alcohol is hidden very well by the sweetness. I'd consider this dangerous; however, it is too sweet for my liking.
M: Light body with no carbonation.
O: This was a fun beer to try, but nothing I would seek out again. Just not much going on here other than apple cider. Happy to have enjoyed it once, but probably not worth the price of admission ($65 at this point if I recall correctly).
888 characters


3.62
/5
rDev
-12.8%
look: 3.5 | smell: 4 | taste: 3.5 | feel: 3.5 | overall: 3.5
A - No head on this pour - unless you call 3 bubbles anything. Body is a medium amber. Much lighter than I was anticipating. Seems very syrupy. Obviously no lacing.
S - Malty bread aroma. Some slight booze and good caramel notes. I like it.
T - Sweet candy on the front. Sort of a rubbing alcohol flavor with dark fruits such as figs and dried cherries.
M - No carbonation as to be expected. Not as syrupy as expected. Great medium body. A little drying on the finish.
O - Decent considering the ABV. We did a side-by-side with Crown Royal (yes the whiskey) because we thought it might be the closest comparison. Crown was definitely more smooth but also more boozy in taste. Both are good.
695 characters
Holy Grail from Grand Lake Brewing Company
Beer rating:
4.15
out of
5
with
11
ratings