Víking Premium Gold
| Viking Brewery - Vifilfell Ltd.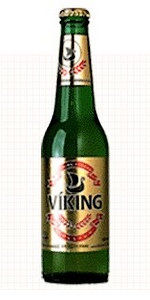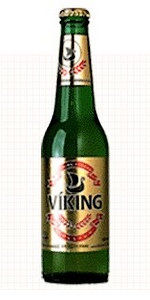 BEER INFO
Brewed by:
Viking Brewery - Vifilfell Ltd.
Iceland
vikingbeer.com.au
Style:
American Adjunct Lager
Alcohol by volume (ABV):
5.60%
Availability:
Year-round
Notes / Commercial Description:
No notes at this time.
Added by SchmichaelJ on 06-03-2003
HISTOGRAM
Ratings: 10 | Reviews: 6
Reviews by Kooz:
1.11
/5
rDev
-57.8%
look: 2 | smell: 1 | taste: 1 | feel: 1.5 | overall: 1
Stuck in an airport in Iceland, this was new and different so I figured, what the hell. Oops.
The green bottle kept me from fairly seeing the beer, but a few quick tests showed it to be a generic, faint yellow color. Taste? Skunky and bitter. Smell? Same. Mouthfeel was a little better, rising to sudsy water, but still gross. I would not drink this again. Made an awful airport experience that much worse.
407 characters
More User Reviews:

2.89
/5
rDev
+9.9%
look: 2.5 | smell: 3.5 | taste: 2.5 | feel: 3 | overall: 3
500ml Can
Appearance – Clear yellow colour with an average size fizzy white coloured head. There is an average amount of carbonation showing and there is a fair amount of lacing. The head lasted for around 3 minutes before it was gone.
Smell - Grains, bread, malts, corn, light hops
Taste & Mouth - The beer has an average amount of carbonation. I can taste breads/grains mixed with malts and a bit of a pear/apple sweetness. There is also quite a bit of a cooked corn and there is a fairly bitter flavour during the aftertaste.
Overall – Special thanks to my buddy for bringing this back from Iceland for me. The taste on this beer was a little unbalanced but at least it was a little more interesting than the countless other euro-lagers on the market. If not for the slightly harsh aftertaste this beer could be a real winner.
837 characters
3.03
/5
rDev
+15.2%
look: 3 | smell: 2.5 | taste: 3.5 | feel: 2.5 | overall: 3
Presentation: 500 ml can, with gold coloring and a symbol of a Viking ship. English print on the front, Icelandic on the back.
I was naturally excited when my brother smuggled a can of Viking home from a recent family trip to Iceland. While it is reportedly one of the major brews in Iceland, I found it to be fairly mediocre. From the can, it poured a clear, straw color with very active carbonation. It had a pretty small head that held only for a very short period of time. The smell was of the faint-hop, faint-malt variety, maybe even a bit skunky. The taste was pretty refreshing, but nothing spectacular. The hops assert themselves a bit more towards the middle, but a weak maltiness and noticeable corn taste are present from beginning to end. A slight metallic taste also tainted my impression. The feel was rather watered-down and thin, a bit American-macro-like. A fairly decent brew, I won't pass up this Icelandic offering when I visit. But I probably won't go out of my way to find it, either.
1,010 characters
3.78
/5
rDev
+43.7%
look: 4 | smell: 3.5 | taste: 4 | feel: 3 | overall: 4
Sometimes you give a positive review for a beer even though it might not even be that good.
On a recent trip to Iceland, I was definitely impressed by this beer. Perhaps it was because I was have an awesome time in Iceland and this was the only beer on tap, but let me just say this beer hit the spot. I usually go for dark beers these days but this beer was refreshing, crisp, and clean.
Definitely give it a shot if you find yourself in Iceland.
455 characters
3.14
/5
rDev
+19.4%
look: 3.5 | smell: 2 | taste: 3.5 | feel: 3.5 | overall: 3.5
I got this bad boy at a huge beer bar in DC. Can't remember the name of the beer bar, but they had lots of different beers from all around the world, as well as served the beers in the proper glassware and temperature. Anyways, this beer wasn't too bad itself. It actually started off pretty bad, but once it warmed up, it got waaaay better. It started off with a foul skunk smell and taste, but when it got to room temp, it really brought out the flavors. Flavors of sweet malts, some caramel, and a little hop bite. I enjoyed this one, but it took a little time for it to get better.
585 characters
1.98
/5
rDev
-24.7%
look: 2.5 | smell: 2 | taste: 2 | feel: 1.5 | overall: 2
thought the icelandic people would be more impressive than this. i mean this was just awful. like american mass produced shit. i understand they drink heavy and lots and so i guess ya care less of what youre having then.
anyways, bitter watery taste, not sure where the bitter was coming from, tasted like they used really horrible grains. it was a typical piss water taste that i know from drinking as a teen.
410 characters

2.46
/5
rDev
-6.5%
look: 3 | smell: 2.5 | taste: 2.25 | feel: 2.75 | overall: 2.5
Víking Premium Gold from Viking Brewery - Vifilfell Ltd.
Beer rating:
2.63
out of
5
with
10
ratings