Víking Sterkur
| Viking Brewery - Vifilfell Ltd.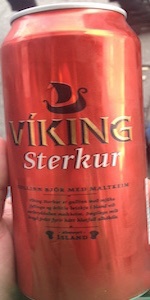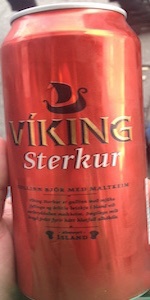 BEER INFO
Brewed by:
Viking Brewery - Vifilfell Ltd.
Iceland
vikingbeer.com.au
Style:
Euro Strong Lager
Alcohol by volume (ABV):
7.00%
Availability:
Year-round
Notes / Commercial Description:
No notes at this time.
Added by stulowitz on 12-01-2008
HISTOGRAM
Ratings: 13 | Reviews: 6
Reviews by airtraffic01:
More User Reviews:

2.25
/5
rDev
-20.5%
look: 2.25 | smell: 2.25 | taste: 2.25 | feel: 2.25 | overall: 2.25
Can shared thanks to deanso. Pale yellow with a thin white head. Notes of boiled grains, popcorn, generic hops. Light body, low carbonation and a bitter-sweet aftertaste.
170 characters
3.13
/5
rDev
+10.6%
look: 3.75 | smell: 3.25 | taste: 3 | feel: 3.25 | overall: 3

2.28
/5
rDev
-19.4%
look: 3 | smell: 2.5 | taste: 2 | feel: 3 | overall: 2
500ml Can
Appearance – Clear yellow colour with a large size fizzy white coloured head. There is an average amount of carbonation and there is some fairly good lacing. The head lasted for around 5 minutes before it was gone.
Smell - Grains, bread, malts, corn, skunk, alcohol
Taste & Mouth - The beer has an average amount of carbonation and it is a little bit harsh tasting. The flavours include corn, malts, and I can really taste the booze. There is also some grains mixed with an apple sweetness. The beer finishes with malty/boozy slightly harsh aftertaste.
Overall – I've had a few beers from this brewer now, and this one was by far the worst. The taste isn't pleasant and the alcohol is not hidden at all. I wouldn't recommend this beer.
753 characters

3.25
/5
rDev
+14.8%
look: 3.25 | smell: 3.25 | taste: 3.25 | feel: 3.25 | overall: 3.25
A- Tallboy pours into a becher with a clear beyond pale grainy yellow body and a fluffy white cap. The head ascends to a few fingers high with good retention. Lacing is spotty with a few sheets.
S- Pretty much just a clean aroma with a hint of pale cereal grains, light fruits, lemon, bread and spicy hops.
T- Sweetness builds in the flavor to a low to medium level as the malts bring out toasty and raw cereal grain notes. Spicy and herbal hop hints compliment the clean slightly fruity lager yeast. Honestly not getting much of the off flavors others have found.
MF- Medium bodied with a slick and somewhat syrupy consistency. High end carbonation brings on a foamy texture. Slightly bitter end.
A solid 7% lager that stays clean despite some awkward sweet and deep malty tones not jiving with the hops and yeast.
819 characters

2.79
/5
rDev
-1.4%
look: 3 | smell: 2.75 | taste: 2.75 | feel: 3 | overall: 2.75
500mL can (canned 2/19/2013) into an English pint glass. Pours a clear golden color w/ a fluffy white head that leaves behind some lace. Moderate carbonation.
Aroma is sweet and grainy, mildly floral.
Taste follows nose. Sweet, fruity pale malt, floral Old World hops, neutral yeast. Just a hint of bitterness on the finish. Similar to the Gylltur I had yesterday, but with more residual sugars to amp up the ABV.
Mouthfeel is clean and crisp, light and drinkable.
Overall, like the Gylltur, an unremarkable beer you don't have to think about. No need to ever drink this again.
582 characters

3
/5
rDev
+6%
look: 3 | smell: 3 | taste: 3 | feel: 3 | overall: 3
2.75
/5
rDev
-2.8%
look: 2.75 | smell: 2.75 | taste: 2.75 | feel: 2.75 | overall: 2.75
2.92
/5
rDev
+3.2%
look: 2.5 | smell: 3 | taste: 3 | feel: 3.5 | overall: 2.5
Poured from 500mL can into a Gouden Carolus chalice.
A: Looks just like all the other Viking lagers -- pale, clear yellow with no head and some bubble streams.
S: Sour grain with a hint of something stronger underneath. Looking at the can, I discover it's 7%, so the smell might be alcohol.
M: Yup, it's alcohol, right up in the front along with a carbonated tang and a mild grain. Middle taste is a sharp continuation (minus the grain) and the aftertaste is dry on the tongue.
M: The alcohol packs an edge I like. Sharp and potent.
D: A little too brazenly strong for my taste. Not a subtle beer, but better than I expected from a Viking brew.
649 characters

2.28
/5
rDev
-19.4%
look: 2 | smell: 2 | taste: 2.25 | feel: 2.75 | overall: 2.5
3
/5
rDev
+6%
look: 3 | smell: 3 | taste: 3 | feel: 3 | overall: 3
3.16
/5
rDev
+11.7%
look: 3 | smell: 3.25 | taste: 3.25 | feel: 3 | overall: 3
I've heard Greenland's rate of alcoholism is so high that there's a legitimate push to ban booze entirely. That sounds extreme, but if a country's got enough problems that their suicide epidemic has its own dedicated wikipedia page, then some action is probably warranted.
It's easy to drink too much when the sun never shines and the whole world appears to have frozen to death. I've seen it happen in Northern Iowa, and winters in Scandinavia are much, much worse. And so, perplexing as it may seem in an advanced and progressive nation such as Iceland, it's actually sort of understandable that full-strength beer wasn't legal here until 1989.
Opposed to regular beer, Icelanders only had access to "light" options. Not "light" calorically, but light in the sense that they're pretty much water. Nothing stronger than 2.25%.
These light beers are the only ones available at most grocery and convenience stores. I was about to grab a couple before a long bus ride, when the nice lady behind the counter informed me that they had "strong beer" behind the counter. I figured "strong" meant "regular," like how in an American bar you might say "Bud heavy" simply as a way of distinguishing your request from Bud Light.
But no, she meant strong as in "strong," as in a Euro Strong, one of the handful of European beer styles that god has absolutely forsaken. Stronger than American malt liquors, and brewed without the lightening benefit of rice or corn, these beers give off harshly sweet esters of booze and white sugar.
But this one, Viking's Sterkur, was pretty decently made. Compared to American malt liquors of similar ABV, like Old English 8%, this is positively crisp.
It starts off tasting of strong malt, but not especially alcoholic or sweet. Even as it warms, no off nodes become present.
While the strength affords it some complexity, the beer is still a little one-note: heavy grain up front, mild breadiness in the back, with a little bit of an alcohol burn. Not bad, and impressively brewed for it's godawful style, but nothing you need to go out of your way to try.
BONUS FUN FACT:
If you see someone around Reykjavik holding one of these red tallboys, they are probably shithammered and up to no good. Avoid them. They will tell you poorly translated jokes about farmers and keep begging you for cigarettes.
2,354 characters
Víking Sterkur from Viking Brewery - Vifilfell Ltd.
Beer rating:
2.83
out of
5
with
13
ratings